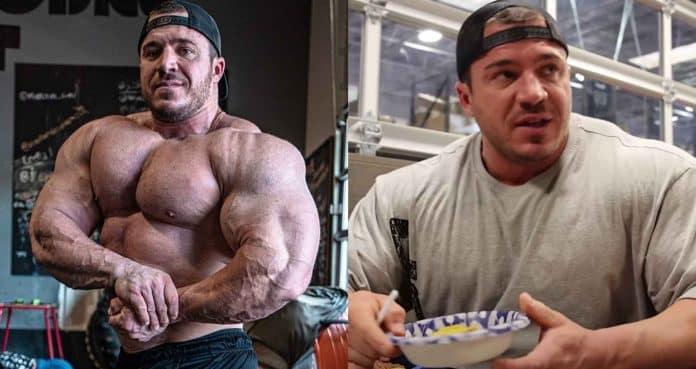 Brett Wilkin shares his super-bulk 6,000 calorie diet during off-season prep.
In a recent video, pro bodybuilder Brett Wilkin goes into detail about his off-season 6,000 calorie bulking diet. Wilkin has been turning heads with his impressively massive physique recently – and has been a much-hyped competitor in the 2022 bodybuilding season. He's a rising star with much potential – though he has yet to qualify for the Mr. Olympia this year. If he does, he will join what is sure to be a truly deep and exciting lineup come December.
Most bodybuilders go through two major phases in a bodybuilding season. The off-season bulk and then the contest prep cutting phase. The bulking phase comes when a competitor is far and away from their planned competition. It's a period of time focused on building as much size and muscle as possible – with less focus on conditioning and shred. Then as the competition comes closer, a bodybuilder will move on to the cutting phase and whittle away the the body into a large and shredded conditioned physique.
In modern bodybuilding, Men's Open bodybuilders have been trying to push the limit of how big they can appear on stage while also maintaining conditioning. Big Ramy, the current Mr. Olympia, is a prime example of this competing close to 300 pounds. Just yesterday, Samson Dauda revealed his off-season physique update at 330 pounds.
Brett Wilkin is one such bodybuilder also trying to pack on the size to compete with these mass monster competitors. In July, Wilkin appeared for a guest posing showcasing a truly massive physique. Now in his recent YouTube video post – he reveals the massive diet that helped him get so large. You can check it out below:
RELATED: Best Creatine Supplements For Bulking & Muscle Growth
Brett Wilkin's 6,000 Calorie Diet Explained
In the internet age of bodybuilding, fans no longer need to wait for magazines to reveal a bodybuilders training regimen or diet. The competitors themselves can connect directly with fans via Instagram or YouTube to give a true behind the scenes look at their lifestyle and tactics. Let's break down the 6,000 calorie meal plan of Brett Wilkin.
First Meal
For Bretty Wilkin's first meal, he consumes two ounces of lemon juice with REVIVE's GI plus and greens powder. He claims that he uses this supplement for breakfast due to not wanting to include vegetables in his diet at this phase of his bulk. He also adds collagen powder and fiber supplements into a morning shake.
12oz fat free milk
1 scoop whey
150g Oats
35g Almond Butter
100g Blueberries
Second Meal
After breakfast, Brett Wilkin's second meal of the day is his pre-workout meal. He focuses on carb loading and packing in more protein. He also makes a point to note he is avoiding fats at the moment – but admits that it's okay to include fats during a pre-workout meal. He just personally doesn't have them included due to his belief that it slows down digestion through the workout.
7oz chicken breast 
150g Rice n Grinds
Intra: Baggy Time
50g Carbs from Gatorade Powder 
5g Creatine 
10g Glutamine 
25g Carbs from RAW Intra
View this post on Instagram
Third Meal
For his mid-day meals, Bretty Wilkin focuses on prioritizing carbs and protein as these will come before, during, and after his training sessions.
RAW Intra Carb 2 scoops 
60g RAW Whey Iso 
12oz Strawberry Banana Juice 
1 banana
RELATED: Best Protein Powder Supplements For Strength & Size
Fourth Meal
Contiuing with his focus on carbs and protein, Brett Wilkin's fourth meal contains rice and beef – which he claims is his personal favorite. This meal lands at about 130 grams of total carbs and 50 grams of protein.
8oz Megafit 93/7 ground beef 
100g carbs from Rice
12oz Orange Juice
Fifth Meal
Brett Wilkin's fifth meal focuses on a meal prep solution – where he consumes a sweet and sour chicken prepped meal. This is another meal that he claims to enjoy eating – which is why it has been a staple in his recent bulking diet.
Sweet and Sour Chicken (Meal Prep Service)
12oz Orange juice 
Sixth Meal
Brett Wilkin's last meal is what he calls a "free meal." He states that he likes to do a free meal every other night. In this case, he has attended a friend's party where he eats chicken, salmon, and some bread.
Wilkin is excited to showcase his meal prep on this day – as he sees it as a perfect example of bulking with five base meals followed by a cheat meal at the end of the day.