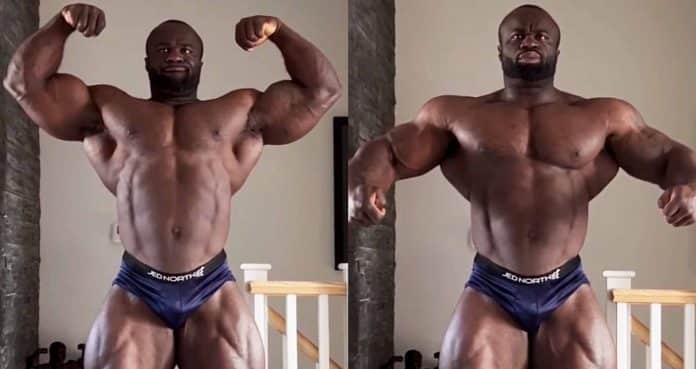 Pro bodybuilder Samson Dauda shares one final off season photo maxed out at 330 pounds, a weight that was always the goal but he didn't think he would hit.
Samson Dauda has ended his off season bulk and training at 330 pounds as per his latest physique update photo. Dauda has been hyping fans throughout all of 2022 with continued off season bulking updates. Sharing his look at 320 pounds, then 324 pounds, and now finally maxing out at 330 pounds. Samson Dauda is qualified to compete in the 2022 Mr. Olympia and appears to now just be starting his contest prep and shred leading into the show.
Samson Dauda is a Men's Open bodybuilder that many have their eye on. He has continually showed an impressive physique – and he's been pushing the limits of just how far he can grow during the off season. His size and musculature has been so impressive that he has been labeled a FREAK – all capital letters.
In his latest Instagram update, Dauda shares a video of his latest physique and claims to be weighing in at 330 pounds. He also states that this is the max weight that he and his team have been aiming for – but he wasn't quite sure if he'd be able to pull it off. Spoiler alert: he did. You can check out the post below:
View this post on Instagram
"Finally ending this off season at 330lbs, the exact number we hoped to hit but not for one minute did I really think I was really going to achieve it 😅 but @milossarcev had no doubt"

– Samson dauda on Instagram
Earlier in the year, Samson Dauda started turning heads with an incredibly chiseled physique ahead of the 2022 Arnold Classic. While he didn't take top honors at the show – he did place an impressive fourth place behind William Bonac, Brandon Curry, and Steve Kuclo. He's since had the rest of the year to prepare for the Mr. Olympia competition. And it seems that he's not taking any changes and pushing his size to the absolute limit.
Samson Dauda's bodybuilding origins
Samson Dauda's bodybuilding origins started in the United Kingdom. Born in Nigeria, he later moved to the UK and took a passion for rugby. He played rugby for his hometown in the UK. It was there that he was first introduced to the concept of bodybuilding.
Dauda was confronted by one of his teammates in the locker room. Upon seeing his physique, the teammate asked him if he would ever consider competing on a bodybuilding stage. Dauda had no idea what bodybuilding was. He had no idea what the teammate was talking about.
Fast forward a bit and after numerous suggestions, Samson Dauda decided to watch the 2013 Mr. Olympia. He was blown away. He knew it then – this is what he wanted to do. He would later compete for the first time in April of 2014. The rest is history.
Now we are looking at a bodybuilder with true freaky mass monster appeal. With his 330 pound update, Dauda shows that he has no trouble matching up to the likes of Big Ramy in terms of size. So now he needs to focus on cutting down and presenting a truly aesthetic and conditioned physique. Based on what he was able to bring earlier this year at the Arnold Classic – we can't wait to see what kind of progress he makes over these next few months of contest prep.
Stay tuned to the Generation Iron Fitness Network for more updates on Samson Dauda and general news updates on all things bodybuilding, fitness, and strength sports!