Brian Shaw joins forces with Ronnie Coleman for some arm day training.
Four-time World's Strongest Man champion Brian Shaw recently trained arms with the legendary bodybuilder eight-time Mr. Olympia champion Ronnie Coleman. The two strength sports champions Pushed each other through an intense arm day workout that featured a number of classic bodybuilding exercises. Let's take a look at the breakdown of their workout.
Recently, retiring from strongman competition, Brian Shaw is seeking out new challenges in his career. One challenge is a mixed martial arts contest that Shaw will participate in at some point in 2024. Shaw isn't the only strong man interested in mixed martial arts competition. Eddie Hall and Mitchell Hooper are also scheduled for a bout in 2024. It seems that for strongman athletes combat sports Is an exciting prospect that feeds their thirst for healthy competition.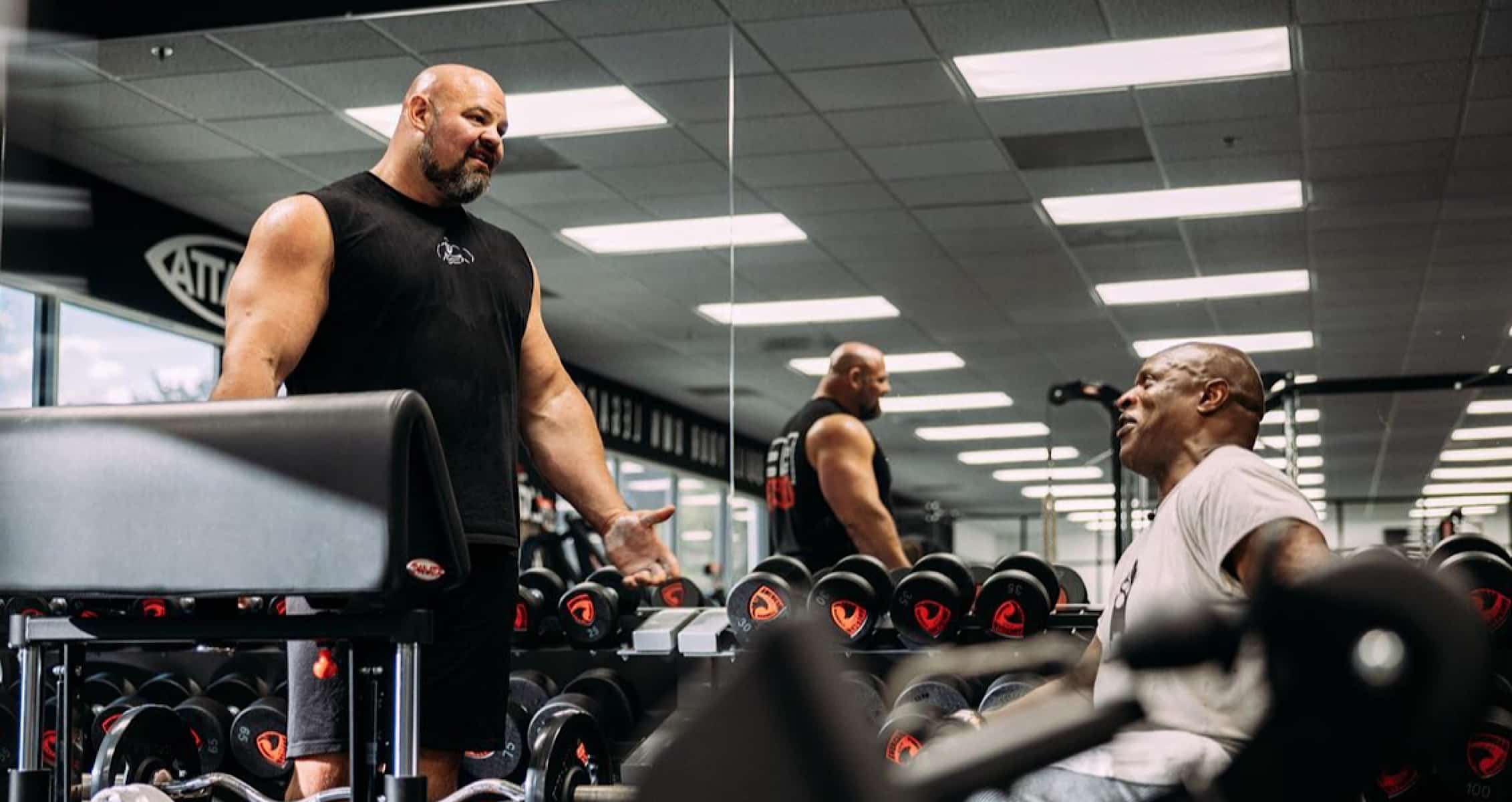 But besides training in mixed martial arts, Brian Shaw also appears to be working on his physique as well. If you're looking to build an impressive physique like no, other than you need to look no further than the legendary eight-time Mr. Olympia, Ronnie Coleman as a training partner.
Always looking to be in the best physical condition possible, Ronnie Coleman is still pushing his body to the limit. Despite suffering a number of injuries throughout his bodybuilding career, Coleman still hits the gym hard. Experimenting with stem cell injections seems to be working well for the retired bodybuilding champion. But while he hasn't made a full recovery in his lower half, Coleman is determined to keep his upper body strong.
In a recent training session, Brian Shaw and Ronnie Coleman met face-to-face as they trained arms. Below is a list of each exercise in the workout.
Brian Shaw and Ronnie Coleman Arm Day Workout
Cable Curls

– 3 sets of 18 to 20 reps

Dumbbell Preacher Curls

– 3 sets of – 3 sets of 15 to 20 reps

Dumbbell Hammer Curls

– 3 sets of 15 to 20 reps
View this post on Instagram
It's great to see legends from two different sports. Come together for training. Neither Brian Shaw nor Ronnie Coleman are strangers to collaborating with other athletes. Recently, Coleman did a training session with Derek Lunsford, who recently won the 2023 Mr. Olympia title. Shaw on the other hand has been training with martial artists the likes of Brazilian jiujitsu no gi champion Gordon Ryan.
It's great to see Brian Shaw and Ronnie Coleman working together, two legends pushing each other to be their best.
For more news and updates, follow Generation Iron on Facebook, Twitter, and Instagram.
---
News and Editorial Writer at Generation Iron, Jonathan Salmon is a writer, martial arts instructor, and geek culture enthusiast. Check out his YouTube, Instagram, Twitter, Facebook, and Sound Cloud for in-depth MMA analysis.
Featured Image Courtesy of Instagram