The biography, life, and accomplishments of Dana Linn Bailey
Women in fitness is more popular now than it ever was, but it was not always like that. Certain figures have had heavy influence on pioneering the path for women in the gym, training hard, and competing. One of those women is Dana Linn Bailey, the winner of the first IFBB Women's Physique competition, and the winner of the first Women's Physique Olympia.
Below is a full breakdown of Dana Linn Bailey's profile, diet, and training regimens.
Full Name: Dana Linn Bailey ( Retired Women's Physique)

Weight
Height
Date Of Birth

125-135 lbs lbs

5'4″

5/30/1980

Division
Era
Nationality

Women's Physique

2010s, 2020s

Canadian
Biography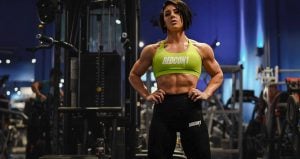 Dana Linn Bailey was born on May 30th 1980 in Pennsylvania. From a very young age, Dana was always encouraged by her parents to take part in regular physical and sporting activities.
Her involvement ultimately began at the age of five when she was placed into a swim team. As she got older, Dana became involved in soccer, basketball, and field hockey. The discipline in the sport helped to establish the foundations she later carved her physique upon.
By the time she got to West Chester University, Dana Linn Bailey had become a potent soccer player and was subsequently recruited to play or their team as a starting defender.
Dana helped lead her team to the NCAA's and playoffs. When she graduated college, she transitioned to lifting with her boyfriend, Rob Bailey, who is also a musician. Rob inspired Dana to lift and it soon became a deep passion of hers. This then led her to take part in figure competitions between 2006-2010.
Dana's main goal was to become an IFBB pro, though she faced multiple obstacles at this early stage due to her desire to become as muscular as possible. The trait soon became undesirable for her initial category choice.
2011 was the introduction to the very first women's physique competition. This category was far more fitting for Dana's muscular frame. Without hesitation, Dana Linn Bailey chose to compete and took home 1st place for her category and she won the overall title too.
The victory earned Dana her much sought after IFBB Pro card and entry into the professional bodybuilding ranks. She went on to win several titles along the way to her enormous breakthrough at the 2013 Mr. Olympia.
Dana Linn Bailey is an entrepreneur that established her own clothing line (with Rob Bailey), started a vehicle performance enhancing business, and built her own gym in Reading, Pennsylvania, called Warhouse Gym. Many well known bodybuilders have trained there, such as 4x Mr. Olympia winner Jay Cutler, as well as others like Larry Wheels and Julian Smith. Unfortunately, Warhouse closed down in October of 2020, after the pandemic. 
Dana also has her online training videos, which are considered one of the most popular of any competitive athlete. She also posts regular video blogs and training tips often. All of these elements combined have made her one of the world's biggest fitness personalities.
Training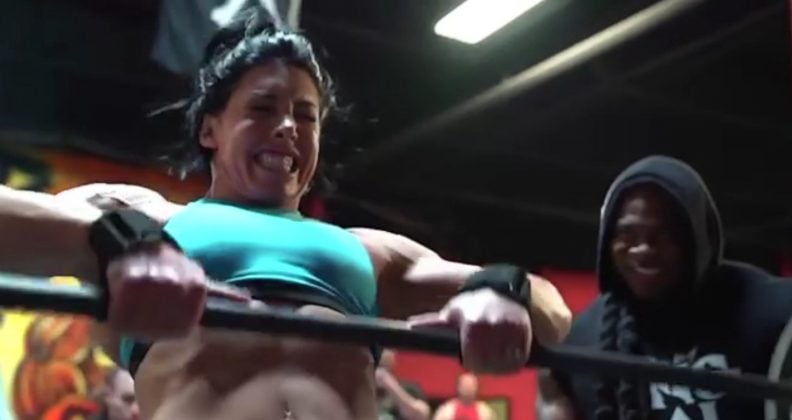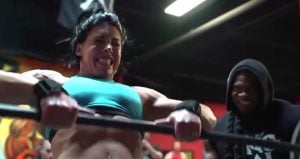 Dana's training typically follows a four-set structure per exercise combined with a rep range of 10-12 per body part. She enjoys a mixture of powerlifting for keeping up on strength, and bodybuilding for maintaining her physique.
She likes to achieve total muscle overload by incorporating high volume rep sets towards the end of training her muscle groups. Along with this, she uses systems like "DTP" on a regular basis to create as much shock as possible to target her muscle group.
Dana is known to train her legs up to three times per week. Her sessions are often strategically structured to ensure every area of the muscle group is adequately targeted.
Her favorite body part to train is the upper body, delts in particular and is known for grueling routines for this body part like the one below.
Warm-Up Superset
Bent over reverse cable flyes (15-20 reps)

Face pulls(15-20 reps)
Superset
Bent over reverse cable flyes (4 sets of 10-12 reps)

Face pulls (4 sets of 10-12 reps)

Single arm cable lat raise (4 sets of 10-12 reps)
Superset
Lying upright cable row (4 sets of 10-12 reps)

Upright cable row (4 sets of 10-12 reps)

Reverse hammer-strength one-arm press (4 set of 10-12 reps)

Side lateral raise (4 sets of 15,10, 15 reps per set)

EZ bar underhand-grip front-raise (4 sets of 10-12 reps to failure)

Front plate raise (4 sets of 10-12 reps to failure)
*Note* Rest 60-90 seconds in between sets
Nutrition
Dana does not have a specific diet plan, but she focuses on eating as clean as possible throughout the year. Some of her favorite protein sources include:
Egg Whites

Fish

Turkey

Chicken

Peanut Butter

Protein Brownies
Some of her preferred carb sources are:
Sweet Potatoes

Rice

Oatmeal

Ice Cream

Pizza

Cereal with Marshmallows

Chocolate Rice Cakes
Though of some of these may seem "crazy" and unhealthy, it is important to state that Dana believes in moderation while trying to eat as much like a "normal" person as possible. Focusing on all round healthy nutrition from the sources above, while incorporating enough of what she likes to maintain her interest and establish "normality".
Dana Linn Bailey's Retirement
Dana was doing 4-5 shows a year for a few years, which takes a massive toll not only on the body, but also the mind. The 2014 Olympia is where the idea of retirement really crossed her mind, where she placed second and thought that her world was going to end. Dana thought that by placing second, her fans would no longer want to support her. However, when she returned to her supplement booth after the placing, she saw that her fans were still waiting in line.
It was then that she realized the fans were there because she brought them along for the journey, her placing did not matter to them. That being said, she competed at the 2015 Arnold Classic with the mindset that she did not have to be first place, and that made her prep much better. She placed second, and this is when she realized she did not need to compete to be successful in the fitness space.
Dana Linn Bailey Wrap Up
Overall, Dana Linn Bailey certainly is someone that we can all learn from, as she has had many different ventures in her life. She pioneered the way for not only a lot of female competitors, but also women in fitness in general. It was not a "normal" thing for women to be that muscular, but Dana had shown that women can most certainly be muscular, and feminine.
What do you think of Dana Linn Bailey?
For more news and updates, follow Generation Iron on Facebook, Twitter, and Instagram.