Just how explosive is this fat burner?
Product Overview
Finding the right fat burner can be hard, especially for those looking to shed unwanted fat while at the same time keeping on that lean muscle. But once the right one comes along, you will feel lean and that physique you desire and work hard for will show. Fat burners are a useful weight loss supplement for this and Gaspari Nutrition DTN8 Explosive Fat Burner really can elevate your weight loss.
A good fat burner is natural, safe, and contains clinically backed dosages and ingredients with results visible shortly after starting. Any supplement from a reputable company with transparent and honest labels is sure to show long term benefits. Aside from shedding unwanted fat and packing on lean muscle, fat burners can also improve sharp mental focus, fast recovery, and optimal hormones.
Gaspari Nutrition started with the goal of producing the highest-quality, science-based sports nutrition supplements to athletes in any sport to serve as a pillar in the sports nutrition industry. Rich Gaspari founded this company out of his garage and was inspired by an illustrious bodybuilding career where he excelled and won the first Arnold Classic in 1989, Mr. America, Mr. Professional World, and was a three-time runner up at Mr. Olympia. With high quality standards and top tier ingredients, Gaspari Nutrition provides innovative and effective supplements to the sports supplement industry.
---
Gaspari Nutrition DTN8 made the top 5 of our Best Fat Burners in the GI Supplement Awards!
Check out the winner and other finalists on the Supplement Awards page here.
---
DTN8 Explosive Fat Burner Highlights
DTN8 Explosive Fat Burner arrives to bring an effective fat burner to the market to really burn fat effectively while also covering three other key areas for an explosive fat burning experience. Providing for explosive energy, DTN8 will really work to keep your energy levels high with natural stimulants so you don't experience increased anxiety or jitters. Really enhancing mental focus ensures pure concentration both in the gym and everyday life and adrenal and stress support keeps cortisol levels in check to stop the build-up of unwanted fat.
With 15 high quality ingredients, you can feel good knowing this product delivers the best for your overall health as well as fat burning goals. The Super Energy & Thermo Blend, as well as the Stress & Cortisol Control Blend, work in tandem to enhance results and ensure all of these top tier ingredients find their way into your system to be most effective.
Ingredients
Caffeine (275 mg)
A healthy dose of caffeine in this fat burner comes from natural sources of green tea extract, green coffee bean extract, and guarana seed extract. Green tea works as a powerful antioxidant to lift mood and improve cognitive function while also working to burn fat by improving fat oxidation (1). Green coffee bean extract can help keep cholesterol levels in check and provide for a great energy boost while guarana see extract works to reduce fatigue and improve cognitive function.
L-Tyrosine (250 mg)
L-tyrosine is great for boosting mood, especially when under stress. It can increase cognitive function by targeting neurotransmitters like dopamine and epinephrine to enhance mental alertness, focus, and attention (2). It is a very common ingredient to find in many types of supplements.
Palmitoylethanolamide (250 mg)
Typically released by the body to fight pain and inflammation, palmitoylethanolamide (PEA) not only assists with pain but also brain health and regeneration by enhancing cognitive skills and daily functioning. When it comes to immune fighting properties, it seems that PEA can reduce the duration of a cold and symptoms, as well as severity (3).
Ashwagandha Root Extract (100 mg)
Ashwagandha root extract is used to promote both mental and physical performance, increase testosterone levels by strengthening resistance against stress-induced decline, and stimulate hormones for testosterone production. It serves an antioxidant to fight free radical damage in testosterone as well (4).
L-Theanine (75 mg)
L-theanine has quite a few uses for cognitive function including assisting with anxiety, mental alertness and working with impairments. When paired with caffeine, L-theanine works really well for improving focus and attention. For immune health, L-theanine can work to decrease the incidence of upper respiratory tract infections and improve inflammation in the intestinal tract (5).
Other Ingredients: Vitamin B6, chromium picolinate, theobromine, ginger root extract, capsicum annum fruit extract, grains of paradise extract, black pepper extract, Huperzia serrata extract 5-HTP, olive leaf extract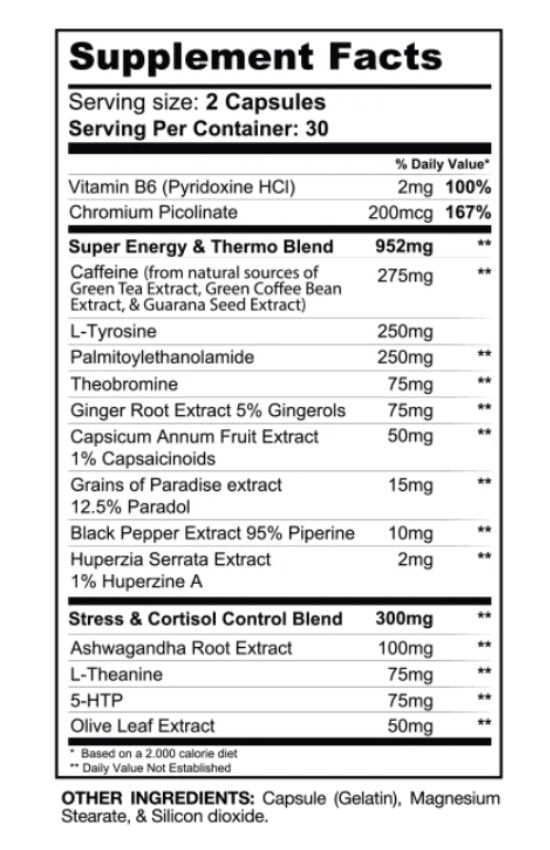 Value & Effectiveness
Gaspari Nutrition comes at a great price of $35.96 for 60 capsules. Each serving size is 2 capsules and there are 30 servings per container to ensure you get all the benefits that this explosive fat burner has to offer without needing to break the bank.
Pros: From a reputable company with Gaspari at the helm, this comes from a group of experienced and dedicated people. Good ingredients and nicely dosed out.
Cons: Some other ingredients could be swapped in for more effectiveness and that energy boost comes from a lot of caffeine so for those sensitive just be aware.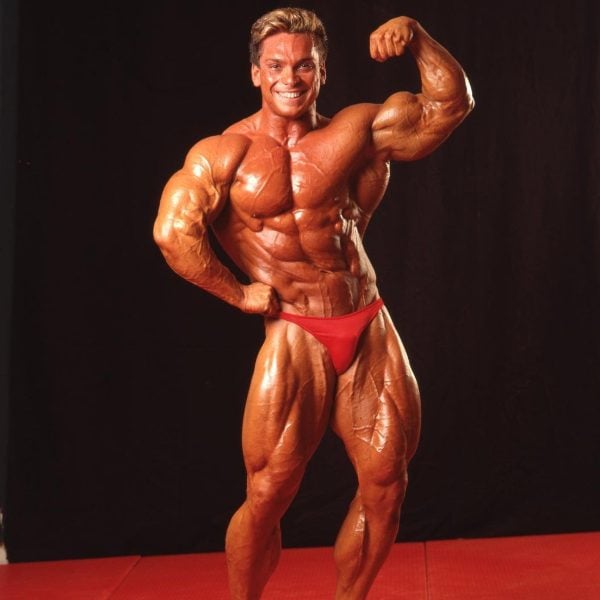 Showcased Athlete
Rich Gaspari is a former professional bodybuilder with years of experience working on his craft, helping others reach their full potential, and working to bring the best sports supplements to the market for every consumer of every sport and athletic background. Gaspari's accolades include a win at the first Arnold Classic in 1989, as well as wins in Mr. America and Mr. Professional World. He came in second place at the 1986, 1987, and 1988 Mr. Olympia competitions. He and his team at Gaspari Nutrition now seek to bring the best supplements to the sports market for everyone to reap the benefits.
Overall Value
Finding a high quality fat burner can be difficult, especially in a market so saturated with fat burners, but Gaspari Nutrition DTN8 Explosive Fat Burner is one you can rely on and trust. Coming from a reputable and experienced company, this fat burner works to shed unwanted fat while keeping on lean muscle with the added benefits of promoting explosive energy, enhancing focus, and providing for adrenal and stress support. What you are really getting is a solid fat burner from a reputable company with great health benefits and ingredients at an affordable price. Try Gaspari Nutrition DTN8 Explosive Fat Burner today and see just how explosive your fat loss can be.
Try DTN8 Explosive Fat Burner at Gaspari Nutrition Today
Generation Iron may receive commissions on purchases made through our links. See our disclosure page for more information.
Let us know what you think in the comments below. Also, be sure to follow Generation Iron on Facebook, Twitter, and Instagram. 
*Images courtesy of Gaspari Nutrition and Rich Gaspari Instagram
References