This protein bar will help satisfy hunger and provide for lean protein support.
Product Overview
Protein bars are a great way to find convenient nutrition, especially for your on-the-go needs. As a quick way to add protein to a busy lifestyle, these bars have grown in increased popularity for their convenience and great tastes. While the market is completely saturated with so many options, it provides consumers the chance to explore different ingredients, different compositions, and an all around nutrition experience to find a brand they enjoy. GNC Total Lean Layered Protein Bar is a great option for whatever your fitness or nutrition goals are.
When looking for the right protein bar, checking the nutrition label and ingredients is key. Too often does a bar look healthy only to read the back and see mass amounts of sugar and added colorings to ruin it all. Just be diligent about the amount of protein and make sure the rest of those macronutrients fit your dietary goals. With protein bars in such high demand now, only accept the best for yourself.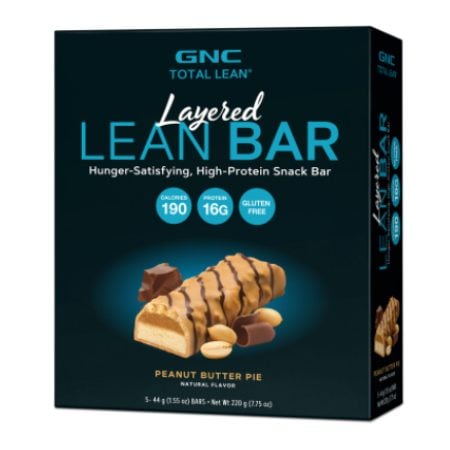 Key Factors Of A Good Protein Bar:
Aid in weight loss: Can curb your appetite and satiate you for longer, while boosting metabolism and muscle growth.
Healthy snack anytime: Whether for a pre-workout boost, post-workout recovery, or mid-day snack.
Convenient: Always on hand and ready to be eaten.
Fit your dietary goals: One type of bar balances all three macronutrients, but another type finds a ratio of mostly fat and protein with fewer carbs.
---
GNC Total Lean Layered Protein Bar made the top 5 of our Best Protein Bar in the GI Supplement Awards!
Check out the winner and other finalists on the Supplement Awards page here.
---
GNC Total Lean Layered Protein Bar Highlights
This layered protein bar from GNC is a great way to satisfy hunger and provide for lean protein support for whenever in your day. As a gluten free option, it fits well with everyone and provides for all the great flavors you love without the guilt of a sweet treat. There is even a Girl Scout cookies flavor with Thin Mints that is naturally flavored and really does taste like a thin mint.
At 190 calories per bar with 16 grams of protein, 8 grams of fat, and 14 grams of carbs, this bar is measured out nicely with the perfect ratio of all three macronutrients. This is great fuel for a pre-workout pump, perfect for recovery with the right ratio of protein, carbs, and fats, or just a bar to eat anytime to satisfy hunger and those sweet tooth cravings while also getting all the health benefits.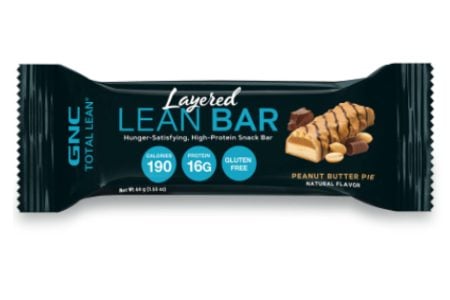 Ingredients
Protein Blend (Whey Protein Concentrate, Whey Protein Isolate)
There are two forms of whey protein: concentrate and isolate. Whey concentrate is high in protein and does contain some fats and carbs and is great for those looking to pack on muscle and increase calories. Whey isolate on the other hand is the more filtered version and upon completion, it is left with high protein and many of the excess carbs and fats filtered out to provide a much leaner source of protein.
By blending these two together, it lowers the fat and carb content to provide for an increased amount of protein. Both of these forms are great for recovery including muscle repair, restoring lost nutrients, and keeping you full (1).
Sodium Caseinate (Casein)
Sodium caseinate is derived from casein, which is the main protein in milk and forms when casein proteins are chemically extracted. It can promote muscle growth and repair muscle tissues for added gains (2).
Beta-Carotene
Beta-Carotene is a plant pigment that has powerful antioxidant properties to help prevent and reduce oxidative stress. It has been linked to better cognitive function and memory (3), promoting better skin, and aiding in eye health.
Natural Tocopherols (Vitamin E)
A derived form of vitamin E, it has antioxidant properties in protecting skin cells form ultraviolet light. It also works to regulate vitamin A in the body to enhance the benefits it has on skin (4).
Vitamin A Palmitate
A form of vitamin A, vitamin A palmitate is a retinoid, which means it is readily absorbed in the body to be used more efficiently. Its benefits include eye, immune system, and reproductive health (5).
Other Ingredients: Peanuts, soy protein isolate, vegetable oils (Palm, Palm Kernel, Soybean), vegetable glycerin, sugar, gelatin, sorbitol, corn syrup, water, sunflower oil, salt, reduce mineral whey powder, dextrose, natural favors, maltodextrin, propylene, glycol mono esters, potassium sorbate, baking soda, acetylated monoglycerides, mono and diglycerides, whey, cocoa, sucralose, silicon dioxide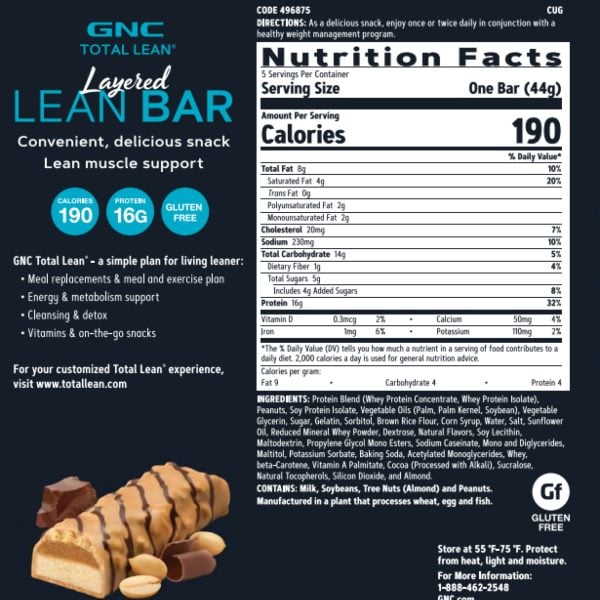 Price & Flavors
Each box of GNC Total Lean Layered Protein Bars contains 5 bars, each being 44 grams or 1.5 ounces, and costs $9.99. With two great flavors being Peanut Butter Pie and Girl Scout Thin Mints, you have two really great tasting options to satisfy all of your needs.
Pros & Cons
Pros: Some of the ingredients are great and at 190 calories with 16 grams of protein, it is a good bar for pre- and post-workout needs and also a mid-day snack. The Girl Scouts Thin Mint flavor is a really interesting choice to diversify the market and really does taste like a thin mint.
Cons: While this bar does have quality ingredients, it also contains sucralose and maltodextrin so it is not as clean as one may like. Some of the other ingredients feel unnecessary. The high sugar amount also makes these bars sweet and not compatible for certain diets.
Wrap Up
GNC Total Lean Layered Protein Bar is a great choice to help satisfy hunger and also provide for lean protein support. With 190 calories and 16 grams of protein per serving, as well as being gluten free, this bar allows for all of your pre-and post-workout needs, or those during that mid-day slump. Two great flavors in Peanut Butter Pie and Girl Scouts Thin Mints offer great tastes and for the price, this is a solid protein bar option. What you are really getting is quality protein bar from a reputable company with great flavors at a great price. Give this lean layered protein bar a try and enjoy the taste of a Girl Scout cookie guilt-free.
Try Total Lean Layered Protein Bar at GNC Today
Generation Iron may receive commissions on purchases made through our links. See our disclosure page for more information.
Let us know what you think in the comments below. Also, be sure to follow Generation Iron on Facebook, Twitter, and Instagram. 
*Images courtesy of GNC
References