Hafthor Bjornsson continues to train, staying ready for his next opponent in the ring.
Hafthor Bjornsson went through an incredible physique transformation once he went from strongman to boxing. Bjornsson was victorious during his first fight and is continuing to train for his next opponent. One has not been named and during this time, Bjornsson is training in different ways. In a recent update, "The Mountain" showed off his shredded abs after an intense workout in the gym.
Bjornsson built a legendary strongman career, including winning the 2018 World's Strongest Man competition and setting the deadlift world record. Following his career in strongman, Bjornsson decided to try his hand in the ring. He defeated fellow strongman Eddie Hall by unanimous decision back in March. Now, he is waiting for his next opponent and has been linked to many names.
First, Tyson Fury has been going back-and-forth with Bjornsson about a potential fight. Fury was supposed to discuss options with his team but nothing has come to light just yet. Also, Martyn Ford is looking to line up an opponent in the ring and the two behemoths have been linked as well. It will be interesting to see who Bjornsson will take on next.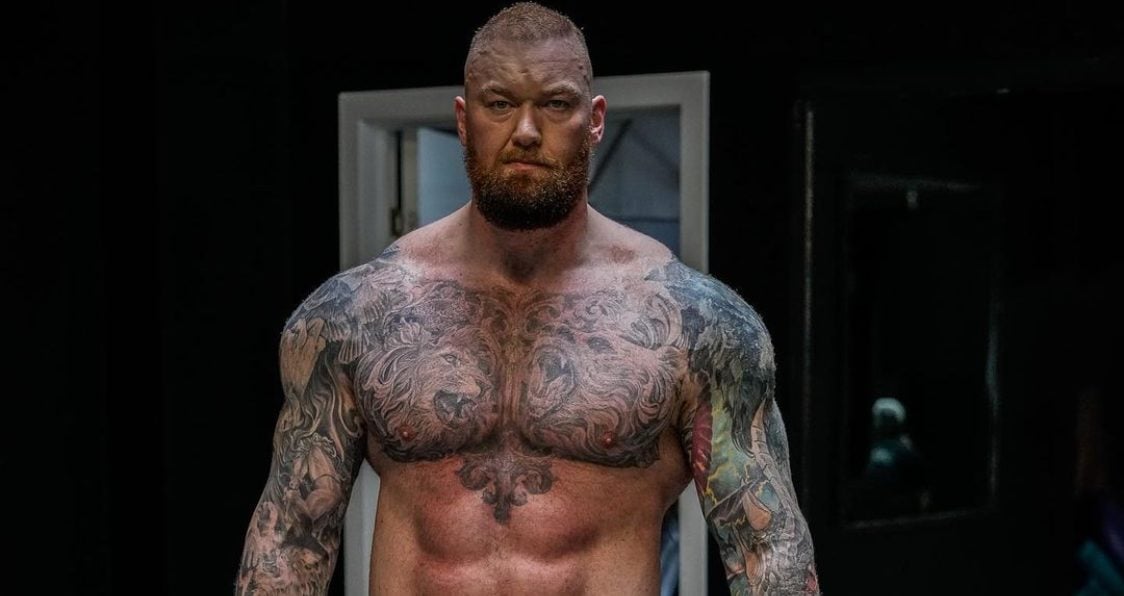 Hafthor Bjornsson Looking Ripped In The Gym
Hafthor Bjornsson took to Instagram to show off his recent physique update and share videos of his workout. It was an ab and back workout that hit muscles in different ways.
"Back attack and abs today after 12 hours of hardcore day at work. Filmed a very physical fight scene all day while being exposed to the ☀️ Thankful and blessed to be in good health and great physical condition! 📈🦾"
View this post on Instagram
Bjornsson did not share the exact numbers of sets and reps in the video. It was quick clips showing hanging leg lifts, T-Bar rows, and row machine reps. Despite taking his training to a different place, Bjornsson continues to maintain superhuman strength that he used to show during competition.
Hafthor Bjornsson recently deadlifted 705.4 pounds for two reps. In the video, it is clear that he has plenty left in the tank. Bjornsson might be training for boxing but he clearly wants to keep his strength at an elite level.
All eyes will be on Bjornsson as he looks to line up another opponent. No matter who it is, it will be a fight that brings plenty of attention. Until then, Bjornsson is keeping his physique in shape and maintaining that shredded physique that he has built over the last year.
View this post on Instagram
For more news and updates, follow Generation Iron on Facebook, Twitter, and Instagram.