Muscles mean nothing if you don't know how to pose!
In bodybuilding, posing is the natural expression of what you love. The lifestyle that you worked so hard to live and the muscles you trained so hard to obtain. You have dieted down and trained hard to get here. But at the end of the day, at the end of the season, when you get up on stage your job isn't to lift weights or eat the right foods. It is to show off your hard work and the results of all those hours you put in, the best way you possibly can.
So to that end, it is a performance. It's the moment you stand on a stage and try to impress people with your movement and muscle definition, and there is so much that goes into perfecting how you show everything off. You need to catch the light just right. Then you have bring attention to yourself when you get called up with the final six, you need to stand out. Don't forget to be flexible. you might have what you think is the best posing routine but at the end of the day you have to adapt to how the audience and judges react.
"I find out which poses they really like. That's why I don't have a specific posing routine, because you never know what they like, and what they don't. Sometimes you think a routine is good but the applause is going down. You have to be very flexible in these things. You have to listen. When you hit the most muscular and they start screaming, you know they like the more freaky poses, so you keep hitting it again and maybe hold it longer to get the cuts out more. You know then that they like the drama shots and you can forget the symmetrical stuff"

Arnold Schwarzenegger in Pumping Iron

Music in Your Posing Routine
Today, music is a very important part of posing. Like we mentioned before, posing is a performance. It is a spectacle that needs to entertain from all perspectives, and if the audio and visuals don't mix well, you aren't doing your best. Therefore, the music is huge when it comes to posing.
While not a main pillar of the pose, picking perfect music and then adapting your routine to the flow is a detail that separates the elite from the rest. Consider how well the movement of your body can match the flow and beat of the song. Choose a song that best fits your range and experience with flow and motion. If you aren't the best with rhythm or grace then have your music reflect that aspect of your personality.
The Importance of Posing Pictures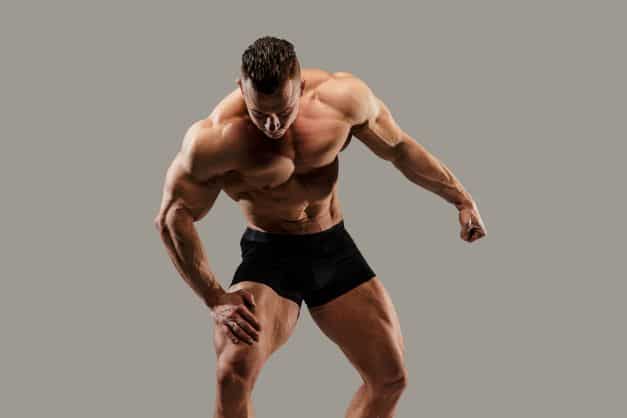 It's a good idea to take photographs of all the poses you plan to use on stage. This way you can take a good look at yourself afterwards and pinpoint the flaws in each pose. Where can you improve your flex? What little things are you forgetting to do? Constantly analyzing pictures of your poses will help you become detail oriented to the point that you can see every inch of your body in your head. That way, when you are on stage you have complete control of every element of the pose.
Plan Your Routine… But Be Flexible
We stated this at the beginning. It's always important to have a plan that perfectly fits in with your music, but you have to open to the fact that things change. Much like any live performance, nothing stays the same from each show. Prepare alternative versions of your routine as a back up. Perhaps the crowd really loved a certain element of your performance – amp that element up so you can keep them engaged. Same goes for the opposite, if a certain pose falls flat – stray away from that aspect as you move forward.
It's also good to have a backup for pre-judging routines. Normally you won't be able to use your own music at this stage. Some of those epic poses might not hit as hard over silence or house music, so adjust accordingly.
Head on over to page 2 for our last 2 posing tips.