Supercharge Female Sexual Health
Female sexual health is an important thing to stay up on, it is a key component in female vitality that is under-addressed. Women can suffer from low libido and sexual dysfunction, which is somewhat similar men suffering from something like low testosterone. It can result in mood swings, low sexual desire and pleasure, and other unwanted affects.
When it comes to dealing with these affects, many women turn to supplements to try and help fix these issues. With a saturated market of libido support supplements and other products said to have similar effects, it's hard to choose. However, Inno Supps strikes again with Inno Drive: For Her. 
Sexual Health Overview
Women's hormones fluctuate over the years, and with that comes fluctuation of sexual health and desire. Many times it comes with age, the female sex drive will begin to drop off around their 40s. However, there are other things that can come into play that will affect a woman's sexual health and drive. 
Issues with sexual function in women can happen as they encounter highs and lows, commonly coinciding with the beginning or end of a relationship. It can also come with with major life changes, such as pregnancy, menopause or illness. Some medications, like antidepressants, used for mood disorders also can cause low sex drive in women. 
Symptoms of sexual dysfunction in women can be: 
Little to no interest in sexual activity

Few to no sexual thoughts or fantasies

Disinterest in initiating sex

Difficulty getting pleasure from sex

Lack of pleasurable sensations during sexual activities
There are so many supplements on the market that are said to help with this, but when it comes down to it, Inno Drive: For Her, stands out amongst the crowd.
Inno Drive: For Her Overview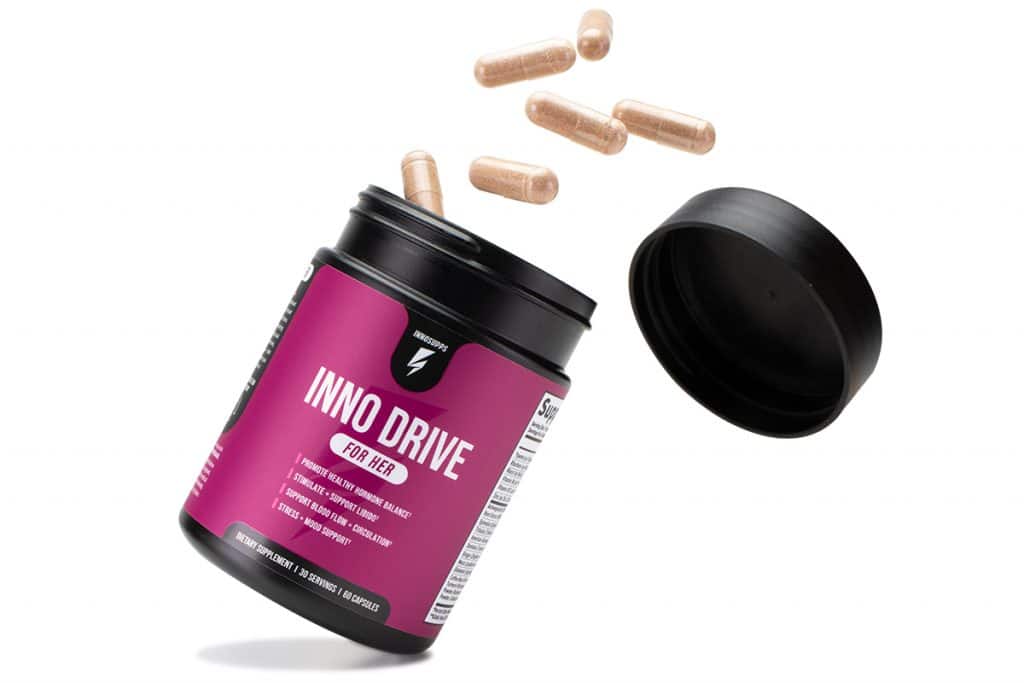 Packed full of ingredients that are specifically picked to the ladies in areas like stress and mood support, libido and hormone balance, and enhancing circulation, there's no surprise that it has such great reviews. Let's take a deeper look at Inno Drive: For Her and what goes into it.
Sexual Support
Beginning with the ingredients for libido support, you have Epimedium, Tribulus, Damiana, and Maca. This promotes healthy hormone balance, but also helps stimulate and support libido. Arousal as a whole is also improved. It does not stop there though, this blend also helps with improving lubrication and satisfaction in the bedroom.
Stress and Mood Support
When it comes to stress and mood, these two things can make or break your days. Low stress and a good mood are what everyone strives for, but some people cannot help feeling stressed or upset due to existential factors. Inno Drive: For Her helps ladies in this area too, with their addition of KSM-66® (a form of ashwagandha) to help improve your mood and lower your stress.
Stress is a direct result of elevated cortisol levels, and it has been shown that KSM-66® can lower them by up to 27%. It also helps prepare the body to handle stress and tension. But we can't forget to mention that it improves cognitive function and brain health, as well as concentration and focus.
Energy and Circulation
Inno Drive: For Her contains an S7® Nitric Oxide Booster blend to increase blood flow. This has a direct effect on boosting arousal and stimulation through adequate blood flow to your love organ and sweetening your sweet spot. The blend also helps give you a 230% increase in nitric oxide, a vital component to female arousal and reaching orgasm. Improved circulation all around will help accelerate physical performance, increase endurance and support vital body functions and overall health.
Price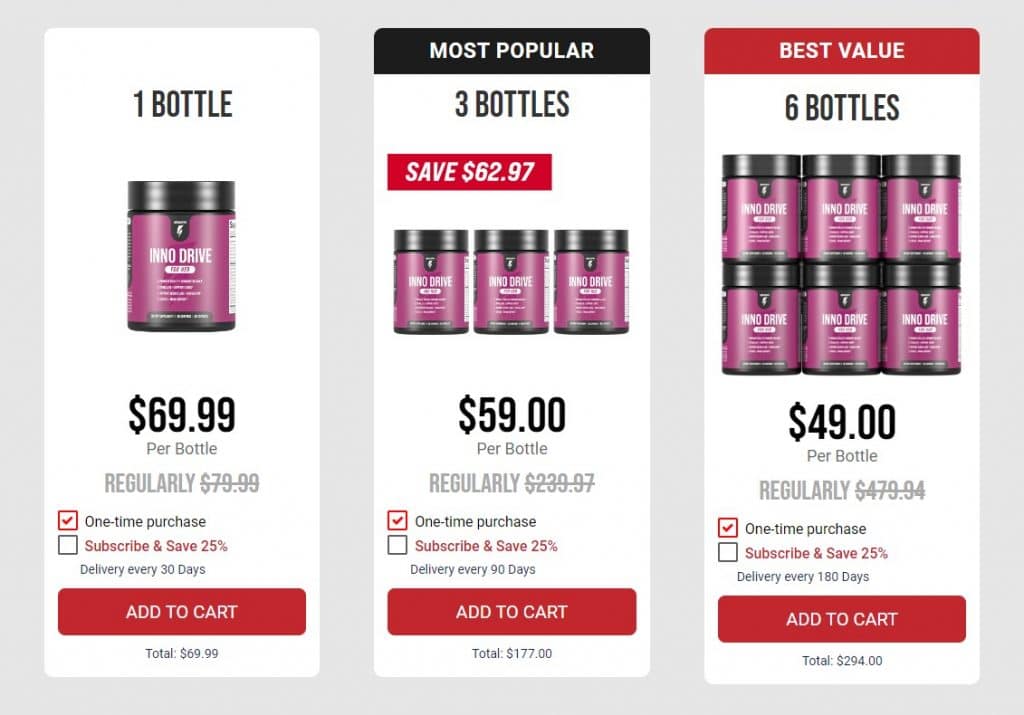 Now that you have seen all the good Inno Drive: For Her does, you may be wondering how much it will cost! Pricing comes in a few different packages.
1 Bottle: $69.99/bottle
3 Bottles: $59.99/bottle 
6 Bottles: $49.99/bottle
There also is a "subscribe and save" deal, where you can subscribe to have each package delivered, and you can get 25% off! 
Now we know it may not be the cheapest supplement on the market, however you get what you pay for. With Inno Drive: For Her, you are getting a quality supplement that is doctor-backed and has great reviews. 
Proof?
Yes you read that correctly above, Inno Drive: For Her is also backed by a doctor! Inno Supps has real physicians study many of their products. In this case, Dr. Anika Ackerman, M.D., Board-Certified urologist, took a look at Inno Drive: For Her. 
Here's what she had to say: "This product was formulated for women to not only support a healthy drive, but to truly invigorate your entire body so that you feel, perform and look your best every single day." 
Aside from having a doctor stand by their product, Inno Drive: For Her has over a thousand reviews on the website. There are 1,296 reviews on the product in total, and out of those 1,074 of them are five stars. Numbers speak volume. 
Inno Drive: For Her Frequently Asked Questions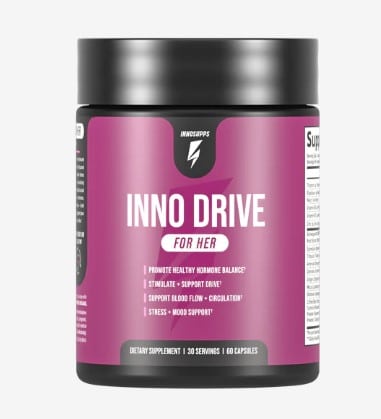 You may have some questions regarding Inno Drive: For Her that you want answered before you buy, and that is more than okay. We have got you covered.
How Long Can I Use Inno Drive: For Her?
Just like with any supplement, there are recommended amounts of time you should "cycle" them. When it comes to Inno Drive: For Her, it is recommended to take Inno Drive: For Her for a minimum of 90-180 days to achieve maximum results in arousal, lubrication and sexual satisfaction. Then after that, let your body reset and recover before you pick it up again! 
How Long Does it Take To Kick In?
This is a tricky question because everyone is different. It has been reported that some women felt a difference in as few as a couple days. On the other hand it took some 1 month to feel a difference. Something that is known is that results tend to improve dramatically between months 2-3.
Is Inno Drive: For Her Vegan Friendly?
Not everyone wants to consume or use animal products, and for those people you are in luck! There are absolutely no animal products, dairy or milk derivatives in Inno Drive For Her. And the capsules are veggie capsules that don't contain any gelatin.
Inno Drive: For Her Wrap Up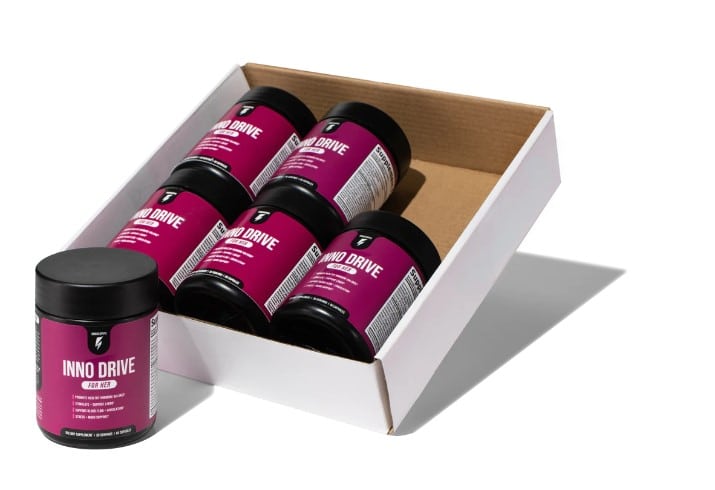 Overall, female sexual health is something that definitely should be kept up on. Women can suffer from things like low libido and sexual dysfunction as a whole, which is no fun for anyone. With a saturated supplement market, Inno Supps stands out with Inno Drive: For Her. InnoSupps packs their product full of hormone balancing and stress relieving ingredients for almost guaranteed results! 
Sure, Inno Drive: For Her may not be the cheapest supplement on the market, but it definitely stands out with its countless good reviews and clinically backed ingredients. Will you be trying Inno Drive: For Her?
References
Mayo Foundation for Medical Education and Research. (2022, February 24). Low sex drive in women. Mayo Clinic. Retrieved December 5, 2022. (Source)
WebMD. (n.d.). How sex drive changes in your 20s, 30s, 40s, 50s, and beyond. WebMD. Retrieved December 5, 2022. (Source)