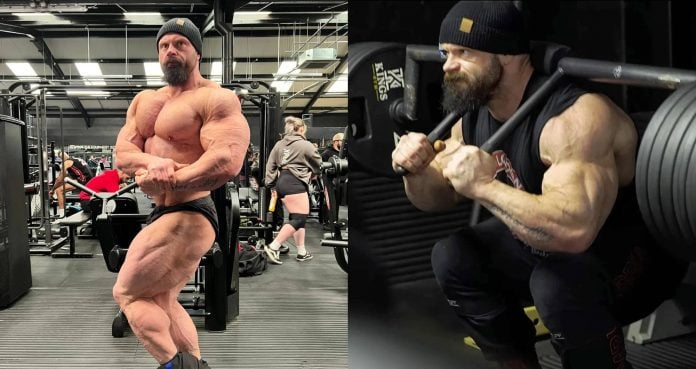 IFBB Pro James Hollingshead shares the 3 exercises to add to your leg routine. 
International Federation of BodyBuilding and Fitness (IFBB) Pro League bodybuilder James Hollingshead has returned to the gym after the 2022 Olympia. Hollingshead took some much-needed time off to allow his body time for rest and recovery after gruesome preparation for Olympia. And he admits that now that he's back to training, he will take it easy initially. That said, there are 3 leg exercises James Hollingshead recommends as he acclimates his body back to weight training. 
James Hollingshead is a British bodybuilder and one of the most prominent Men's Open contenders. He finished outside the top 15 at Olympia 2022, placing 16. And early on in 2022, Hollingshead was planning on retiring soon. 
In addition to putting his body through gruesome workouts to prepare for the most prominent bodybuilding stage, he uses the muscle he's built for other lighthearted and fun extravaganzas. Toward the end of October 2022, Hollingshead had some fun and cosplayed Kratos from God of War. He's also a Twitch streamer. 
Full Name: James Hollingshead
Weight
Height
Date Of Birth

245-255 lbs

5'11''

03/17/1989

Division
Era
Nationality

Men's Open

2010

British
James Hollingshead's 3 Leg Exercises 
View this post on Instagram
On YouTube, James Hollingshead shared what he says are the "3 must-have movements for leg day." James Hollingshead recommends leg movements, including lying leg curls, prime leg extensions, safety bar squats, and donkey calf raises. 
Lying Leg Curl
Hollingshead targeted his hamstring muscles to start his workout with the lying leg curl. According to Hollingshead, the hamstring muscles are the most neglected muscles of most people's leg workouts. Hollingshead stated:
"A lot of people come to the gym, they jump into the leg extensions, they do the leg press. They're fatigued by the time they've done the quads. Legs are tired. They do some hamstrings at the end, but it's kind of half-assed."
In addition, he says that working your hamstrings to start your leg workout will warm up your knees. Compared to other movements, such as leg extensions,  it'll place less strain on them. And Hollingshead says it doesn't matter if you do standing, seated, or lying hamstring curls. 
Hollingshead opted for lying leg curls and performed two sets. In the first set, he completed 10 reps. Then, he reduced the weight and did more than 10 repetitions. 
Benefits
It isolates and strengthens your hamstring muscles. 

It prevents sports-related injuries to your hamstrings. 

This exercise will also engage your

calves

. 
Leg Extension (Prime)
Next, Hollingshead moved to leg extensions on a Prime machine to get his quads involved. He included this movement because the prime leg extension machine has three different loading pins, and the middle pin allows you to keep the resistance the same throughout each degree of the extension. And the top pin increases the resistance initially during the lift. 
"So, really, the two ponds you want to take advantage of are (the middle and the top loading pins). In your earlier sets, you want to be loading in the middle pin, and as you progress, it would be wise to start loading the distribution between the two," Hollingshead said. 
Hollingshead first did the exercise with the plates on the middle pin. And then, for his second and third sets, he put the load on the top and middle pins. While performing this exercise, he tilts back a bit to put the upper part of his quad under the greatest stress. 
Benefits
It strengthens your quads. 

This exercise has multiple pins that give you variability in tension load through different degrees of the movement. 

This movement strengthens your knee. 
Safety Bar Squat
After isolating his hamstrings and quads, the Brit bodybuilder added a compound movement to his leg routine, safety bar squats. Instead of performing a variety of squat variations, such as heel-elevated squats, to engage a muscle more specifically, he kept this movement standard since this workout only included a few movements. So he wanted to ensure he worked the main muscle groups thoroughly and evenly. 
Benefits
This exercise protects your

lower back.

It puts less strain on your hip and knees. 

It's a compound exercise that engages all the muscles in your lower body (quads, hamstrings,

glutes

). 

The safety bar squat gives you better

core stability

. 
Machine Donkey Calf Raise
The movement above was the last of the three must-have leg exercises James Hollingshead says to do. But to finish his workout, he added some calf work with donkey calf raises. 
There are two muscles in your calves—gastrocnemius and soleus—and donkey calf raises engage more of your gastrocnemius (larger calf muscle). The setup of this calf exercise is a bit different from the standing and sitting variations. This movement requires you to bend over and place your torso parallel to the ground, hence the name "donkey." 
Benefits
This exercise isolates your calf muscles to build bigger calves. 

Compared to other calf movements, this one activates your hamstrings more. 

It improves ankle and

hip mobility

. 

This moment improves jumping ability. 
Workout and Wrap-Up 
Leg Exercises 
Lying Leg Curl
Leg Extension (Prime)
Safety Bar Squat 
Machine Donkey Calf Raise
After the 2022 Olympia concluded, James Hollingshead allowed his body to rest and recover. He's now back in the gym but taking things lightly initially. As competitions approach, he'll likely increase the workload. 
After his 2022 Olympia placing and his remark about a possible retirement early last year, Hollingshead's bodybuilding future is up in the air. But he seems motivated. In the Instagram post to announce the launch of his YouTube leg workout video, Hollingshead asserted:
"Total rebuild 

It starts from the ground up so get your squatting head on

There is way more in this tank"
You can watch James Hollingshead's full workout video below on his YouTube channel:
More Workouts
If you enjoyed James Hollingshead's leg workout, check out some of our other workouts from IFBB Pro bodybuilders:
Follow us on Instagram, Facebook, and Twitter for more top exercises from IFBB Pro bodybuilders!