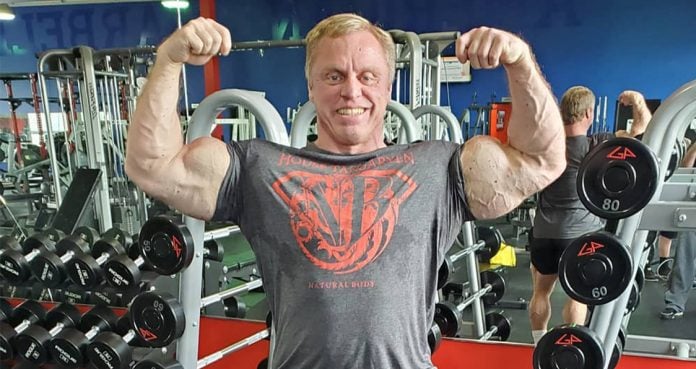 John Meadows, former pro bodybuilder and nutritionist/coach has reportedly passed away.
It has been reported that John Meadows has died at 49 years old. John Meadows, well known in the bodybuilding world as the "Mountain Dog" reportedly died of a pulmonary embolism in his sleep on Sunday, August 8th, 2021. John Meadows is a former IFBB Pro bodybuilder and well known coach. Most recently, he trained IFBB pro bodybuilder Shaun Clarida leading up to his 2020 Men's 212 Olympia win.
The news has been reported to Generation Iron by multiple sources. At the time of his passing, there was no official announcement made by his family or on John Meadows official social media pages. However, the following message was recently posted to Facebook by Brooke Nappo on behalf of Meadows' wife Mary.
"Dear Friends & Family,
I am posting this on behalf of Mary. This morning John passed away unexpectedly and peacefully in their home.

As you can imagine, this is a complete shock to her and the boys. She will update as soon as she can.

Please know she is very thankful for all the prayers and support she knows her and the boys will receive from you all.
-Brooke Nappo"
John Meadows is a bodybuilder who, during his early days in the sport, suffered from a rare colon disease that nearly killed him. Eventually his colon burst and he was rushed to the hospital. Luckily he survived and after months of recovery he returned to bodybuilding to do what he loved. He earned his IFBB Pro card despite these major health setbacks.
His past health conditions gave him a different perspective on bodybuilding and life. His aim became to continually put a focus on his health in a way many people don't. After retiring from competitive bodybuilding – he continued as a nutritionist and coach. He's guided many bodybuilders through their pro careers. Most notably, he recently coached Shaun Clarida in 2020 – when he won the Men's 212 Olympia. Generation Iron documented the journey alongside Shaun Clarida, Meadows and the team at Nutrabio.
On May 11, 2020, John Meadows suffered from a heart attack due to a clotting disorder in his blood vessels. He was hospitalized but was quickly brought back to a stable condition. The news was first announced by his wife, Mary Meadows and covered here at Generation Iron.
John credits his wife as his biggest influence in life. She was with him through "ups" and "downs," always supporting his decisions in life. "I couldn't have done it without her," John Meadows states of his wife. "When I was sick and got out of the hospital and I was too weak to look after myself, she did everything for me, including sanitary things I can't talk about."
"IF I SAY I WANT TO DO SOMETHING, WE'LL TALK ABOUT IT, MAKE SURE IT'S WORKABLE AND THEN SHE GETS BEHIND ME AND SUPPORTS THE IDEA AND ME ALL THE WAY. AND WHEN I'M HURTING THE LAST THREE OR FOUR WEEKS OF MY DIET, SHE SEES THE LOOK ON MY FACE AND SAYS, 'JUST HANG IN THERE, IT'S GOING TO BE WORTH IT.' AND I NEED TO HEAR THAT AT THAT STAGE."
John Meadows soon left the hospital, focused on recovery, and soon returned to coaching pro bodybuilders. Just this weekend, one of his coached athletes, Brooke Walker, won the Europa Phoenix Games 2021 and earned her Olympia qualification. It has not been confirmed that his death was tied to his previous heart attack or blood clotting disorder.
After his recovery, Generation Iron reconnected with John Meadows for a GI Exclusive interview discussing his heart attack, recovery, and future plans in bodybuilding. You can watch the full uncut video below:
John Meadows was a well known and beloved bodybuilder, coach, father and husband. He was a vital part of bodybuilding over the past few decades and will be missed severely by the entire community. Generation Iron sends condolences to his friend and family during this time.
Many bodybuilders have begun sending an outpour of support on social media. The news was reported to us by multiple sources – including our Talking Huge host Craig Golias who directly confirmed with Generation Iron. We will continue to update this story as more information becomes available.
View this post on Instagram
View this post on Instagram
View this post on Instagram