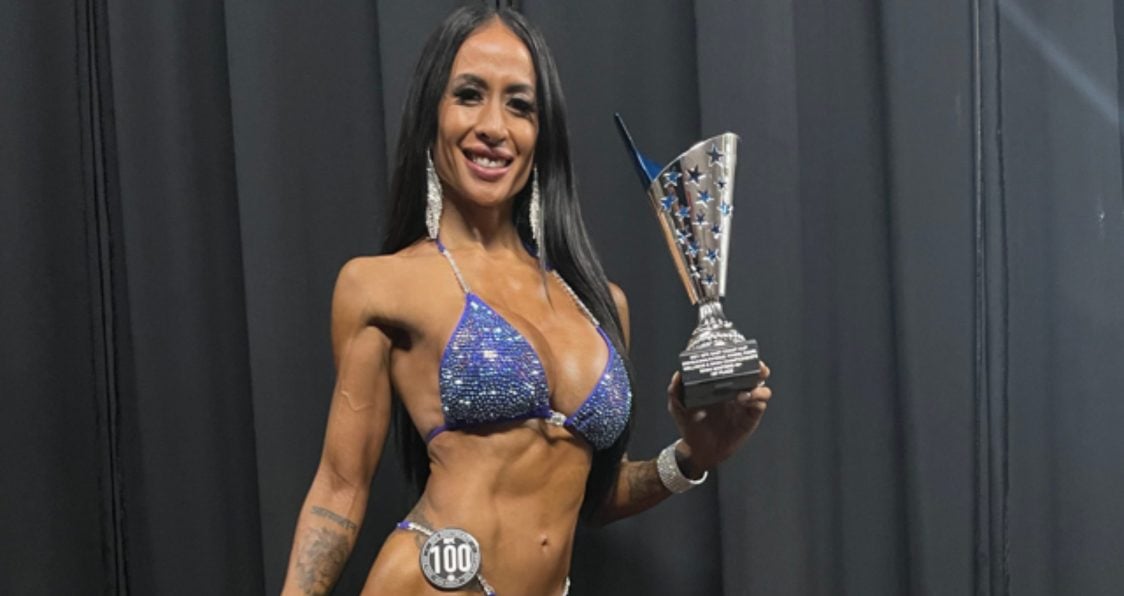 After months and months of prep, strict dieting, and grueling workouts, Margarita Ventura had a great showing this past weekend.
The 2021 NPC East Coast Championships concluded this weekend with a great showing from high-class bodybuilders seeking that top spot, including Generation Iron's very own, Margarita Ventura. East Haven, Connecticut was a great host and this national qualifier saw athletes competing in 8 events: Bodybuilding, Classic Physique, Figure, Fitness, Bikini, Men's Physique, Women's Physique, and Wellness.
One of Generation Iron's athletes, Margarita Ventura, had a phenomenal showing this weekend, making great use of her preparation and using her experience to her advantage. A dedicated athlete and professional, one of Margarita's goals as a professional bodybuilder is to show others that you can be an educated, career-oriented athlete, breaking down stereotypes and taking care of your longevity and health. Honestly, after this past weekend, there is no better example.
Margarita competed in two events at the NPC East Coast Cup Championships, being Women's Bikini Open Class B and Women's Bikini Masters 40+. Facing some tough competition in both categories, she finished 6th place in Women's Bikini Open Class B, but took home the top prize in 1st place in the Women's Bikini Masters 40+. An awesome showing from one of Generation Iron's own.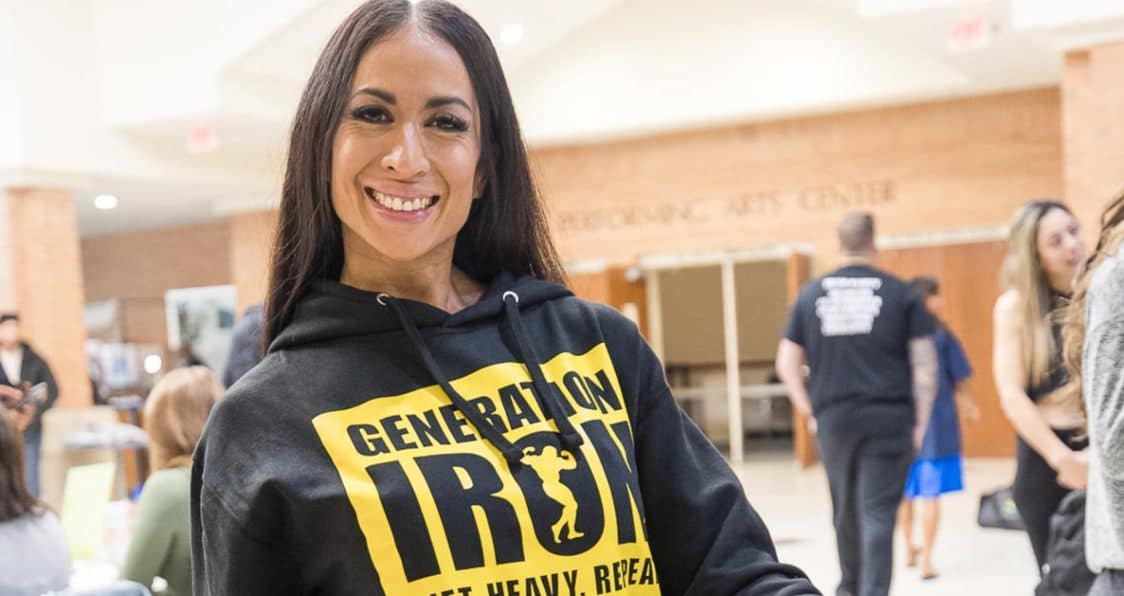 Margarita Ventura Preparation Recap
Before this event, we covered Margarita's preparation. From training, to nutrition, and her mental prep, diving into the whole picture and learning how a true professional manages her contest prep is invaluable for those of us looking to do the same. While of course everyone is different when it comes to their approach, listening and learning from professional bodybuilders and other athletes can provide insight into certain things you may not have known before. Through this, you only maximize your training and get the best results possible.
With all that was said, the last time we spoke with Margarita, one of the most important points she made was that it is possible to train hard, eat strict, and prioritize your health and fitness while still living a fun and healthy life. For those of us wanting to get into bodybuilding at a high level, it is certainly a balancing act. And sometimes that wire can feel pretty thin. But taking your health and longevity into account will only serve you in the long run so you can keep doing what you love for longer.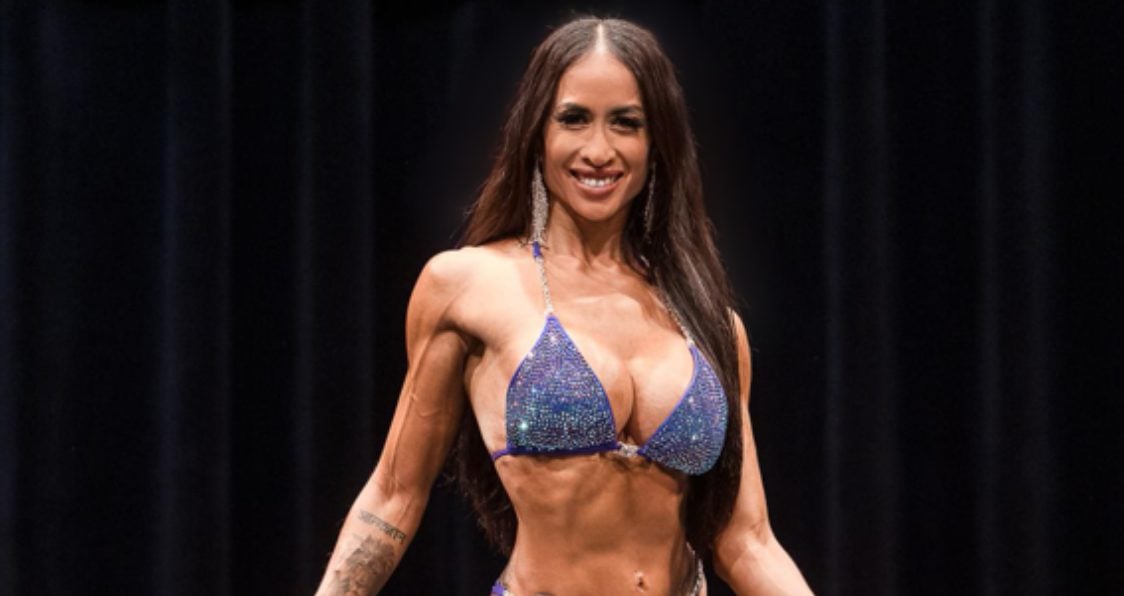 NPC East Coast Cup Championships
Let's dive right into Margarita's routine in the hours shortly before she walks on stage. The process is almost complete, the workout hours are logged, the calories have been counted, but now it's time to put it all into action against competitors all hoping for the same.
The Night Before
The night before the show is as relaxed as it can be. Margarita sticks to her meal prep protein but works with an adjusted carb intake (if any). Vegetables are replaced with almonds and her water intake is reduced to ½ gallon for that day so whatever is left is finished. One unsalted rice cake and 1 tsp. of no salt, no sugar peanut butter is the snack of choice if she is still hungry.
For rehab work, a Theragun or spot massage ball can hit her lower back, upper back, and shoulders. Some lighter shoulder and glute exercises get thrown in the mix and final rollouts for optimal relief.
Now comes the planning. The night before is when competitors get a spray tan, so keeping that intact is vital. Long sleeves and loose pants will do. To wrap up, organizing all show day materials makes the morning go much smoother. Everything from her bikini, jewelry, heels, make-up, meals, water, supplements, hair products, and whatever else is needed all gets laid out. And of course, resistance bands or free weights for a pre-show pump.
Margarita's mindset going into these events is one of nostalgia, gratitude, empathy, and compassion. All the people who helped get her to where she is are on her mind and with the work done, she tells herself that she'll dominate. Win or lose, she gave it her best and to go out and have fun makes those who carried her here proud.
The Morning Of
The morning of is hopefully as seamless and stress-free as possible. Prepping, planning, training, and practicing her poses are all something done well in advance so the morning goes as smoothly as possible. For Bikini competitors, the mornings tend to be a bit hectic with hair, make-up, and tanning touch-ups, so she does her best ahead of time to make it relaxing.
Typically a morning meal is white meat, fish protein, or egg whites with 1/3 cup of oats, 1 cup of water, and a water pill.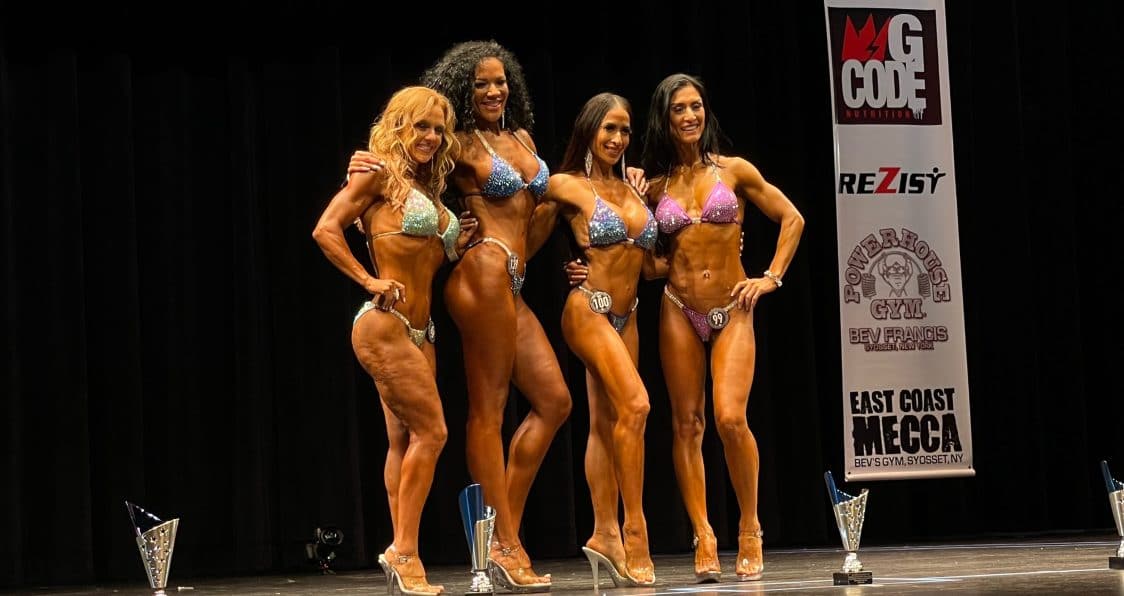 Competition Time
Margarita feels most at home on stage. From her early days of dance and acting, the only times nerves have a chance is if she is ill-prepared. Now a seasoned professional, she knows exactly to do to make those final few moments before stepping out on stage as relaxed as possible. Whether it be listening to music or chatting with fellow competitors and offering words of encouragement, once she steps on stage, feels out the audience, and knows she's prepared, the rest is all easy.
When results come out, there's quite a bit of adrenaline and gratefulness as she tries to stay in that moment. With both a win or a loss, sportsmanship and respect are huge pillars for her and her desire to make those around her proud of immense. It takes a village for an athlete to succeed and that can be a big weight.
Regardless, you win some and you lose some. Greatness is earned, not given and without a sense of urgency, desire loses its value. Margarita has never forgotten the words someone mentioned to her years ago; hard work can beat talent. Even when you win, someone is always just one step behind you.
What's Next For Margarita Ventura
After coming off this amazing event with great finishes, Margarita Ventura plans on taking some time to prepare for next season. With intentions on competing in early November, she plans on taking some time, focusing on training, and working on shooting some content, moving competitions to next year. It's been a long but great year for Margarita and she only hopes to continue this momentum heading into the new year.
With the holiday season rolling around, she plans on spending quality time with family and friends. She will also be volunteering at Rise Against Hunger to ship food packages all around the world to schools for underprivileged communities to encourage children to get an education in order to empower themselves.
When it comes to work, she and her team are working on pioneering the new hybrid and full remote agency business model along with the Equity, Diversity & Inclusion initiative, along with certain opportunities dealing with metahumans and metaverse virtual worlds to allow fitness folks the chance to be strong, savvy, and smart. For her personal digital brand, there may be some changes occurring but the fitness app for customized and personalized plans will remain the same and will still be affordable for all. Check out her website here for more details!
Margarita is also teaming up with Generation Iron for a series with more details coming soon. Stay tuned!
---
Let us know what you think in the comments below. Also, be sure to follow Generation Iron on Facebook, Twitter, and Instagram. 
*Images courtesy of Margarita Ventura