Martyn Ford shared some more information on social media about his cancelled fight with Iranian Hulk.
Martyn Ford revealed last week that his fight with the Iranian Hulk was canceled. What ford left out was an exact reasoning as to why this happened but framed Sajad Gharibi as the reason. This is something that did not sit well with Iranian Hulk as he fired back. Now, Ford is claiming that there were many concerns out of the ring.
Gharibi quickly responded following Ford's video and shared that the cancellation came from Ford's side. Because of this, Iranian Hulk was prepared to sue for a contract breach since it was not his decision to pull out of the fight. 
Despite the back and forth between fighters, there was still no reason revealed and this left fans in the dark. Ford recently shed some light on his side via social media when one person asked point blank why the fight will not be happening.
Martyn Ford responded that there were "concerns on mental well-being and also health and safety risk involved with this matchup."
"They say a picture speaks a thousand words. Let's just say, what they turned up WAS NOT what was sold to us by the investors. This followed up by crying on the TV and saying that he wants to end his life. Was enough for us."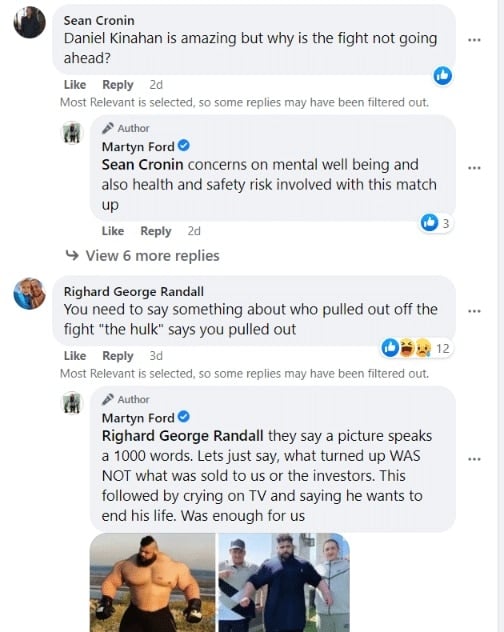 It seems as though the cancellation did indeed come from Ford's side but they had reasons. He is referring to the television interview that recently came out of the Iranian Hulk explaining the relationship with his family following their stare down. Gharibi became emotional when discussing how his family reacted to the situation.
Ford also shared a picture of Iranian Hulk where he is looking significantly downsized. This was to be expected as he trains in different ways to prepare for a fight but the weight he lost is eye-opening and apparently was a cause for concern for Ford and his camp.
Despite the cancelled fight, Ford has continued to train and will likely step in the ring soon. In his original video, he revealed that it will not be on April 30 but the event is still on at the O2 Arena. The main event will feature a new fight that has not been shared yet.
Check out our exclusive GI interview with Martyn Ford above discussing his massive size, height, and accusations of being photoshopped.
Martyn Ford has recently shared some dream fights, including one with The Rock, but it is unknown who his next opponent will be. Ford has also been linked to Hafthor Bjornsson, following his victory over Eddie Hall. 
As of now, we have a reason as to why the fight between Martyn Ford and Iranian Hulk was cancelled. What we do not know is if Iranian Hulk will respond once again or if they will ever step in the ring. Now, we will have to wait for Ford to announce his next opponent.
For more news and updates, follow Generation Iron on Facebook, Twitter, and Instagram.