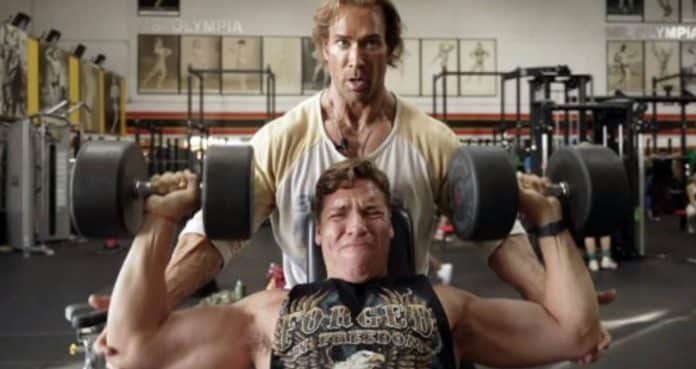 4x Mr. Natural Universe Mike O'Hearn and Arnold Schwarzenegger's son, Joseph Baena, destroy a shoulder workout together. 
Having boulder shoulders are critical for a well-developed physique. The bigger and more muscular your shoulders are, the wider your body will look, enhancing your V-taper — which is essential for bodybuilders. In addition, strong shoulders will carry over to the big compound movement barbell bench press and enable you to lift more. 4x Mr. Natural Universe champ Mike O'Hearn teams up with Arnold Scharzenegger's son, Joseph Baena, to annihilate a massive shoulder workout. 
Mike O'Hearn is a bodybuilder, powerlifter, martial artist, and actor. You may have seen him playing the Titan in the TV series American Gladiator. Mike O'Hearn has made headlines for controversy on whether or not he's natty. He's still in competition shape at 53 years of age, so people are wondering how he's been able to uphold his physique without taking any anabolic steroids. But O'Hearn denies any speculation and has been a self-proclaimed natural bodybuilder his entire life — he's never failed a drug test during his career as a bodybuilder and powerlifter. 
Full Name: Mike O'Hearn
Weight
Height
Date Of Birth

245-255 lbs.

6'3"

01/26/1969

Profession
Era
Nationality

Bodybuilder, Model, Entrepreneur

1990, 2000, 2010

American
Joseph Baena is best known for being the heir of the 7x Mr. Olympia Arnold Schwarzenegger. And he has the passion and genes for bodybuilding. Baena also competed in Dancing with the Stars, leading to a 10-pound weight loss. In addition, Baena works in real estate. Baena trains at the Gold's gym in Venice Beach, California. 
O'Hearn and Baena trained at that Gold's Gym and completed a shoulder workout together. 
Mike O'Hearn and Joseph Baena's Shoulder Workout
View this post on Instagram
Below we'll dive into the shoulder movements Mike O'Hearn and Joseph Baena completed. 
Seated Dumbbell Overhead Press 
The first exercise on their agenda was seated dumbbell overhead shoulder press. This compound exercise will engage multiple muscles, mainly your anterior and lateral deltoids, but it'll also target a bit of your triceps. Compared to barbell shoulder press, you won't be able to use quite as much weight with this movement, but it will work on your stability and coordination more. 
Machine Overhead Press
Next, the pair moved to another compound shoulder movement, machine overhead press. This will engage the same muscles as the seated dumbbell overhead press, except it'll be safe and easier to control. But it won't engage your stabilizers or core as much. However, that will force your shoulder neurons to fire more to lift the weight. 
Mike O'Hearn noted that your grip is wider as you begin the movement, but your hands come closer together throughout the lift. And since the handles are in front of you, your anterior deltoids will be activated more. After this exercise, O'Hearn and Baena moved to an isolation movement, machine lateral raises. 
Machine Lateral Raise
Machine lateral raises isolate the medial deltoids. This exercise will round your shoulders out and broaden your physique. They'll also improve your shoulder mobility and stability. 
Lying Cable Inverted Grip Upright Row
After hitting their medial deltoids, they went to an exercise that engaged more of their rear deltoids, lying cable inverted grip upright row. This exercise also targets a bit of your upper back and trapezius. 
The duo then moved to their final exercise in their shoulder workout. 
Lying Cable Front Raises and Lying Cable Lateral Raises 
O'Hearn and Baena completed a few sets of lying cable front raises and lateral raises to close their workout. O'Hearn guided Baena on this exercise. Lying cable front raises isolate your front delts, and lateral raises engage your medial delt. 
You must have a slight bend in your elbows during these movements to protect your shoulders, but you don't want your elbow to bend too much, or you won't target your shoulders as much. The benefit of lying to perform these exercises as opposed to standing is that they'll force your shoulders to do the bulk of the work instead of relying on your core, stabilizers, and momentum for help. 
Workout
View this post on Instagram
Exercises 
Seated Dumbbell Shoulder Press
Seated Machine Overhead Press
Machine Lateral Raises
Lying Cable Inverted Grip Upright Rows
Lying Cable Front Raises and Lying Cable Lateral Raises 
Mike O'Hearn Discusses the Effects Dancing Had on Joseph Baena's Physique 
Mike O'Hear observed Joseph Baena's physique during their workout. In addition, he gave his two cents on how dancing has improved his performance. O'Hearn stated to Baena:
"I'm going to assume this is after one week of dancing. Planted, solid, positioned… All the way through doing the shoulder press. I've never seen you look solid from the ground to the head ever than this moment right now. I've never seen it. I can see you're connected."
Baena responded:
"You use muscles you have never used before. It's a lot of balance, explosive energy and a lot of core (strength), you know. My calves and hamstrings have never been so sore in my life… It's just totally different."
Mike O'Hearn uploaded his and Joseph Baena's full workout video on YouTube, which you can watch below:
More Bodybuilding Workouts
If you enjoyed walking through Mike O'Hearn's and Joseph Baena's shoulder workout, be sure to check out some other bodybuilding workouts — featuring different athletes —- that target other muscle groups:
Final Word 
Mike O'Hearn and Joseph Baena went through a shoulder workout that consisted of a couple of machine and dumbbell compound movements that engage multiple muscles and strengthen the shoulder joint. And it also included a few isolation movements to engage their anterior and lateral deltoids better. 
Mike O'Hearn motivates many bodybuilders and lifters who aspire to build an incredible physique without using drugs. His workout with Joseph Baena shows you the kind of workout it takes to naturally sculpt the type of physique he has. In addition, Joseph Baena proves that dancing can be good for improving your form. 
Follow us on Instagram, Facebook, and Twitter for more bodybuilding workout videos!