Night Shred/Night Shred Black Overview 
If you have ever tried to lose weight, you know how hard it can be. So many people work out and eat healthily but don't lose weight. Sometimes this problem is because people need to sleep more. Quality sleep not only gives you the energy for exercise, but it helps you burn fat. Night Shred and Night Shred Black are two quality supplements that may improve your sleep and help burn fat. 
These two supplements contain potent ingredients that improve your sleep to make fat loss easier. In addition, they have fat-burning components too. Of course, exercise and eating a healthy diet are imperative for burning fat. However, the most important thing you can do for your health and fitness goals is to improve your sleep.  
This article will dive deeply into Inno Supps' products and how they can boost your sleep quality and metabolism. 
Main Takeaways
Night Shred maximizes the quantity and quality of your sleep while priming your body to accelerate the fat burning process. A sense of relaxation comes quickly and the onset of REM sleep comes much faster.
Inno Supps Night Shred and Night Shred Black help you experience deep sleep while putting you in a fat-burning state. 

Night Shred Black contains the potent sleep-inducing ingredient Zylaria and other ingredients for relaxation for a good night's rest. Night Shred has the potent herb ashwagandha to reduce stress and other components for being well-rested. 

These supplements have the metabolism-boosting ingredients grains of paradise, CLA, and L-carnitine. 
Importance of Sleep for Weight Loss 
Night Shred Black contains the most revolutionary and cutting-edge sleep-inducing ingredient, Zylaria™, along with powerful metabolism-boosting ingredients to curb nighttime cravings and accelerate the fat‐burning process.
Getting enough sleep is vital for many aspects of your health, including weight. Poor sleep is one of the most significant risk factors for obesity, and studies show a lack of sleep contributes to weight gain (1).
If you're not getting enough sleep, you might find yourself snacking more or having trouble resisting foods high in sugar or fat. As a result, you may also experience a higher body mass index (BMI). 
Sleep regulates your appetite and metabolism by controlling your hunger hormones, including ghrelin (the "hunger hormone") and leptin (the "satiety" hormone). When you're well-rested, leptin levels are high, and ghrelin levels are low – this helps you feel full after eating a meal so that you don't overeat or eat foods with poor nutritional value.
However, when you're sleep deprived, your body produces more ghrelin than usual while also producing less leptin. This leads to increased hunger and cravings for high-calorie foods such as chocolate or chips, which can lead to weight gain if consumed regularly over time.
Inno Supps Night Shred and Night Shred Black Highlight 
Inno Supps Night Shred and Inno Supps Night Shred Black are premium sleep aid supplements that help burn fat. It does not stop there, however. Inno Supps produces a variety of supplements to improve your overall health and well-being, such as Inno Shred Carb Cut Complete and Inno Shred, and Inno Shred Focus. Unlike many other supplement companies, they don't use artificial ingredients, additives, or sweeteners. 
Inno Supps Night Shred and Inno Supps Night Shred Black contain potent elements to boost sleep quality and metabolism. The main difference between these two supplements is that Night Shred contains ashwagandha, an herb that effectively reduces stress. And instead, Night Shred Black has cutting-edge Zylaria to release the neurotransmitter gamma-aminobutyric acid (GABA) to put you in a calm state (2). 
Key Ingredients in Night Shred and Night Shred Black 
Here is the blend of ingredients have that help you sleep and burn fat. 
Night Shred
Magnesium:

a mineral that promotes sleep

GABA:

a neurotransmitter that helps relax you

Ashwagandha:

an herb that reduces cortisol (stress hormone)
Night Shred Black
Valerian Root:

a plant that puts you in a sedative state

Zylaria:

a mushroom that improves mood and reduces stress 

CLA + Grains of Paradise
Magnesium, GABA, ashwagandha, valerian root, and Zylaria puts you in a zen state and promotes high-quality sleep. And Grains of Paradise and CLA will simultaneously maximize fat burning and curb your cravings before bed. Both supplements also contain melatonin, passion flower, and chamomile, which are all effective at helping you relax and fall asleep. 
How to Best Use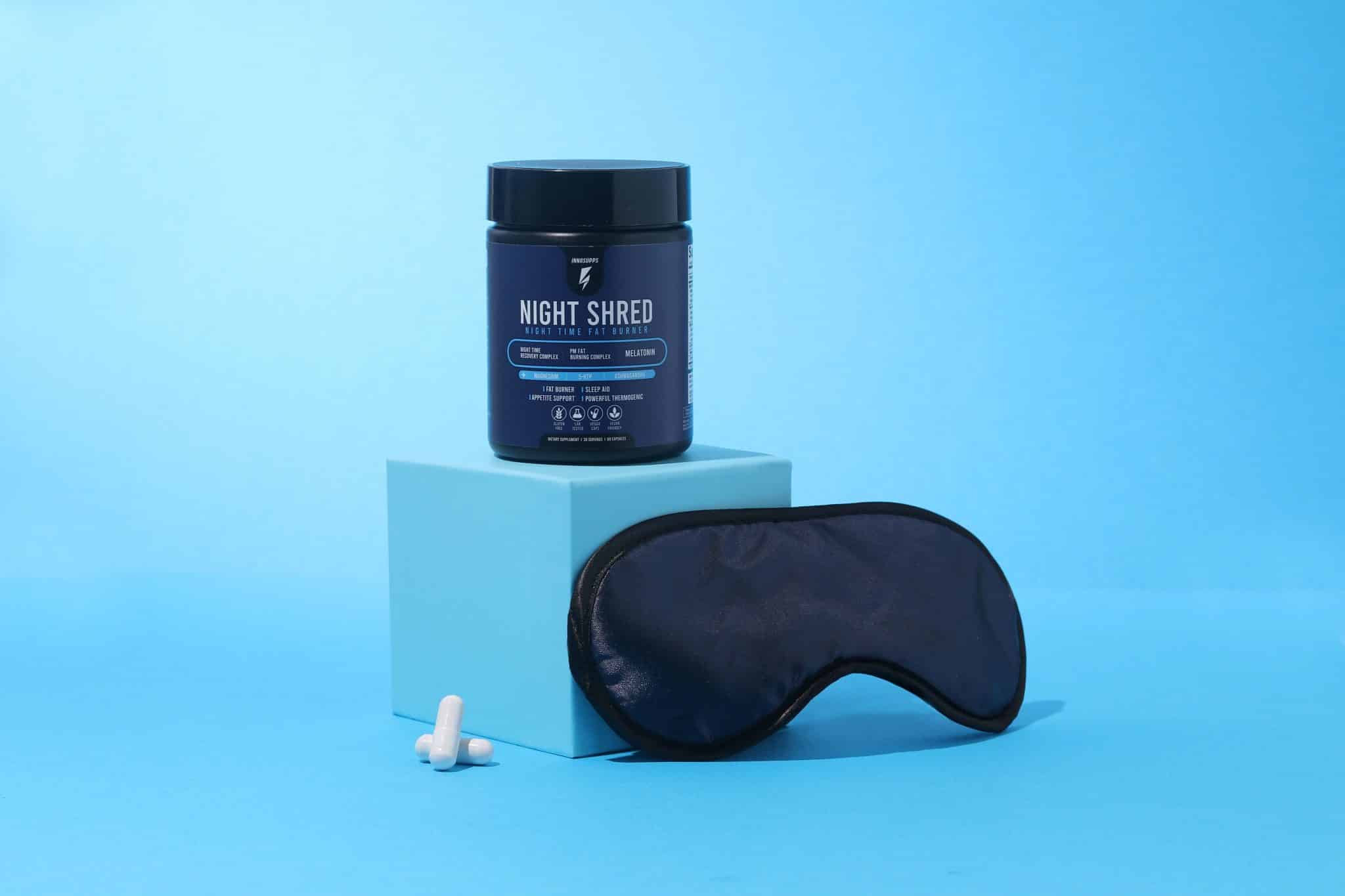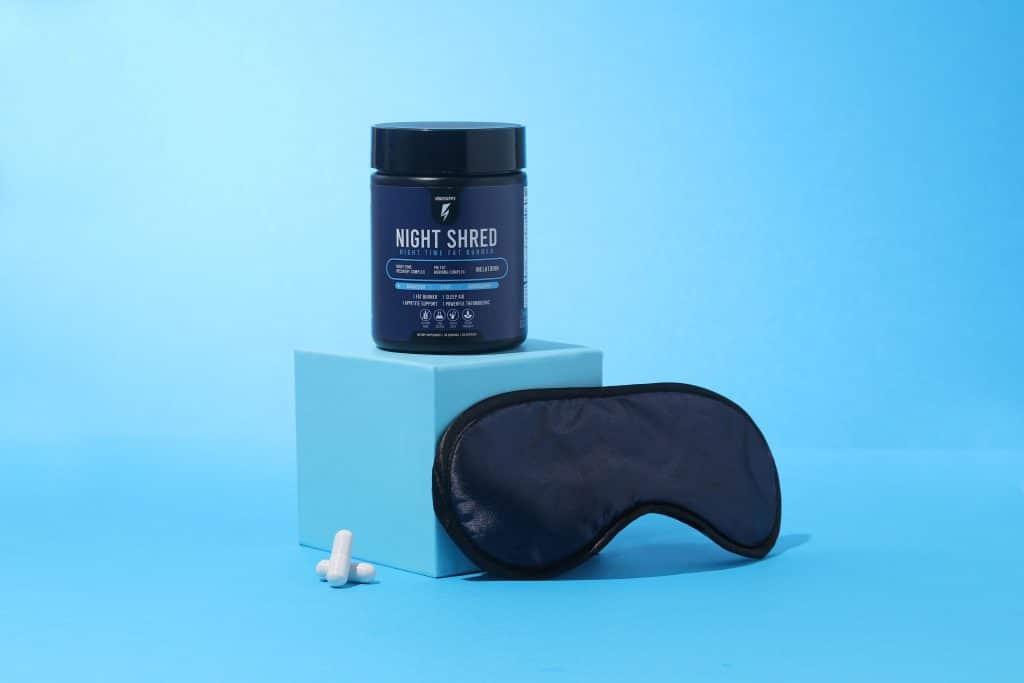 Inno Supps recommends taking two capsules of Night Shred and Night Shred Black 30 minutes before bed to get you into REM sleep quicker so you wake up refreshed with no morning grogginess. Inno Supps suggest taking the supplements for a minimum of 90 days for max results.
Overall Value 
In the end, getting enough sleep is an excellent place to start if you want to lose weight and keep it off. If you're having trouble sleeping, supplementing with Inno Supps Night Shred and Night Shred Black is a surefire way to improve your shut-eye. Not only do they both contain powerful sleep-inducing ingredients, but they also have a blend of properties that help boost your metabolism. 
---
Generation Iron may receive commissions on purchases made through our links. See our disclosure page for more information.
Follow us on Instagram, Facebook, and Twitter for more reviews on the best supplements!
References
Cooper, C. B., Neufeld, E. V., Dolezal, B. A., & Martin, J. L. (2018). Sleep deprivation and obesity in adults: a brief narrative review. BMJ open sport & exercise medicine, 4(1), e000392.

(Source)

Zhao, Z., Li, Y., Chen, H., Huang, L., Zhao, F., Yu, Q., Xiang, Z., & Zhao, Z. (2014). Xylaria nigripes mitigates spatial memory impairment induced by rapid eye movement sleep deprivation. International journal of clinical and experimental medicine, 7(2), 356–362.

Sugita, J., Yoneshiro, T., Sugishima, Y., Ikemoto, T., Uchiwa, H., Suzuki, I., & Saito, M. (2014). Daily ingestion of grains of paradise (Aframomum melegueta) extract increases whole-body energy expenditure and decreases visceral fat in humans. Journal of nutritional science and vitaminology, 60(1), 22–27. (Source)