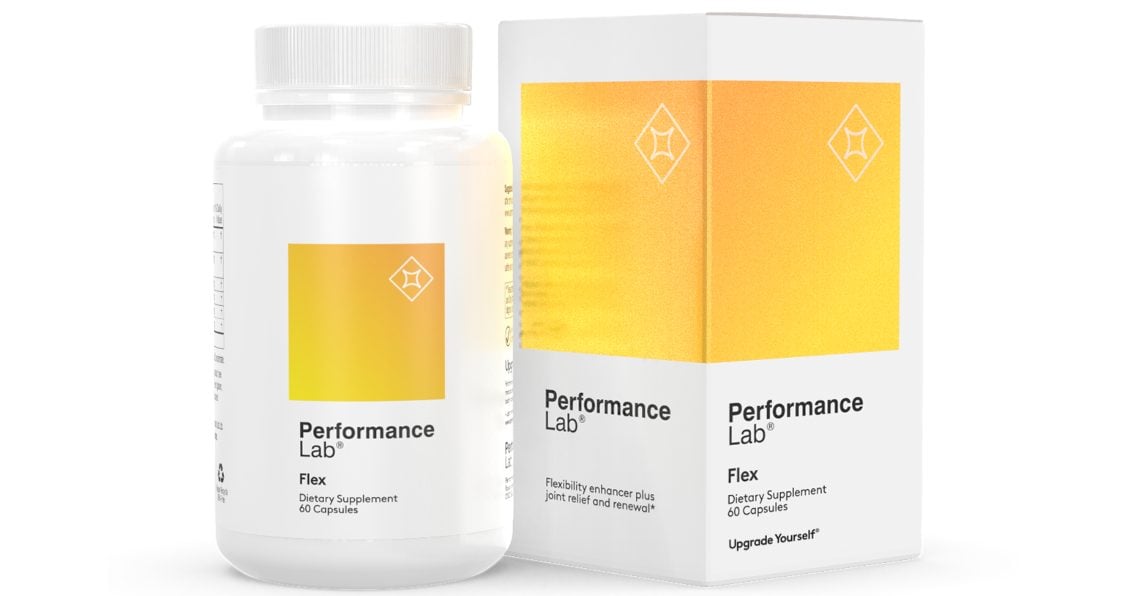 This joint support supplement will optimize joint flexibility and long-range health.
Product Overview
Our joints tend to take a beating at all times of the day. The constant wear and tear of everyday life can simply be debilitating and something we just don't want or need. For those of us bodybuilders constantly wearing our bodies down, we know how hard it can be to bounce back and feel as though our joints are keeping us from doing what we love. Thankfully, supplements companies have worked to produce joint supplements to keep us healthy both inside and out of the gym. Performance Lab Flex is a premium supplement made with cutting edge ingredients to give you the best in terms of optimal movement and joint health.
A good joint support supplement will work to better support and maintain the health of our all too vulnerable joints. Working to restore strength and mobility, help with fluid movement, reduce inflammation and pain, and improve our lifestyle are all great benefits of a joint support supplement. Performance Lab Flex can do this and much more and is one of those premium products to absolutely try.
Performance Lab Flex is perfect for joint lubrication and shock absorption that provides herbal relief for stiff and achy joints.
Performance Lab is a leader in nutritional supplements and with formulas that include industry-leading ingredients, their products combine nutritional technology with high-quality and innovative supplements to meet all of their consumers' needs. Their patented NutriGenesis process ensures clean, safe, and effective vitamins and minerals, and with clean labels that are non-GMO and 100% gluten-free, you can be sure that no hidden agendas lurk in your supplements. Their state-of-the-art facilities are current good manufacturing practices (CGMP) compliant and registered with the Food and Drug Administration (FDA).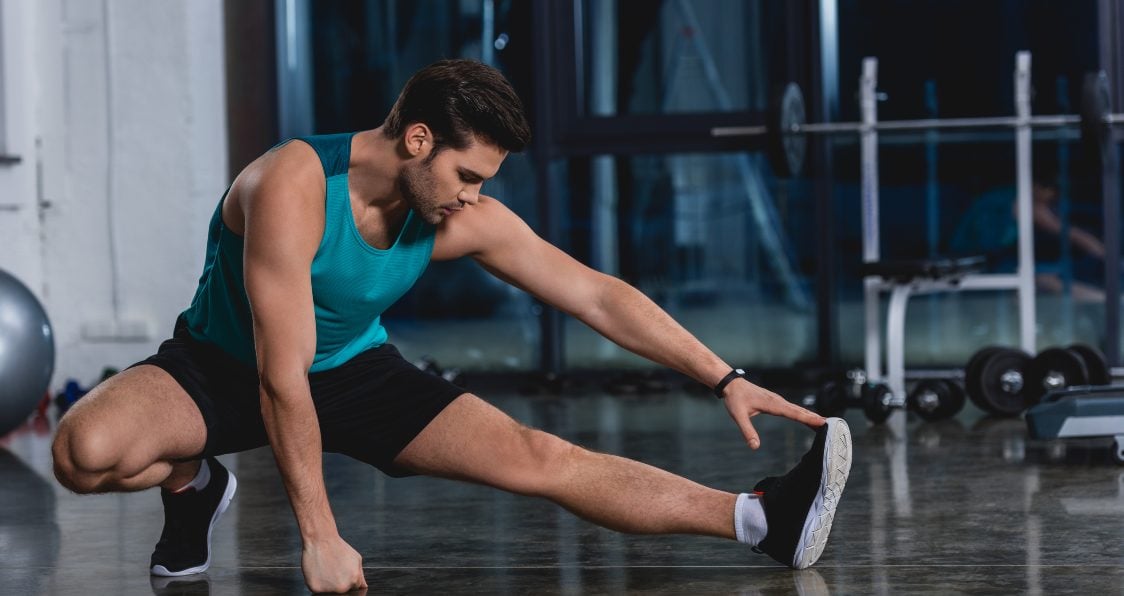 Performance Lab Flex Highlights
Performance Lab Flex is a joint support product that optimizes your joints and mobility for long term enhanced flexibility, comfort, and performance. It's a solid product and will work well for those looking to purchase their joint supplement alongside other supplements. Great for joint lubrication and shock absorption, this will support your ligaments, tendons, and cartilage with herbal relief for those stiff joints.
An ultramodern design and Performance Lab's great NutriCaps and NutriGenesis process ensures you get the most bioavailable and healthy options out of this supplement. With cutting edge ingredients and an advanced formula, this supplement is a top tier product so you optimize every bit of your gains.
Ingredients
CurcuWIN® Turmeric: Fights joint-destructive free radicals with antioxidant activity, protects cartilage from destructive enzymes, and supports collagen synthesis and other structural joint proteins (1).
ApresFlex® Boswelia serrata: Can improve joint aches, flexion, and performance of daily activities for optimal joint health (2).
Glucosamine Sulate 2KCL: An amino sugar found naturally in tissues, this supports those building block proteins necessary for forming connective tissue, chondrocyte cells for joint repair and regeneration, and synovial fluid for joint lubrication to promote smoother range of motion (3).
Mythocondro® Chondroitin Sulfate: Helps maintain hydration for joint lubrication and supports healthy collagen production (4).
OptiMSM® Methylsulfonylmethane: A key structural nutrient necessary for the formation of collagen, glucosamine, chondroitin, and other proteins (5).
NutriGenesis® Strontium+: Stimulates the production of bone building cells, called osteoblasts , and inhibits the activity of bone-breakdown cells, called osteoclasts (6).
Other Ingredients
NutriCaps® Pullulan Capsule, NuFlow® Rice Concentrate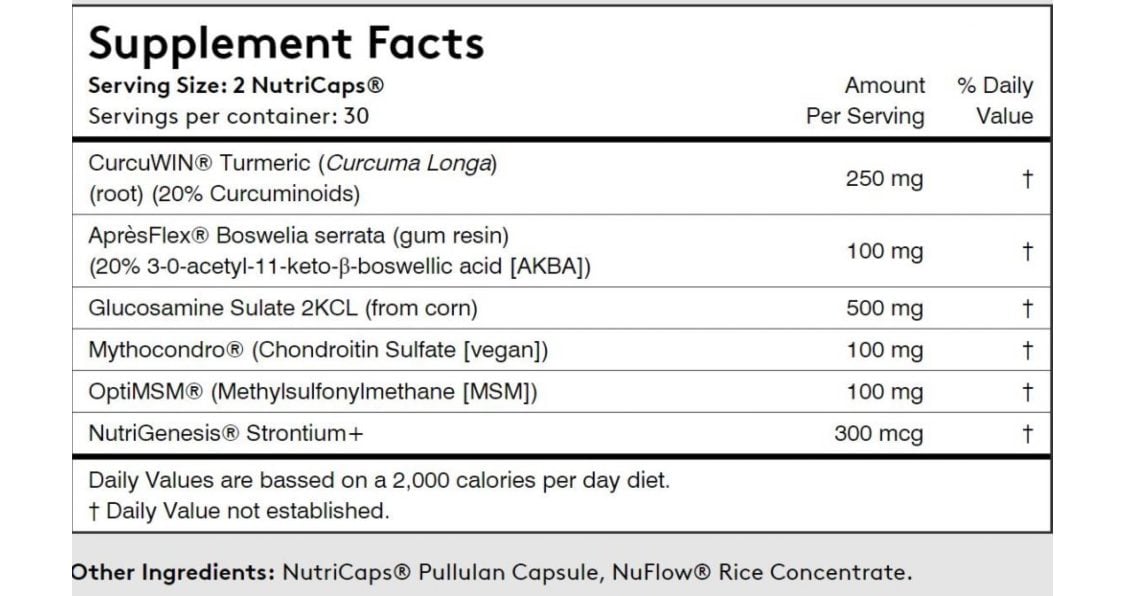 | | |
| --- | --- |
| Number Of Ingredients | 6 |
| Serving Size | 2 NutriCaps |
| Number of Servings | 30 |
| Best Way To Take | Take 2 capsules daily. |
Price & Effectiveness
Performance Lab Flex is a great joint support supplement to optimize joint flexibility and long-range health for the best movements to maximize your gains. With 30 servings per container, 2 NutriCaps will pump you with these amazing ingredients to boost all areas of your health.
Pros
Great benefits like joint lubrication and shock absorption
Easy to swallow prebiotic NutriCaps
100% clean and natural product
From a reputable company in Performance Lab
Cons
Premium priced option
Only available directly from their website
Price: $69.00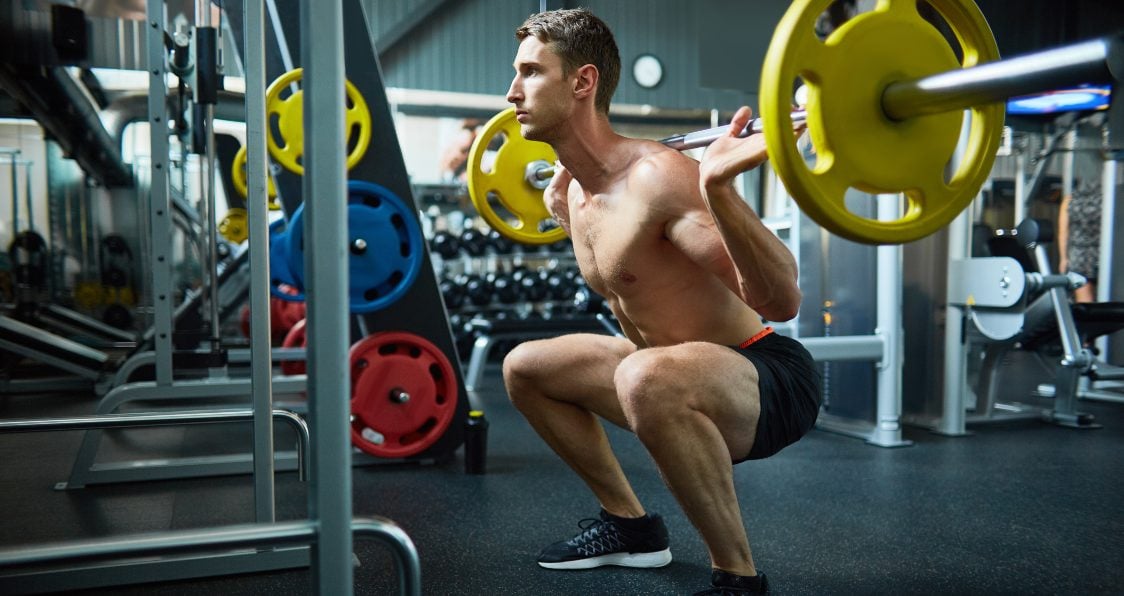 Who Is Flex Good For?
Performance Lab Flex is good for those seeking a joint support supplement with premium, well-researched ingredients in an advanced formula. Anyone ranging from bodybuilders, strength athletes, or everyday fitness folks can benefit from using this supplement. It is suitable for people of all ages to support an overall quality of life.
How Safe Is Performance Lab Flex?
Flex is very safe, especially for your long-term health given that it has premium and highly absorbable ingredients to boost and support your joint health.
---
Check out our list of the Best Joint Supplements for more great joint support products!
---
Overall Value
Performance Lab Flex is that amazing joint support supplement you need most to see serious gains while optimizing your joint health. A well-researched and clinically-formulated joint supplement, you know exactly what you're getting in terms of joint health, support, and optimal movement. Performance Lab knows the needs of athletes and seeks to produce only those top tier supplements to aid in all things health and performance. What you are really getting is a top tier joint supplement with great ingredients, worthwhile results, and a reputable company backing it. Try Performance Lab Flex today and see what this can do for all your gains inside and out of the gym.
---
Generation Iron may receive commissions on purchases made through our links. See our disclosure page for more information.
Let us know what you think in the comments below. Also, be sure to follow Generation Iron on Facebook, Twitter, and Instagram. 
*Images courtesy of Performance Lab and Envato
References