The biography, life, and accomplishments of Rafael Brandao
Rafael Brandao is a Brazilian IFBB professional open bodybuilder. While he is not as large as some of the other open competitors such as Big Ramy, Brandao is known for having an incredible aesthetics. Combine that with his impressive genetics and a true passion for the sport of bodybuilding, and he could take the crown at the Mr. Olympia someday.
Below is a complete breakdown of Rafael Brandao's profile, stats, biography, training and diet regimens.
Full Name: Rafael Brandao (Men's Open Bodybuilder)

Weight
Height
Date Of Birth
245-255lbs
5'11"
June 24, 1993
Division
Era
Nationality
Men's Open
2010, 2020
Brazilian
---
Biography of Rafael Brandao
Rafael Brandao was born in Garça, Brazil. Growing up, he was involved in many different sports during his youth such as soccer, basketball, and volleyball. Rafael was very active throughout his youth, and he was always looking for excitement and an adrenaline rush.
Despite what he looks like now, Brandao was admittedly a very skinny teenager. He was known as the "skinny kid". However, one of his friends growing up introduced him to weight training, and this is where he began to fall in love with it.
At first he had no aspirations to be a pro athlete, let alone a bodybuilder. What he wanted to do at this point was simply improve his physique, putting on size and not being seen as skinny anymore. He didn't have much knowledge to start, but trained anyway and learned as he went, like a lot of people do. Rafael did make a lot of progress rather quickly which was the most satisfying feeling because he knew that what he was doing in the gym was working.
Rafael also ate a lot which only helped him to gain much needed muscle and strength as a skinny youth. Seeing his changes left him hungry for more. The gym had become an obsession for him.
Despite his love for the gym and lifting, it wasn't until 18 years old that he started to focus on the actual sport of bodybuilding. Rafael knew that if he was going to be competing, he needed to step up his knowledge of both nutrition and workouts in order to build a physique that was good enough to step on stage.
Nearly a decade later, Rafael Brandao would be a famous bodybuilder competing against the very best in the world.
Rafel Brandao Competitions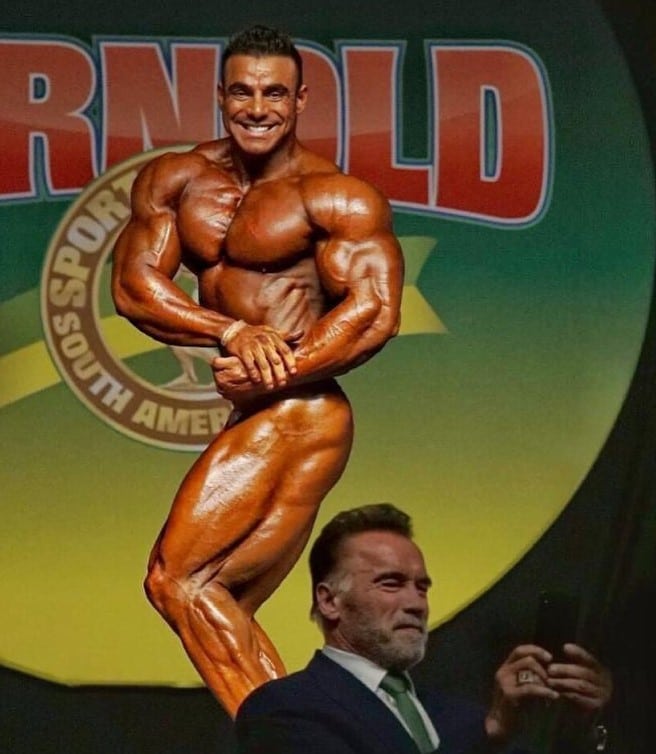 Brandao has described his first competition and the success he had in it at just 20 years old as one of the easiest for him because he was very determined. Brandao did not have much money or support during this time, but still spent hours training and improving himself and apparently had a great eye for what he needed to work on and focus on as he was progressing. Rafael eventually got a bodybuilding coach to help him make improvements, but he never forgets where he started.
In 2016, Brandao won a competition both in the junior and senior categories that really propelled his career. He immediately began to get noticed, especially in the Brazilian bodybuilding circuit. Amazingly enough, 2016 is also when he won his IFBB pro card and then subsequently placed 8th in his pro debut at the 2017 San Marino Pro. Next he took 6th in his very next competition and then placed third at the IFBB California State competition.
2018 brought Rafael to a 6th place placing at the New York Pro, 3rd place in the California Pro, 5th place at the Toronto Pro, and 4th place at the Muscle Mayhem Pro. That is a lot of shows for one year.
In 2019, finished 7th at the Arnold Classic Ohio. This is the second biggest competition right next to the Olympia. Brandao was the runner-up at the Arnold Classic South America Pro that same year. He also came in 5th at the Big Man Weekend Pro.
At the 2020 European Pro Rafael came in third place, and the following year he came in first place at the 2021 IFBB Romania Muscle Fest Pro. 2022 brought him a victory in the Arnold Classic South America.
Also in 2022, Rafael also competed at the Mr. Olympia contest. This was his first Olympia. It was an extremely stacked show, some said it was one of the most competitive in years. Rafael took tenth place, right behind William Bonac, a former Mr. Olympia champ.
Rafael's Training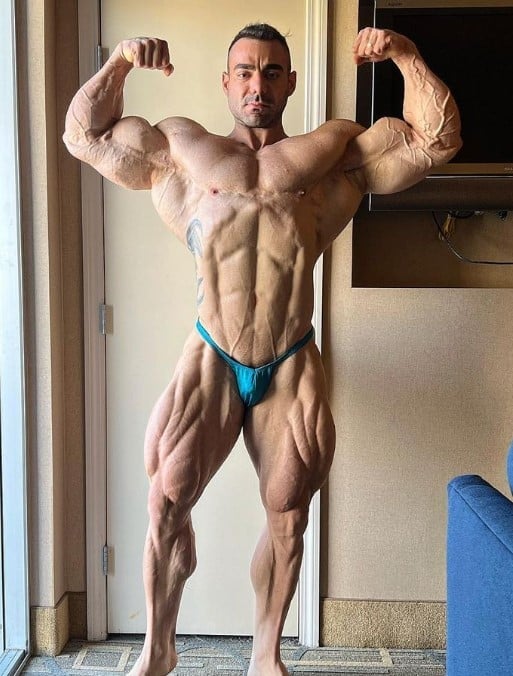 Rafael Brandao moves some heavy weight during his training sessions. However, he has acknowledged that he wouldn't be able to move such heavy weight if it weren't for the years he spent developing body-consciousness (mind to muscle connection). The body-consciousness is extremely important because it ensures that he's not just moving heavy weight, but he is also contracting each muscle under the load. This is an essential component of muscular development, as many people can just "go through the motions" and not get the most out of their training. Body-consciousness also good for ensuring proper form is used while preventing injuries in the gym.
Let's take a look at some of Rafael's workout routines for different muscle groups including some exercises for back day, chest day, shoulders, leg day, and arm day.
Back 
Wide grip lat pulldown
Single arm machine row
Two arm machine row
Seated cable row
Pec deck rear delt fly
Chest supported machine row
Chest 
Standing chest fly
Kneeling cable fly
Incline dumbbell press
Machine incline press
Smith machine floor press supersetted with push ups
Shoulders
Cable lateral raise
Dumbbell lateral raise
Rear delt fly on the bench
Front raises
Legs
Leg extensions
Lying hamstring curls
Sumo deadlift
Leg press
Walking lunges
Arms
Tricep extensions with rope
Dumbbell triceps overhead extension
French press
Alternating seated bicep curls
Rope hammer curls
21's bicep exercise
Nutrition
Rafael Brandao prefers to cook his own food, especially during a contest prep, stating that it is like therapy. Rafael also believes in creating sort of a "bond" or even a "relationship" with food, explaining that it helps an athlete to be more consistent with their diet.
Brandao has to eat a lot in order to maintain his physique, especially in the form of carbohydrates. This is because his metabolism is so high compared to a lot of other bodybuilders. Even his low-carb days consist of a lot of carbs, sitting at about 400g per day which would be close to lot of athletes' high-carb days.
Rafael works with his coach to ensure that he maintains a good balance of nutrition, especially leading up to a competition. When in a prep, it is very easy for the body to change from day to day.
A few foods that Rafael eats include oatmeal with protein powder and berries, eggs, turkey patties with rice, and cookies. He also likes to eat out where he'll have a sandwich with fries.
As far as supplements, Brandao uses whey protein powder, mass gainer, BCAAs, multivitamin, glutamine, omega-3 fatty acids, and more.
Rafael Brandao Wrap Up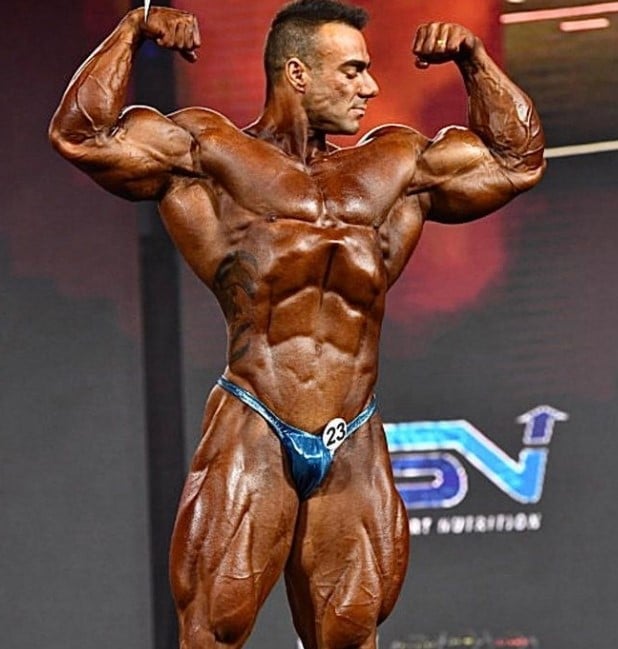 Overall, Rafael Brandao went from the skinny kid, to one of the most elite bodybuilders in the world. While he does not bring the same amount of mass to the stage as some other bodybuilders, he is bringing amazing aesthetics, great muscle insertions and genetics, and determination. Those things combined make him an amazing athlete, and can almost guarantee a pretty promising future for the young athlete.
Do you think Rafael Brandao can win a Mr. Olympia title in the coming years?