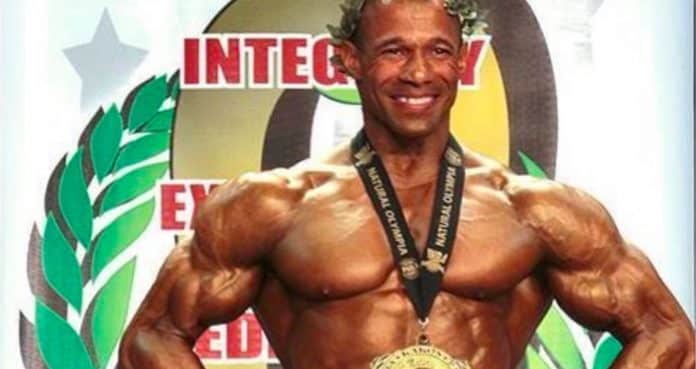 PNBA Philip Ricardo Jr. says the 2022 Natural Olympia lineup is competitive. 
If you've been watching Natural Olympia, the king of natural bodybuilding competitions, since it first began in 1998 (with John Hansen being crowned champ in Corinth, Greece), you'll love this year's show. A few past Men's Bodybuilding champions will return to the stage at the 2022 Natural Olympia. Professional Natural Bodybuilding Association (PNBA) athlete Philip Ricardo Jr. says this year's lineup will be no walk in the park. 
Philip Ricardo Jr. is a 4x Natural Olympia champion, winning his first back in 2007. And he's the 2021 reigning Men's Bodybuilding Grand Masters champion. Ricardo Jr. also has a multi-media contract with Generation Iron, Iron Man Magazine, and the INBA PNBA. But, even with Ricardo Jr.'s feats, he says making the top 5 in the Men's Bodybuilding Open at Natural Olympia this year would be a blessing. Ricardo Jr. stated:
"My goal of course is always to win, and it would be great to defend my Grandmasters title this year, however, this year will be extremely challenging. With the return of 6 time Natural Olympia champion Kiyoshi Moody to the stage along with Peter Chichonsk, Tamar Baraket, and other great 50 plus competitors it's going to be a dog fight for the top spot. 

Then in the Open, the return of reigning champ Paul Krueger and the 2020 champion Meschack Ochieng along with Kiyoshi means that making the top 5 for me would be a blessing."
Although Ricardo Jr. is aware of the level of competition this year, he's coming into the show on a hot streak. Ricardo Jr. won the PNBA Men's Bodybuilding Open and Grand Masters divisions at Natural Universe earlier this month, September 2-3, 2022, in Tampa, Florida.  
Below is Philip Ricardo Jr.'s posing at 2022 Natural Universe.
View this post on Instagram
Past Champions Competing This Year
The past Men's Bodybuilding Natural Olympia champions competing at the 2022 Natural Olympia include Kiyoshi Moody, Meshack Ochieng, and Paul Krueger. 
Kiyoshi Moody 
Kiyoshi Moody won Natural Olympia six years in a row from 2009-2014. He battled stage 4 bladder cancer a few years ago, and his doctor said he only had about 5-6 months to live. Fortunately, Moody made it to remission after losing over 60 pounds and is set to compete at the 2022 Natural Olympia. 
Meshack Ochieng
Despite being 5'2", Meshack Ochieng won Natural Olympia in 2020. Ochieng's natural bodybuilding training began with working out with his brother with stone dumbbells and barbells in his backyard back in Kenya. 
Paul Krueger
Paul Krueger is the reigning Men's Bodybuilding Natural Olympia champ. Krueger looks to defend his title. 
Besides the past Men's Bodybuilding Natural Olympia champs competing this year, other elite contenders, including Peter Cichonski and Tamer Barakat, will also compete this year. Cichonski won third place in the Men's Bodybuilding Grand Master's class, and Barakat was the Classic Physique Masters champ at 2021 Natural Olympia. 
Follow us on Instagram, Facebook, and Twitter to stay up to date with PNBA athletes' training and nutrition updates to prepare for the 2022 Natural Olympia!