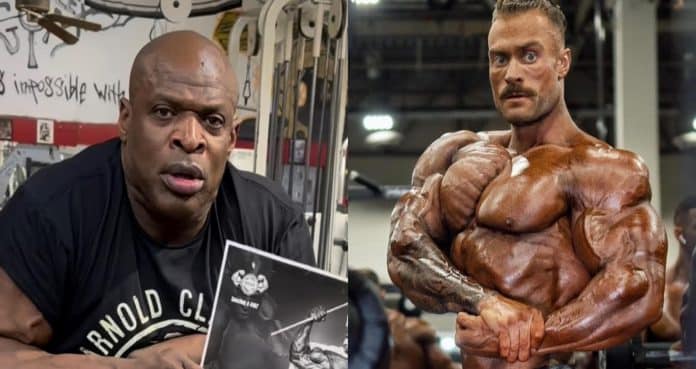 Ronnie Coleman was asked his opinion on Chris Bumstead and had high praise.
Chris Bumstead is without a doubt one of the top bodybuilders in the world regardless of division. The reigning four-time Classic Physique champ has created a brand for himself that puts him at the top of the sport. Recently, bodybuilding legend Ronnie Coleman had high praise for Bumstead and the work he has put in over the course of his career.
Bumstead took over the Classic Physique Olympia title in 2019 and has not relinquished it since. He focuses year after year on bringing home wins and that is exactly what he has done. The Classic Physique division is extremely top heavy with some young competitors emerging but Bumstead remains in a league of his own.
Coleman is no stranger to being in a league of his own. From 1998-2005, Coleman was unbeatable on stage, totaling eight consecutive Olympia victories. This is tied for the most all-time with Lee Haney. Coleman has not competed in years but remains active in the sport of bodybuilding and interacts with fans frequently.
During a recent Q&A session on his YouTube page, Coleman was asked his opinion on Bumstead. The answer was a testament to the work that Bumstead has done over the course of his career.
Ronnie Coleman: "Best Physique Ever. Period."
Classic Physique is a growing division that has gained popularity because of stars like Chris Bumstead. Arnold Schwarzenegger has even commented on the division believing that it should carry the title of Mr. Olympia.
When asked about Bumstead, Ronnie Coleman broke down his thoughts on Classic and his physique as a whole.
"Well, I think Chris Bumstead is the greatest Classic bodybuilder of all-time. Absolutely the best physique I've ever seen in Classic Physique. Gotta be the best physique I've ever seen period."
View this post on Instagram
Chris Bumstead has completely taken over Classic Physique but has also hinted at competing in Men's Open before his career is finished. Nothing is set in stone but it seems as though Bumstead could compete in at least one Men's Open show sometime in the future. This does not mean that he will completely change courses but it is possible that one show could see it happen.
Thee has also been many rumors about Bumstead retiring but he has disputed those claims. For now, Bumstead will focus on winning his fifth consecutive Classic Physique Olympia title at the end of the year.
Ronnie Coleman displayed one of the freakiest physiques of all-time during his career. When he dubs a physique the best he has ever seen, it is high praise and it makes sense that Bumstead gets that title.
For more news and updates, follow Generation Iron on Facebook, Twitter, and Instagram.