This scientifically researched T-booster can provide for complete testosterone support.
Product Overview
Many of us may not take into consideration that our testosterone levels may be low. For younger men, this isn't necessarily something to worry about, but as we age, it can start to decline leading to unwanted side effects associated with low testosterone levels. This is where testosterone boosters can come to our aid. As great supplements to raise our levels of testosterone, T-boosters will not only help with training and performance, but also promote an overall healthier lifestyle. RSP Prime-T is one testosterone boosting supplement with great benefits to improving our daily life.
Testosterone is a vital sex hormone used in a variety of bodily functions including muscle growth and development. While it is important for both men and women, testosterone is produced way more by men and can have adverse effects if levels drop below optimal. Decreased sex drive and negative effects on training and muscle growth are just two of a host of adverse effects associated with low T levels (1). But with a high-quality testosterone booster, what you will find is it is easy and safe to keep your levels balanced so you continually grind inside and out of the gym.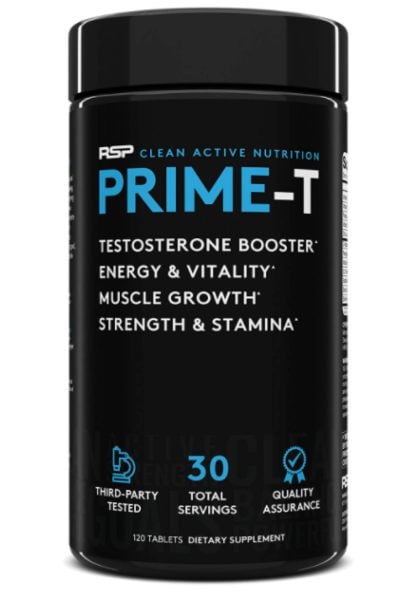 RSP Nutrition provides innovative nutritional products for active people, whether it be busy professionals, serious athletes, or just everyday gym-goers. Their mission is to help people become the best versions of themselves without sacrificing the rest of their lives. Their goal is to create products that are convenient, effective, and easy to understand while containing clean and proven ingredients to boost performance. RSP only seeks the best for its consumers and supplements and feels honesty is key in a transparent relationship.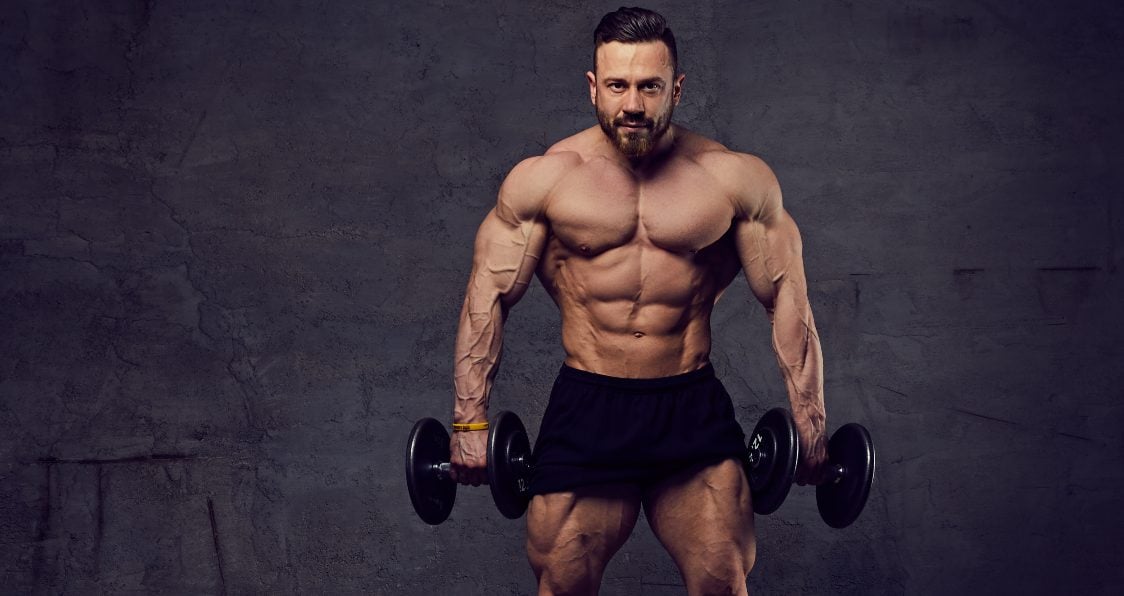 RSP Prime-T Highlights
RSP Prime-T is a premium natural testosterone booster scientifically formulated to increase natural testosterone production, promote healthy estrogen balance, and help maintain a healthy prostate. Through this, Prime-T is a complete and efficient testosterone booster for men. It can support muscle growth, strength, and stamina by working towards those healthy levels that we all seek and will improve body composition as we shed that unwanted fat and work to put on that lean muscle. On top of this, the advanced formula works to increase energy and vitality so you grind through those grueling workouts more efficiently.
Every ingredient in this testosterone supplement is clean, scientifically researched, and effective, making this a smart choice for men looking to optimize their T levels. With all ingredients tested and manufactured in a GMP certified facility, you can be sure RSP seeks nothing but honesty and transparency with their products to promote a healthy lifestyle for you.
---
Check out our list of the Best Testosterone Boosters for great T-boosting supplements!
---
Ingredients
D-Aspartic Acid: Has benefits to your muscle growth and development while also increasing energy production. May improve mental health as well (2).
Fenugreek Extract: A powerful herb, this can stimulate testosterone production in the body while working to maintain weight and increase body strength (3).
Maca Extract: Highly nutritious, this can increase libido and may help with sports performance, energy, and mood.
3,3'-Diinodolylmethane: Formed in your body during the digestion of foods, this can promote a healthy balance of testosterone and support energy and a healthy sex drive, as well as increased muscle mass.
Safed Musli Extract: Improves serum testosterone levels and can improve the functions of a man's testicles.
Boron Citrate: A naturally occurring micronutrient, it is necessary for proper growth and metabolism while potentially having solid cognitive functions (4).
BioPerine: Allows nutrients to be absorbed quickly into the body.
Other Ingredients
Vitamin D, B3, B12, folate, zinc, dicalcium phosphate, microcrystalline cellulose, croscarmellose sodium, stearic acid, magnesium stearate, silicon dioxide, HPMC, titanium dioxide, PEG-400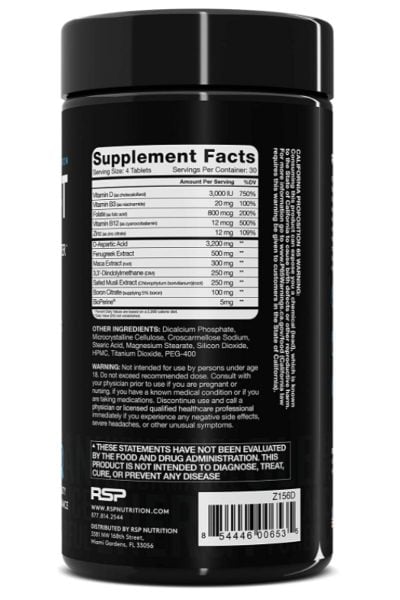 Value & Effectiveness
RSP Prime-T Testosterone Booster is a great T booster for energy and vitality, muscle growth, strength, and stamina. With 30 total servings per container, 4 tablets is a serving size to pack with these vital ingredients. Third party tested, quality assurance, and GMP certified are all great benefits to this company and product that tag along with the actual ingredients and advanced formula.
Pros: It has great ingredients like boron and zinc to support healthy testosterone levels, as well as others to increase libido. It is fairly reasonably priced compared to others on the market for boosting testosterone.
Cons: It contains a high dose of DIM, which can activate estrogen in the body and one serving will not last the whole day. Some ingredients don't have much use for testosterone boosting.
Price: $34.99
Overall Value
When it comes to low levels of testosterone, it is important to take care of it right away. The downsides to low T levels can unfortunately affect our training and performance, but also affect our overall quality of life. RSP Prime-T is a great T booster designed to increase muscle and strength, improve energy and vitality, and promote better stamina, all things we as bodybuilders and active men need. What you are really getting is a high-quality testosterone booster with clean and effective ingredients from a reputable company in RSP. Try RSP Prime-T today and work to optimize your T levels to promote a healthy, happy lifestyle.
Generation Iron may receive commissions on purchases made through our links. See our disclosure page for more information.
Let us know what you think in the comments below. Also, be sure to follow Generation Iron on Facebook, Twitter, and Instagram. 
*Images courtesy of RSP Nutrition and Envato
References