These elbow sleeves can provide great compression, blood flow, support, and protection for your muscles during those grueling workouts.
Product Overview
Created to assist all aspects of protecting and supporting your elbows during big lifts, elbow sleeves have come to many peoples' defense over the years. Meant to keep your elbows warm, help relieve aches and pains, and avoid injury, elbow sleeves have entered the fold as great workout aids for anyone looking to elevate their overall performance. From everyday fitness folks or those just starting out, to regular athletes and high performance fitness fanatics, elbow sleeves can benefit everyone. SBD elbow sleeves rival anyone else on the market in terms of quality and effectiveness.
An elbow sleeve is meant to support and protect you during those big lifts that can often make us feel vulnerable if we aren't fully committed. They are wearable devices that fit snug over your elbows and are typically made of neoprene, a stretchable material that is highly durable. While elbow sleeves have plenty of physical benefits, the ability to tackle mental hurdles by knowing you are protected is also a huge bonus.
Elbow sleeves, and in particular SBD elbow sleeves, have the ability to benefit you greatly in all areas of training and performance. They can provide compression and warmth to increase blood flow and enhance recovery, while supporting the elbow to equally distribute the tension to surrounding stabilizer muscles to avoid injury (1). For growth, these sleeves can support and stabilize any big weight to enhance your muscle mass and size, while aiding in recovery to improve blood flow and provide muscle comfort.
As a company, SBD is a leader in sports and exercise equipment. Working with top coaches, sports medicine experts, and other fitness leaders around the world to produce top tier products, SBD is on a mission to bring consumers only the best sports equipment around. With sports like Strongman and powerlifting growing bigger and bigger in popularity,  SBD continues to provide innovative and updated products so all athletes can thrive and prove their worth on the biggest stages in the world.
Check out our list of the Best Elbow Sleeves here!
SBD Elbow Sleeves Highlights
SBD elbow sleeves are a fantastic product to aid in those big lifts and grueling workouts and will really provide for great support and comfort for your elbows. Designed with powerlifting and strongman training in mind, these elbow sleeves are top tier for maximizing gains in those respective strength sports. By combining high grade neoprene, the same used in their great knee sleeves, with a thinner interior panel, these elbow sleeves allow for easier fitting and free movement in pulling motions to minimize the risk of injury and aid in performance.

Sold as a pair and in 5mm or 7mm high grade neoprene, the reinforced seam construction is designed to maximize longevity so you keep seeing gains with the same comfortable sleeve. Manufactured in Great Britain and available in all sizes, SBD is a reputable and high quality company that you can trust.
Product Details
Material
Neoprene is a durable material that allows for easy stretching while still providing protection. A softer feel inside provides nice comfort and a thicker layer outside is meant to give you added protection. Even after continuous stretching, it will still go back to the original shape and keep its form. When it comes to moisture, neoprene may not absorb it as well as other materials, so very slight movement may occur from sweating.
Comfort & Stability
This sleeve will provide you with comfort and stability by not being too tight, but also offering a nice level of compression. The design ensures that it easily fits on your arm while still offering free range of motion for any pulling motion without excess movement which is absolutely what you want out of a good elbow sleeve.
Durability
Neoprene is a very durable material in itself and with proper care these elbow sleeves can last a long time. The reinforced seam construction can help prevent fraying while also maximizing longevity. Keeping you at the focus, SBD has made a product you don't have to worry about.
Price & Effectiveness
These well built and high quality elbow sleeves from SBD can boost overall performance and strength while promoting an amazing lift. With sizes ranging from extra small to double extra large, these sleeves come in at a price of $62.50.
Pros: High grade neoprene and a quality design allow for compression as well as movement. Designed with strength sports in mind ensures accuracy in the intended goals and SBD is a great company all around.
Cons: A premium, pricy product, you can only buy directly from their website.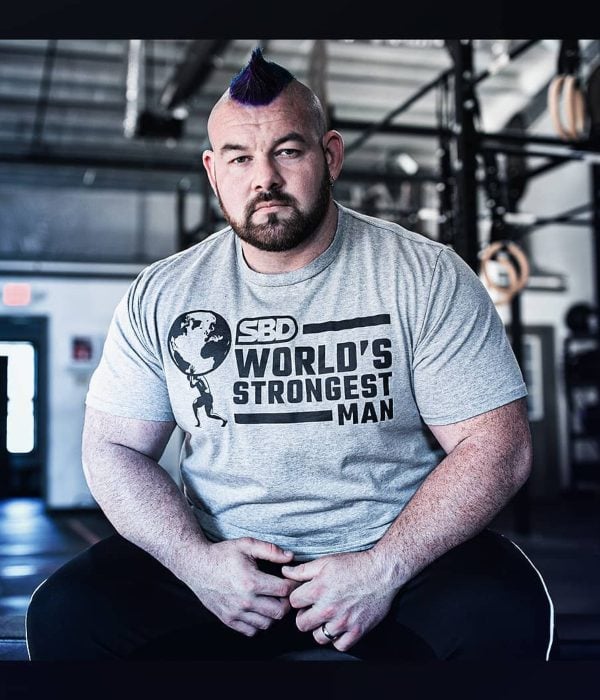 Sponsored Athlete
Professional Strongman Rob Kearney has competed on some of the biggest stages in the world. He has seen the likes of the best in the sport at World's Strongest Man, and has reached the podium at America's Strongest Man, the North American Open 2017, and the Arnold International World Series. SBD and their products have helped him get there by providing high quality sports equipment to keep Kearney healthy and safe. The first openly gay pro strongman, he uses his voice to help young people in the LBGTQ+ community and around the world to inspire and educate them through fitness and strength sports. Using his amazing platform, Kearney and SBD seek to bring the best products to consumers so their lifts can be effective and take them to new heights.
Overall Value
SBD elbow sleeves are really great equipment aids to enhance your big lifts and provide comfort for whatever workout comes your way. By providing compression, warming your muscles, increasing blood flow, and enhancing growth and recovery, these sleeves are top tier in the sports equipment game. You can trust that SBD has your back through their dedication to make high quality products to only enhance the athletes around them. What you are really getting is a quality, long-lasting pair of elbow sleeves from a reputable company to tackle all of your workout needs. Give SBD elbow sleeves a try and watch those lifts get even bigger.
Generation Iron may receive commissions on purchases made through our links. See our disclosure page for more information.
Let us know what you think in the comments below. Also, be sure to follow Generation Iron on Facebook, Twitter, and Instagram. 
*Images courtesy of SBD and Rob Kearney Instagram
References
Aasa, Ulrika; Svartholm, Ivar; Andersson, Fredrik; Berglund, Lars (2017). "Injuries among weightlifter and powerlifters: a systematic review". (source)