The Texas Titan is a monster in the sport right now, but his Strongman success has come from years of training.
It's no secret that the sport of Strongman demands the utmost diligence out of its athletes. A sheer test of strength, will, and grit, the respect one must have in order to succeed is humbling. Lifting massive amounts of weight, often times overhead is intimidating, risky, and cannot be taken lightly, but true Strongman athletes have dedicated their minds and bodies to the sport with the hopes of standing under the bright lights someday victorious. Gabriel Peña knows exactly what this takes to be a stud in the Strongman community and despite doubt, injury, and stress, he has become a force in the sport and a real testament of passion for the Strongman community.
For this Strongman Series, let's get to know Gabriel Peña to see just how a professional conducts themselves be it with training, nutrition, or just every day life. As someone who continues to chase the title of best in the world, Peña knows exactly what he wants and he knows exactly how to get it.
Who Is Gabe Peña?
Born and raised in Texas, Peña is the oldest of 6, and being that role model for his younger siblings has really shaped who he is today. As a young kid, Peña remembers watching World's Strongest Man on TV with his father and grandfather, staring in awe at the larger-than-life men performing incredible feats of strength. Peña was always athletic. A competitive swimmer in high school, the competitive nature of sport was appealing to Peña and has served him well moving forward.
Upon pursuing a degree in Biology at the University of Texas Rio Grande Valley, his Strongman journey would begin after he reached out to a local strongman while playing rugby. On the surface, he wanted to enhance his performance on the field, using Strongman techniques to increase his strength and endurance. But deep down, something was coming to the surface: the pursuit of Strongman.
Gabe's Training & Nutrition
For Peña, there is a motto he uses to power through his workouts: "Big backs win shows". Strong backs are everything in the sport of Strongman and for Peña, he has always kept this mind. Hitting back exercises are key for Peña, especially the deadlift. In fact, Peña is the 13th man in history to conventional deadlift 1,000 lbs. from the ground and he is now gunning for the world record.
A typical training week for Peña looks something like this:
Monday- Legs
Tuesday- Shoulder Pressing
Wednesday- Core, cardio, and active recovery
Thursday- Deadlift and back
Saturday- Strongman events
The two rest days a week have proven to be great for he can focus on conditioning and recovery and allow his muscles to heal as best they can.
When it comes to nutrition, Peña must eat a lot in order to gain weight and build strength to compete in the super heavyweight field. For Peña, it isn't what kind of food, it's massive amount of calories so he tends to eat a lot of carbs and meat while including ample fruits, vegetables, and fiber in his diet. Of course, a cheat meal here and there of pizza or burgers will hit the spot.
Supplementation for Peña is equally as important as his nutrition and there are five supplements he uses to enhance not only his gains, but also his overall health and wellbeing. A mass gainer will provide for easy extra calories, a comprehensive and bioavailable multivitamin will give him those essential nutrients, and three others help with overall support of both health and fitness: an omega fat complex, joint support, and time release protein blend.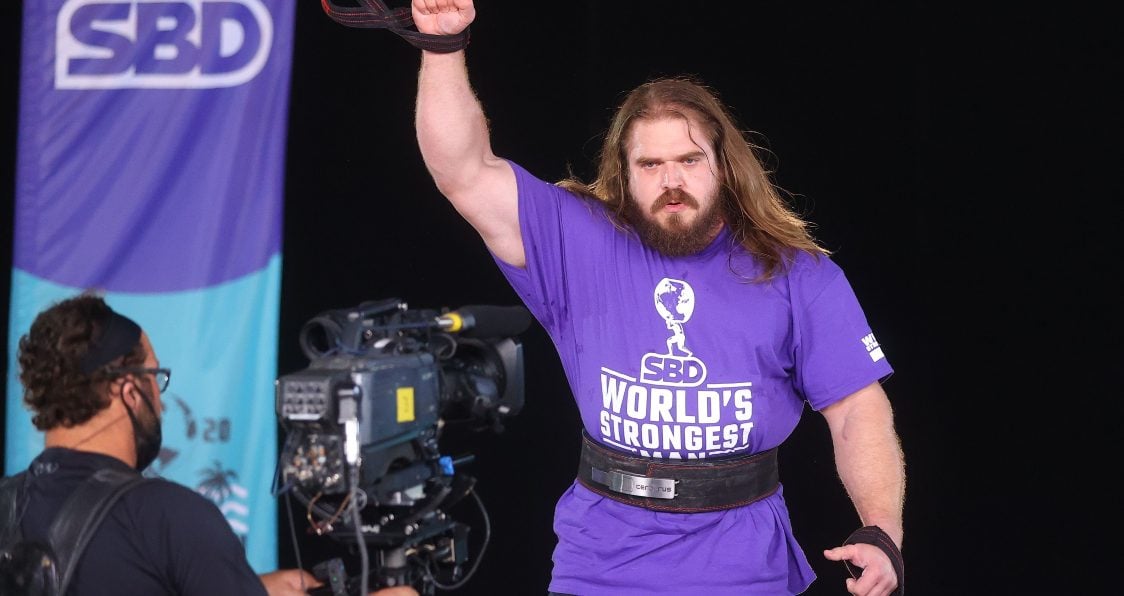 Strongman Events & Prep
When it comes to events, Peña's strengths are in the back powered events being the Atlas Stones and Yoke Walks, but the deadlift is his specialty. Through a structured training cycle where he is able to train his back without overtraining, this event is one he very much looks forward to. When it comes to those events he struggles with, the overhead pressing events have always been a weakness. While he has made great strides during his training, he seeks to hold his own against some of the best pressers in the world. It is the fine line between high output and adequate recovery for Peña.
In the days leading up to an event, Peña must take travel time into account. He will typically get there two days early to relax and unload from the traveling. The week before a contest, most of his training revolves around drills and band work, with a couple extra days taken off to really charge his body. Anything from active recovery to mobility proves to pay off well for Peña.
Getting to World's Strongest Man 2020 was a journey Peña will never forget. He not only proved to himself he could do it, but he saw how capable he was to be able to earn the title. While the allure of the event was great, Peña made history as the first Hispanic Latino to compete at World's Strongest Man. The outpouring of support, pride, and excitement from those around the world inspired Peña and made him see this journey was something far greater than just himself.
Wrap Up
Gabriel Peña will now compete next at the Pro Texas Strongest Man on April 3 before traveling to the Rainier Classic in Seattle on August 28. With unfinished business to do at World's Strongest Man, the 2021 contest will be exciting as Peña hopes to return as a sheer force with the opportunity of a podium spot. This Strongman Series with Gabriel Peña has been inspiring as we see what a true competitor looks like. Moving forward with his Strongman journey, we will hopefully see Peña on that top podium spot some day very soon.
Let us know what you think in the comments below. Also, be sure to follow Generation Iron on Facebook, Twitter, and Instagram. 
*Images courtesy of Gabriel Peña