This testosterone booster can support and enhance testosterone levels with natural ingredients and a powerful formula.
Product Overview
Low testosterone can be a drag. And while we may not know we are suffering from it, it is absolutely possible. As we age, our levels start to decline leaving us feeling tired, weaker, and definitely less defined. Plus, our sex drive is down and we really start to feel completely lost with what to do. This is where a testosterone booster can works wonders. Designed to raise those T levels, a testosterone supplement can work for your benefit by getting them to optimal levels. TestoGen Testosterone Triple Action is a powerful testosterone supplement able to tackle any and all of these needs so you never suffer from low testosterone again.
What a good testosterone booster will do is, of course, elevate testosterone levels so they get to exactly where you want them. But other benefits include heart and blood health, changes in body composition, bone density, and that all important sex drive. TestoGen can do this and much more will natural ingredients and a powerful formula designed only to give you the absolute best.
TestoGen is a natural testosterone supplement made from safe and natural ingredients proven to boost testosterone levels and aid in muscle growth.
TestoGen is owned by Muscle Club Limited, a trusted name in the health and fitness industry using only the most effective ingredients to create top tier supplements. Working with a team of experts and fitness professionals, they provide great guidance and advice on healthy living, exercise, diet, and much more. By creating this testosterone supplement, they seek to help adult men of all ages get the most out of there health and training with optimal testosterone levels.
TestoGen Testosterone Triple Action Highlights
TestoGen Testosterone Triple Action is a natural testosterone supplement designed to help men increase their testosterone levels safely and naturally. This combines eleven proven and effective ingredients essential for maintaining strength, muscle development, virality, and stamina so you get the most out of your overall health and training. With 100% natural and premium ingredients, a 100-day money back guarantee, and worldwide free shipping, this supplement can work wonders for whatever testosterone needs you may have.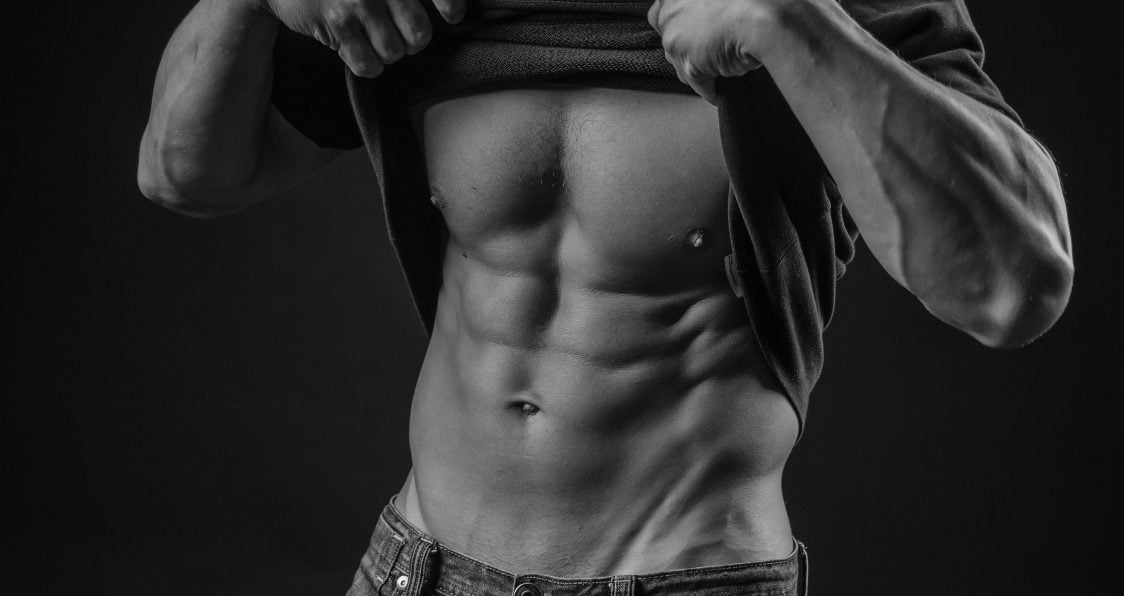 Ingredients
D-Aspartic Acid: Can enhance testosterone production to see a healthy increase in testosterone (1).
Nettle Leaf Extract: Allows for free testosterone circulation and can build muscle and boost libido.
Korean Red Ginseng Extract: A libido stimulator, this can protect the testes from any damage by dioxins.
Fenugreek Extract: Can work to boost libido, increase strength, enhance stamina, and influence vitality. As an antioxidant, it helps keep free radicals from working against your body (2).
Boron: Can increase free testosterone and decrease estrogen levels (3).
Black Pepper Extract: Increases the bioavailability of all these nutrients so they hit your body more effectively.
Zinc: Keeps sperm health and is responsible for a host of important bodily function (4).
Magnesium: Has an important role in testosterone production and can promote better sleep, which is vital for healthy testosterone production.
Other Ingredients
Vitamin D3, Vitamin K1, Vitamin B6, Gelatin (capsule), Maltodextrin, Microcrystalline Cellulose, Silica, Magnesium Stearate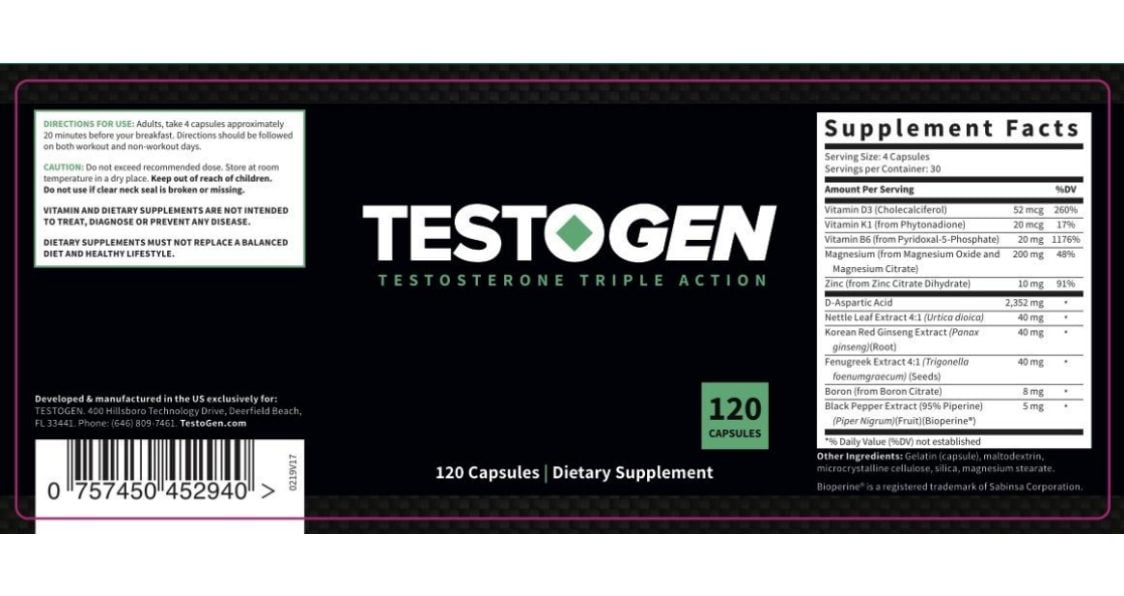 | | |
| --- | --- |
| Number Of Ingredients | 11 |
| Number Of Servings | 30 |
| Serving Size | 4 Capsules |
| Highest Dosed Ingredient | D-Aspartic Acid |
| Best Way To Take | Take 4 capsules, 20 minutes before breakfast for the best results. |
Price & Effectiveness
TestoGen Testosterone Triple Action is that test booster you need most to see the best gains possible when it comes to testosterone support and enhancing. With 30 servings per container, 4 capsules as a serving size will pump you with this powerful formula to see those results you want most.
Pros
Natural testosterone supplement with clean and effective ingredients
Great benefits to testosterone support as well as maintaining strength, virality, stamina, and focus
Top-rated and easy to use
100-day money back guarantee
Cons
4 capsules is a lot for a serving size
It is a premium priced option
Price: $59.99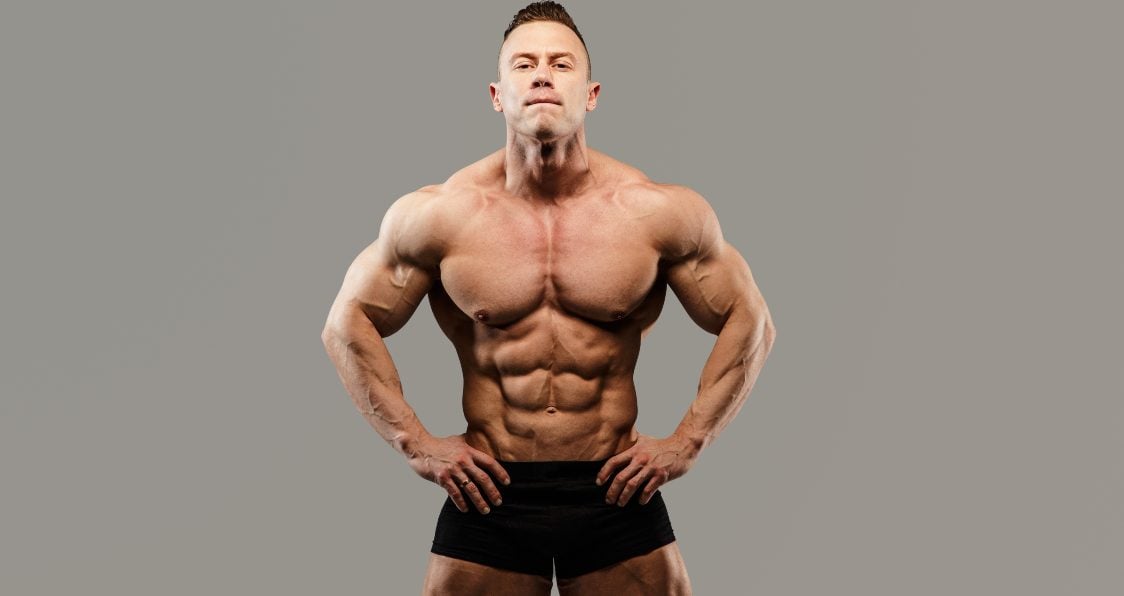 Who Should Use TestoGen?
TestoGen should be used by men over 18 who are suffering from low testosterone. This includes effects like lacking motivation and energy, struggling to build muscle, and those whose sex drive has seemed to fall away. Since TestoGen contains natural testosterone boosting ingredients, no harmful chemicals or illegal substances ruin this great product.
---
Check out our list of the Best Testosterone Boosters to see where Testogen landed for the best T boosting products of 2021!
---
Overall Value
TestoGen Testosterone Triple Action is that top rated testosterone booster you need most. With natural and effective ingredients packed into a powerful formula, this test booster is one to certainly give you the best chance at seeing that test boosting success. TestoGen created this product so athletes and everyday men never suffer from low testosterone levels again and can work on optimizing their overall health and performance for the better. What you are really getting is a top tier testosterone boosting supplement with great ingredients and a money back guarantee from a company who knows the needs of athletes. Try TestoGen today and see what this can do for all your testosterone boosting goals.
---
Generation Iron may receive commissions on purchases made through our links. See our disclosure page for more information.
Let us know what you think in the comments below. Also, be sure to follow Generation Iron on Facebook, Twitter, and Instagram. 
*Images courtesy of TestoGen and Envato
References