Big Ramy has been dealing with nerve damage and has been attempting to fix the problem.
Big Ramy will be a topic of discussion over the next two months until he takes the stage at the Arnold Classic. After falling down the scorecard during at the 2022 Olympia, there were questions about the package that he brought to the biggest show. Now, he is preparing to rebound and is using stem cell treatment for damaged nerves he has been dealing with.
Ramy was crowned champion at the Olympia in 2020 and 2021. After being considered unbeatable this year, he fell to fifth. It was recently announce that Ramy would compete at the Olympia despite being qualified for the 2023 Olympia by finishing in the top five.
There are some improvements that need to be made for Ramy and that is what he plans to do over the next two months.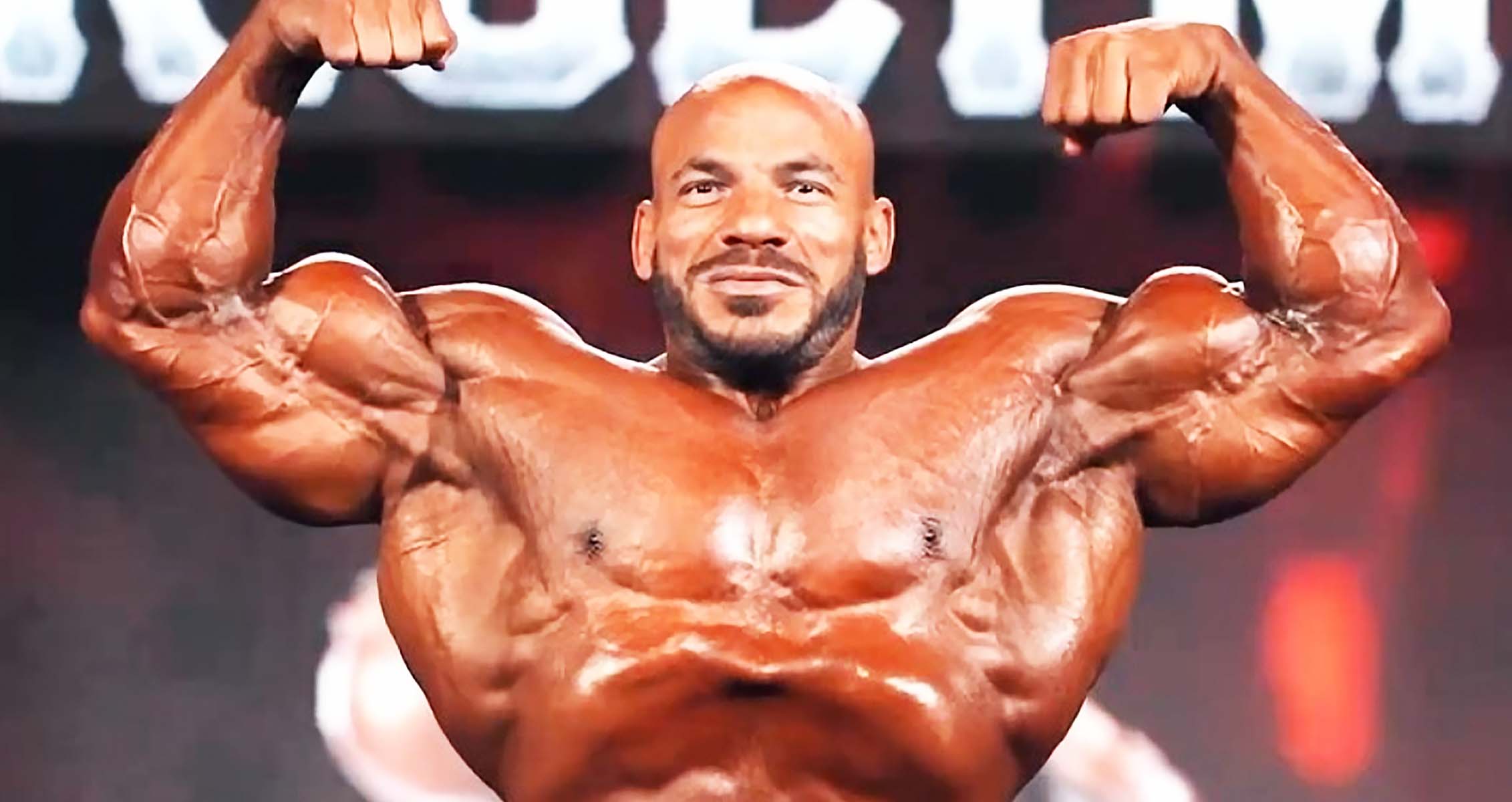 Big Ramy Receives Stem Cell Treatment
The conditioning of lower backs has become a major issue that some of the old-school bodybuilders are highlighting. For Big Ramy, this could be a reason for the treatment he is receiving. In a recent Instagram story, Ramy reposted a picture from Dr. Akhan sharing the work he is getting done.
"When your body can't regenerate and recover, intravenous stem cells can help improve your bodies ability to adapt and grow!"
Ramy is not the first to implement this kind of treatment and will certainly not be the last. Stem cell therapy can repair damaged cells and reduce inflammation. In 2021, Chris Bumstead shared that he was using mesenchymal stem cell therapy to help with different aspects such as bones and ligament tears.
View this post on Instagram
There will be plenty of eyes on Big Ramy during the Arnold Classic, seeing if he can make the necessary improvements needed to get back to the top of the sport. Nick Walker and Andrew Jacked will provide some great competition. According to his coach Chad Nicholls, Ramy will be ready.
"We don't TALK – we WORK and it's time for @big_ramy and me togo back to WORK – see you in Columbus and you already know it's gonna be cold"
What is Stem Cell Treatment for?
You may be wondering what exactly stem cell treatments are for. Well, as your body ages, muscle mass declines, and stem cell treatments can come into play.
Stem cells are the body's raw materials that have the ability to develop into many different cell types. These can range from from muscle cells to our body cells and organs. The most important use of stem cells has actually been found to be tissue regeneration. This is where stem cell therapy comes into play, especially for recovery of lifters.
Muscle stem cells are found in skeletal muscle cells. They can self-renew and have the ability to generate the rise of muscle cells, which can help regenerate damaged muscle tissue very effectively. Regenerating that tissue can lead to enhanced muscle growth, as every lifter knows that the most important part of the growing process is the recovery, and your muscles are repairing like never before with treatments like this.
So, stem cell therapy enhances the repair process of injured and damaged tissue, such as tendon, ligaments and muscle. In Big Ramy's case, he is utilizing the treatments for a nerve issue. While stem cell therapy, also known as regenerative medicine, can be very beneficial for recovery and repair, especially in scenario's like Big Ramy's, it certainly has its risks and can be expensive. However, there are natural alternatives.
Top Stem Cell Supplement
30% OFF
MuscleMeds Stemtropin is the first natural dietary supplement that increases stem cell and GH production. A 72% increase in GH and a 20% increase in stem cells is a pretty drastic increase, so it should provide you with all the benefits GH and stem cells offer, including increased strength and muscle growth, muscle regeneration, and fighting age-related diseases.
As stated above, while stem cell therapy is very beneficial, it is certainly expensive and comes with its risks. However, MuscleMeds has released a natural dietary stem cell supplement that provides the same benefits, and that is Stemtropin.
Stemtropin is the first natural nutritional supplement to increase the production of stem cells, as well as human growth hormone (HGH). Stemtropin contains the natural herb buckthorn, Safled Musli, the tropical legume Mucuna pruriens, and melatonin.
Stemtrompin uses groundbreaking research on stem cells' ability for muscle growth and muscle regeneration. Stemtropin has shown a 20% increase in your body's production of stem cells. As stated before, stem cell treatments are costly and can be risky, This is why Stemtropin could be a better option, it is the first natural dietary supplement to provide the same benefits as stem cell treatments.
This supplement's effects amplify when you combine it with resistance training. The ingredients combined with taking this product before a workout has the power to increase HGH by 72%. The increase in stem cell production and GH can combat age-related muscle loss, known as sarcopenia. Stemtropin is an effective supplement for athletes looking to build muscle, boost athletic performance, and recover from injury.
Wrap up
Stem cells are quite the fascinating topic. They have a variety of uses, especially for recovery of damaged tissue. Big Ramy's case is a good example of something to turn to stem cell therapy for, but treatments like that are not for everyone. Luckily, MuscleMeds' Stemtropin is on the market.
What do you think of stem cells?
---
For more news and updates, follow Generation Iron on Facebook, Twitter, and Instagram.