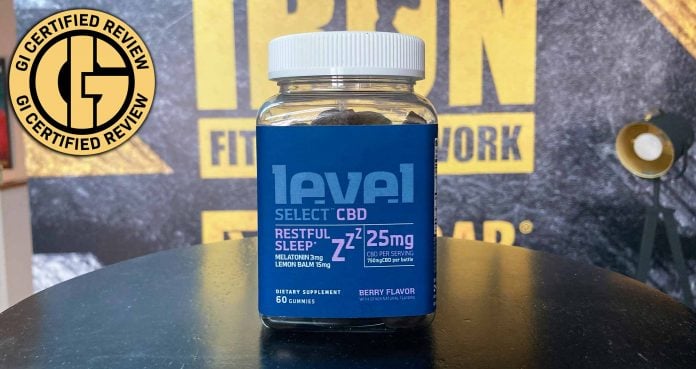 Help your rest, recovery, and get a little recharge with these CBD gummies
Product Overview
Maybe you have seen our piece on Level Select Focused Energy CBD Gummies, but this time we are diving into the Level Select CBD Level ZZZ Gummies. Instead of giving you an energy boost, these gummies aim to help with rest and recovery. 
Despite how important it is, not everyone has the easiest time when it comes to getting that much needed rest and recovery in. For some, sleep aids like melatonin can sometimes be too much and make people feel groggy and tired even after they wake up. The Level ZZZ gummies are made to help deliver solid, desired effects, minus the sometimes unwanted after effects of other supplements.
In these gummies, Level Select has created a great combination of CBD, lemon balm, and melatonin to give you the desired effects to aid your rest and recovery process, all the while tasting like natural berries.
These gummies even come in different levels. This is because everyone's bodies are different, and may have different needs. Higher levels are for higher strength, but we will dive into this in just a minute.
Editor's Note: Generation Iron's content is meant to be informative and should not take the place of advice and/or supervision from a medical professional/trainer. The articles and opinions on this site are not meant to be used as diagnosis, prevention, and/or treatment of health problems. Speak with your physician/trainer if you have any concerns.
This CBD gummy below will relax you before bed, help you fall asleep, help you stay asleep, and improve the quality of your sleep. Not only is it formulated with premium hemp, but it also contains other sleep aids such as melatonin and lemon balm. 
What is CBD?
What even is CBD? CBD is short for cannabidiol, the hemp, found naturally in cannabis and hemp plants. Research suggests that CBD is beneficial for relieving symptoms of anxiety and depression. Also, it can possibly ease inflammation and pain throughout the body. In short, CBD is something typically associated with aiding in rest and recovery. 
Brand Overview
As stated right on their website's homepage, Level Select formulates their products with premium CBD and complementary active ingredients to deliver results you can feel. They produce their own premium quality CBD and can deliver the best products to you for the best prices. They also back their products with a 30-day money-back guarantee. Overall they are a trusted brand, backed by numerous pro athletes such as Rickie Fowler and Steve Garvey, that delivers quality results.
Different Levels
Each person is different. Luckily, Level Select even has a system for their products. There are three different levels to their products. They believe that each person has a different bodily chemistry, and this affects how your body reacts to CBD. Here is their general guide on the different levels:
LEVEL 1 – To relax muscles and treat everyday discomfort.
LEVEL 2 – Higher strength for higher level of muscle soreness.
LEVEL 3 – Maximum strength for when you need it most.
Level ZZZ CBD Gummies Highlights
As stated before, the Level ZZZ gummies are designed to help you rest, recover & recharge. Rest and recovery are some of the most important aspects of fitness. Without rest and recovery, how do you expect to grow and see the results you want? 
With just 750mg Hemp-derived Broad Spectrum CBD per bottle accompanied by just 25mg CBD with 3mg of Melatonin and 15mg Lemon Balm per serving, these gummies provide a calming effect while promoting rest and recovery. One of the best parts is they have a natural Berry flavor, and Level Select's ingredients prevent any earthy or unwanted aftertastes.
Gummies Ingredients (By Serving Size)
The serving size for the product is just two gummies. What exactly will you be getting in each serving size?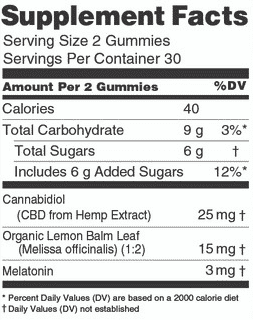 Cannabidiol (CBD): Just 25 milligrams of this in each serving. This ingredient is said to aid in treating different conditions such as chronic pain, inflammation, migraines, epilepsy, autoimmune diseases, depression, and anxiety.
Organic Lemon Balm: In each serving you will be getting 15 milligrams. Lemon balm contains chemicals that are said to have a sedative and calming effect. Research has also shown that lemon balm might also reduce the growth of some viruses and bacteria. Lemon balm is also an ingredient in making flavors for foods and medicines.
Melatonin: Just 3 milligrams of this ingredient in each serving, while many other products with melatonin tend to use around 5 milligrams. Melatonin is a hormone that your brain produces in response to darkness. It helps with the timing of your circadian rhythms and sleep.
Other Ingredients: Other ingredients include organic tapioca syrup, organic cane sugar, pectin, and water. There is also less than 2% of: citric acid, sodium citrate dihydrate, natural flavors, malic acid, organic spirulina extract (for color), fruit and vegetable juice (for color), and organic tapioca starch.
Bang for Your Buck?
A big question is, how much am I really getting for the price? Well, for the quality of the product, Level Select Level ZZZ Gummies are a great price. 
Serving Size: 2 Gummies
Servings per Bottle: 30
Total Price: $49.99
Price per Serving: $1.67
For right around $1.67 per serving, you can get a whole thirty day supply of these gummies. However, if you are not satisfied with the product, Level Select has a thirty day money back guarantee. Although, most people seem to be pretty satisfied, as the product has 4.3/5 stars on their reviews.
Level ZZZ Gummies Price, Flavor, Pros and Cons
What you need most to aid in that much needed rest and recovery can be found in these Level ZZZ CBD gummies. They serve as a delicious CBD option for those seeking the best benefits. There are 30 servings per container, 2 gummies as a serving size will give you these amazing benefits with a great natural berry flavor. That is just about a month's worth of great tasting recovery, without the earthy aftertaste that some other CBD gummies may have.
The reason for the great flavor and lack of aftertaste is the type of CBD that Level Select utilizes. They use CBD isolate for these gummies. This is what they believe makes the gummies delicious, while still meeting all of the high quality standards.
Pros and Cons
Like any product, there are certainly pros and cons that you may want to take a look at before purchasing and using. Let's start by looking at the pros.
Pros:
Great ingredients for rest, recovery, and calmness

25mg of CBD per serving

Designed for those who want better rest and recovery

From a reputable company in Level Select
Cons:
Premium priced CBD supplement (but for a premium product)
Price:
$49.99 for 30 servings ($1.67 per serving)
This CBD gummy below will relax you before bed, help you fall asleep, help you stay asleep, and improve the quality of your sleep. Not only is it formulated with premium hemp, but it also contains other sleep aids such as melatonin and lemon balm. 
Who Should Use Level ZZZ Gummies?
In reality, anyone looking for better rest and recovery could give this product a try. It does not matter if you are an athlete, regular gym goer looking for something to help post workout, or someone that just feels like they need a little help with relaxing every now and then, this product is perfect for someone looking to better their rest and recovery. Level Select is a reputable brand and certainly delivers with these gummies.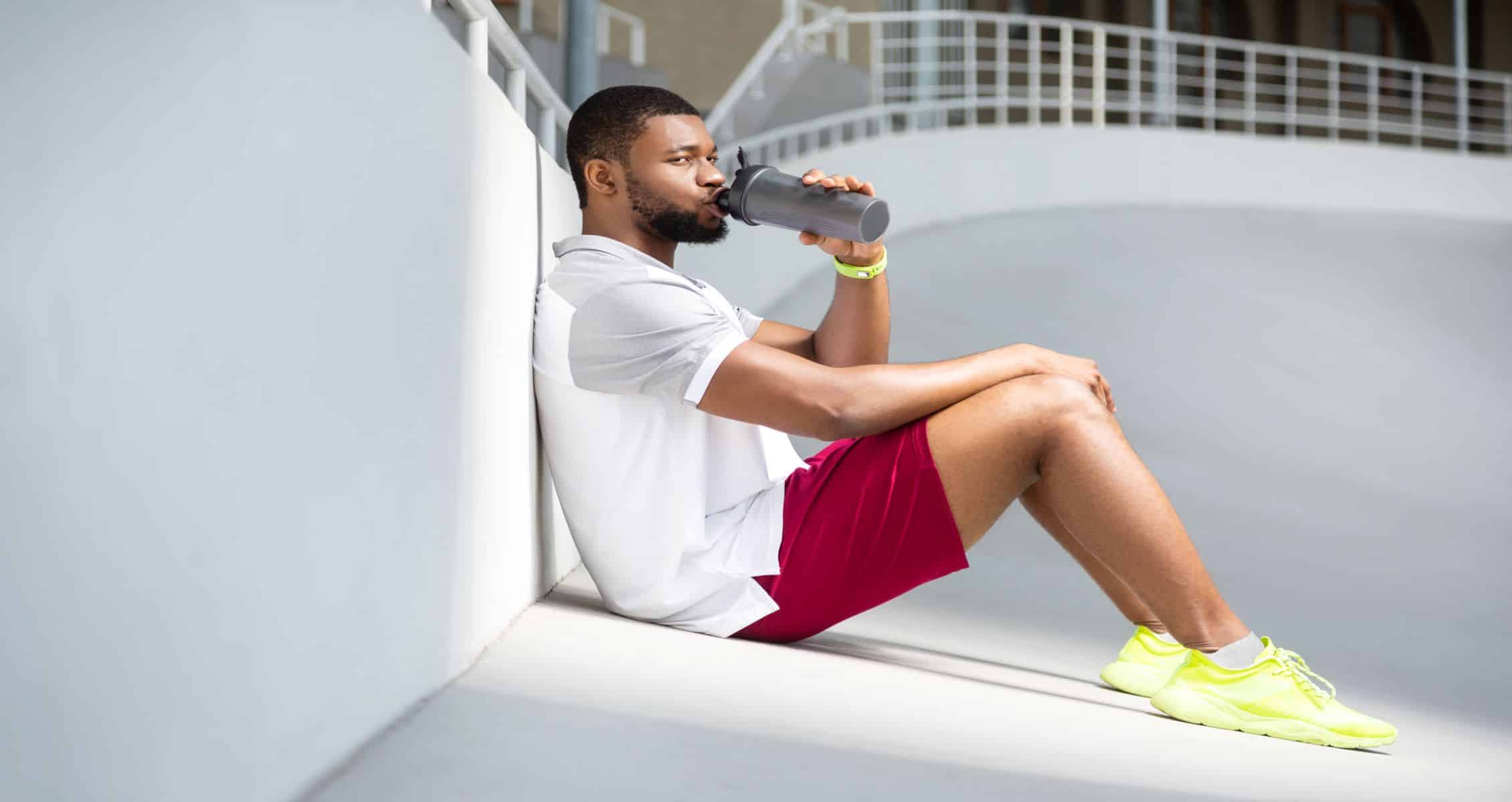 How to Use CBD Gummies
The way you utilize this product is quite simple, you just eat it. Just take two Level ZZZ gummies (recommended serving size) and wait for the effects to set in. One thing to keep in mind, because they are edibles, the effects will take slightly longer than a CBD oil product to set in. This is because an edible must pass through your digestive tract before being absorbed. 
Overall Value of Level ZZZ CBD Gummies
With 4.3/5 stars on the reviews, Level Select Level ZZZ CBD Gummies are exactly what you need if you are someone who is trying to focus more on rest and recovery. The quality ingredients in these gummies greatly helps you rest, recover, and recharge. Level Select is well aware that the CBD market is growing more and more saturated and they do everything they can to stand out with premium quality supplements that people can use and get great results from.
In each bottle, in each serving even, you are getting a top tier CBD supplement great for rest and recovery. To make it even better, you get a delicious flavor and trustworthy company behind it. Try Level Select Level ZZZ CBD Gummies today and help yourself rest and recover better than before.
References
(26 November, 2021). "6 Health Benefits of CBD Oil — and a Look at Side Effects"  (Source)
Bauer, Brett; (18 December, 2020). "What are the benefits of CBD — and is it safe to use?" (Source)
Grinspoon, Peterson; (24 September, 2021). "Cannabidiol (CBD): What we know and what we don't," (Source)