This CBD roller combines instant cooling with soothing power of superior hemp extract.
Product Overview
For many of us athletes, paying attention to our health and wellness, including both mental and physical, is of the utmost importance and CBD can be of great help. We push our bodies to the limit and at times, it can feel as though we have nothing but pain. Of course, after a big lift or heavy cardio session we'll feel that slight discomfort, but when it starts to really affect you, it can seem debilitating. cbdMD 750mg Freeze Roller is a premium topical perfect for boosting all your gains and taking them to new heights when it comes to staying as healthy as possible.
CBD is a great supplement to promote muscle pain relief, reduce anxiety and improve mood, support better sleep, and help boost your immune system, among other benefits. A great CBD supplement will be of the highest quality and can work to boost your overall mental and physical health as best it can. cbdMD 750mg Freeze Roller is one such product to do this and much more and is a great CBD supplement to absolutely consider.
cbdMD Freeze Roller combines the instant cooling relief of menthol with the soothing power of Superior Broad Spectrum hemp extract for the best fast-drying gel to relieve muscle and joint pain.
cbdMD is on a mission to enhance the overall quality of life while bringing CBD education, awareness, and accessibility to all. Knowing exactly what CBD can do for people is important to them as they strive to make everyday wellness your new normal through the power of innovation, premium product selection, and a true passion to help the consumer. By working with athletes and other health-minded partners, cbdMD is a trusted and reputable source to get all your CBD supplements.
cbdMD 750mg Freeze Roller Highlights
cbdMD 750mg Freeze Roller delivers instant cooling relief with the soothing power of superior hemp extract. Made with multiple cannabinoids and terpenes on their unique Superior Broad Spectrum formula, it includes great ingredients like menthol to assist with cooling and temporary pain relief. Those who should consider this amazing CBD product are athletes or any day folks who want to take away discomfort, enhance exercise recovery, manage stress and anxiety, and support and promote a daily wellness routine.
With hemp extracted from non-GMO hemp plants grown in the United States, and all products registered in accredited labs and third party tested, you know exactly what you are getting with this product. Available in 4 strengths including 300mg, 750mg, 1,500mg, and 3,000mg, the options for your health and wellness have never been better.
Ingredients
Hemp Extract: Works to provide for faster recovery, reduce inflammation, alleviate stress and anxiety, support your immune system, and allow you to feel less discomfort as a result of exercise or general wear and tear (1,2,3).
Menthol: Acts as a pain reliever and anti-inflammatory agent to provide a cooling sensation for better relief (4).
Aloe Vera: Can provide antioxidants that prevent joints from cell injury and damage and will help repair injured tissue (5).
Arnica Montana Extract: Will help relieve pain and can alleviate those sore muscles and sprains (6).
Tea Tree Oil: Can help relieve inflamed skin and works for wound healing as well.
Other Ingredients
Hydroxyethylcellulose, Isopropyl Alcohol, Helianthus Annus (Sunflower) Seed Oil, Ilex Paraguariensis (Yerba Mate) Leaf Extract, Tocopherol, Glyceryl Caprylate, Caprylhydroxamic Acid
Price & Effectiveness
cbdMD 750mg Freeze Roller is a great CBD topical perfect for all your pain relieving wants and needs. With 3 fl. oz. per container, this easy to roll-on product comes in four strengths being: 300mg, 750mg, 1,500mg, and 3,000mg. It is also available in a Squeeze option as opposed to a roll-on.
Pros
Great cooling and pain relieving feel
Works great for alleviating discomfort, enhancing exercise performance, and reducing every stress
Made from home grown, non-GMO hemp extract sourced in the U.S.
Cons
Premium priced option
For those who want to ingest CBD, this product is obviously not for you
Price: $59.99
Featured cbdMD Athlete
Flex Lewis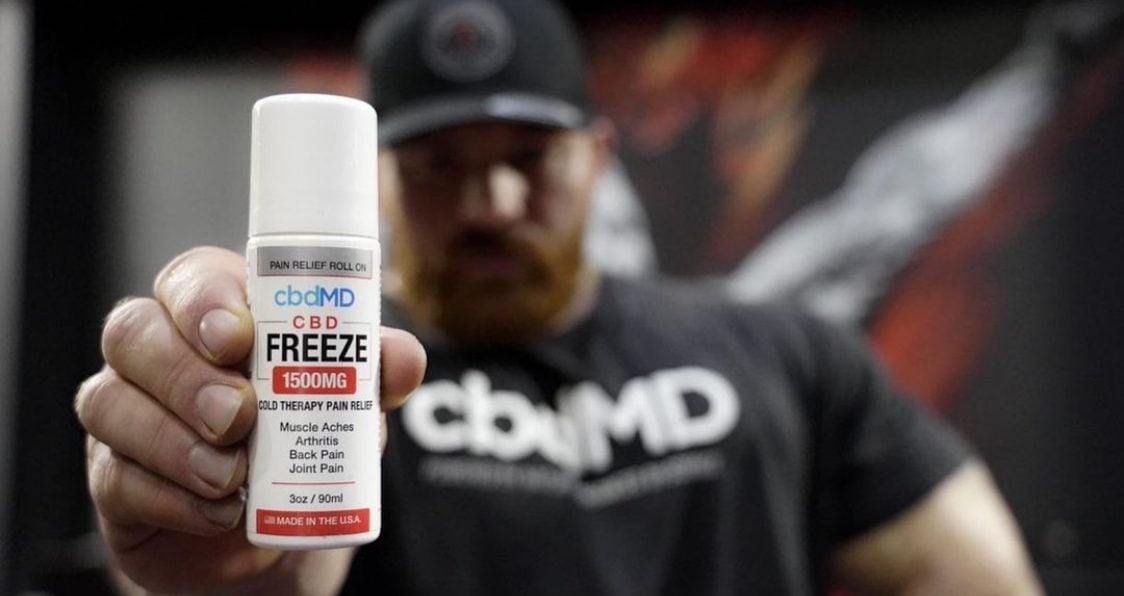 Flex Lewis is an IFBB pro bodybuilder who works with cbdMD to use and promote their great products. To help with his own muscle and recovery goals and keep him thriving as he continues his successful bodybuilding career, Lewis relies on cbdMD to provide him with the best CBD supplements around in order to take full advantage of their awesome products. Lewis is a 7-time Olympia 212 winner with a win at the 2014 Arnold Classic in the 212 event. Looking to continue an accomplished career, Lewis continues to use cbdMD supplements to power him through to the end.
---
Check out our list of the Best CBD Supplements for more great pain relief and soothing products!
---
Overall Value
cbdMD 750mg Freeze Roller is a great topical designed to give you the best when it comes to all things CBD and muscle recovery related. As a top supplement to alleviate pain and enhance exercise performance, this topical is made from only the best ingredients around. What you are really getting is a high-quality CBD topical made from premium ingredients with an honest and reputable company backing you. Try cbdMD 750mg Freeze Roller today and work to give yourself the best in terms of performance and recovery.
---
Generation Iron may receive commissions on purchases made through our links. See our disclosure page for more information.
Let us know what you think in the comments below. Also, be sure to follow Generation Iron on Facebook, Twitter, and Instagram. 
*Images courtesy of cbdMD, Flex Lewis Instagram, and Envato
References