The biography, life, and accomplishments of Cedric McMillan
Cedric McMillan was a bodybuilder and member of the United States Army as an instructor with a massive physique and long bodybuilding career. He is best known for bringing back the classic physique of the golden era of bodybuilding that fans love.
Below is a complete breakdown of Cedric McMillan's profile, stats, biography, training, and diet regimens.
Full Name: Cedric McMillan

Weight
Height
Date Of Birth
255-300 lbs.
6'1''
08/17/1977
Profession
Era
Nationality
Bodybuilder
2000, 2010
American
Biography
Cedric McMillan was born on August 17, 1977 in New Jersey and grew up obsessed with all things bodybuilding and muscles. As a child, the South Carolina native used to reference bodybuilding and workout magazines to draw his superhero cartoons. After high school, McMillan joined the Army and was encouraged to start competing given his sheer size and shredded physique.
Cedric McMillan was able to follow through on his childhood dreams when he went Pro in 2009 after winning the NPC Nationals. McMillan went on to win the 2011 Orlando Show of Champions then was victorious at the 2012 New York Pro. 2017 proved to be a great year for McMillan. He went on to win the 2017 Arnold Classic and become a top contender in the Men's Open division and really put himself on the map as a serious contender on the pro circuit.
To many, Cedric McMillan was the return of the "classic" look that so many fans wanted to see in Men's Open bodybuilding and a real sense that the golden era physiques may return. His presence, and his eventual win at the Arnold Classic in 2017, may have helped in part bring the Classic Physique division into fruition. He continued to compete in great events, and finish highly in those events, making him a popular and well-liked bodybuilder given his credits but also his amazing personality.
Even Arnold Schwarzenegger was very optimistic about Cedric McMillan's physique and held it up as the pinnacle of what modern bodybuilders should look like in the sport as the sport continued to progress.
In December 2021, Cedric McMillan spoke openly about a near-death experience he suffered due to heart issues. This ultimately kept him out of his planned competitions such as the Legion Sports Fest Pro and the Arnold Classic. McMillan was focusing on recovery but also saw the event as a wake up call for his health and future tactics in the sport.
Training
For Cedric, training hard meant real results. Below is a great heavy upper body workout to show you just how Cedric worked himself into a massive physique.
Heavy Upper Body Circuit
Single Arm Cable Triceps Pushdown
Reverse Grip Row
Pec Deck
Close Grip Lat Pulldown
Behind The Back Barbell Shrugs
Close Grip Shrugs
Nutrition
Cedric took his nutrition routine very seriously and worked to eat 5-6 times per day in order to keep his body fueled and his physique in top shape. His routine was strict in order to stay on track and see the best gains possible. Foods that Cedric focused on with his diet were oats, rice, eggs, lean meats, and green vegetables.
Supplementation
While Cedric used his own supplements of choice, there are some staple products in a bodybuilder's routine that you can use to improve your gains. A protein powder is great for seeing gains and working to pump you with protein to aid in muscle growth, recovery, and even weight loss.
For those pre-workout needs, looking to pre-workout supplements will provide energy and muscle pumps so you can take full advantage of every workout and see real results. For that shredded aesthetic, looking to fat burners can kickstart your metabolism, suppress your appetite, and allow for more calorie burn to give you the best benefits possible.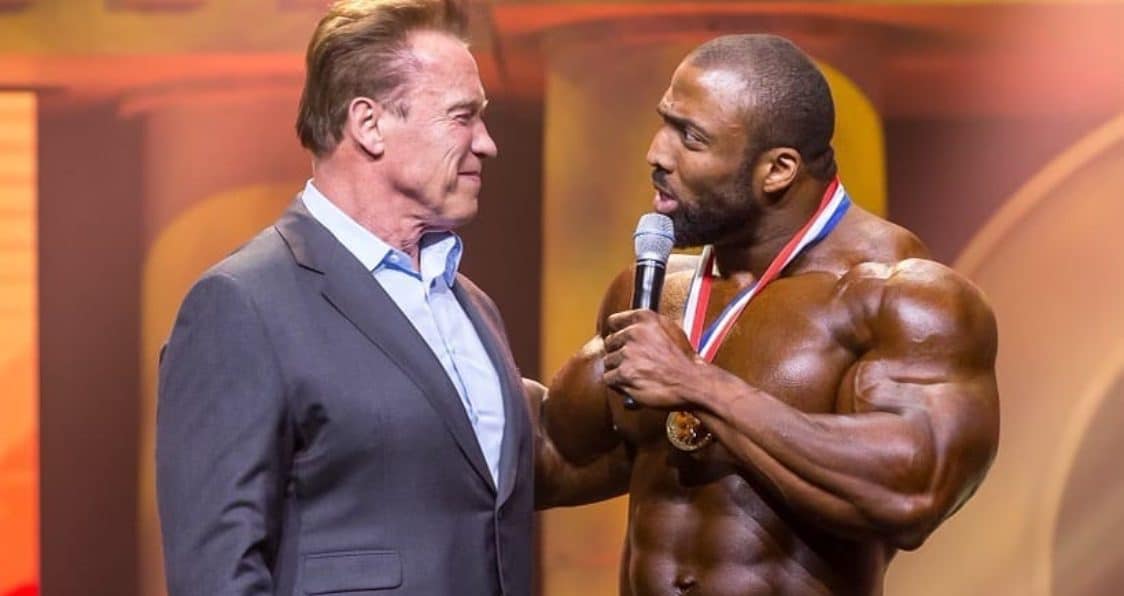 Competition History
2020 Arnold Classic: 6th
2019 Japan Pro: 2nd
2019 Romania Muscle Fest Pro: 1st
2019 Hungary Pro: 1st
2019 Mr. Olympia: 7th
2019 Arnold Classic Australia: 2nd
2019 Arnold Classic: 4th
2018 Mr. Olympia: 9th
2018 Toronto Pro: 3rd
2018 Arnold Classic: 3rd
2017 Ferrigno Legacy: 2nd
2017 Mr. Olympia: 10th
2017 Arnold Classic: 1st
2016 Arnold Classic Australia: 2nd
2016 Arnold Classic: 2nd
2016 Levrone Pro Classic: 1st
2015 Nordic Pro: 3rd
2015 Europa Atlantic City Pro: 2nd
2015 Golden State Pro: 1st
2015 Arnold Classic South America: 2nd
2015 Arnold Classic: 4th
2014 Arnold Classic: 3rd
2013 Mr. Olympia: 12th
2013 New York Pro: 12th
2013 FIBO Power Germany: 1st
2013 Arnold Classic: 6th
2012 New York Pro: 1st
2011 Europa Orlando Pro: 1st
2011 New York Pro: 11th
2010 Europa Dallas Pro: 4th
2009 NPC National Championships: 1st
2008 NPC Junior USA Championships: 1st
In Memory Of Cedric McMillan
Cedric McMillan passed away at the age of 44-years old in 2022. In 2021, McMillan was open about a near death experience he suffered due to heart issues, and although this kept him out of competitions, he was optimistic about returning. His death came at a time when many bodybuilders were suddenly passing away and the use of PEDs and other steroids came into the discussion. McMillan was dedicated to the craft and a real supporter of bodybuilding and his presence will be missed by fans and competitors alike.