INBA PNBA Hall of Famer Chad Martin explains the quandary surrounding natural bodybuilding. 
Chad Martin is an International Natural Bodybuilding Association (INBA)/Professional Natural Bodybuilding Association (PNBA) competitor and Hall of Fame Inductee. Some remember Chad Martin as "The Bowflex Guy" after being the face of their 2005 national commercial. 
Nowadays, Chad Martin competes in the Men's Bodybuilding Grand Masters division and received a fourth-place finish at 2021 Natural Olympia. Chad Martin considers himself "Forever Natural," and Generation Iron was able to get his insight on being natural. 
Chad Martin stated:
"I realized that if I wanted to be a true natural competitor I wouldn't stand a chance next to someone with my height but weighing 70-90lbs heavier at 2% body fat, and 4 inches shorter."
Of course, Martin refers to enhanced bodybuilders – athletes on some form of PEDs.
Admittedly, Martin says it's displeasing to see placings stolen and money taken out of authentic natural competitors' pockets. However, Martin acknowledges that many competitors are confused by what it means to be a natural. For example, some competitors believe taking PEDs derived from natural derivates is still considered natural. He also notes that some competitors have doped in their past. Then have been clean for five years before coming back in the sport of bodybuilding, claiming to be a natural. 
Furthermore, some bodybuilders justify doping from not being genetically gifted compared to other bodybuilders. On the contrary, some athletes believe creatine and caffeine aren't natural. 
Martin points to the 21st-century culture as partly to blame for this conundrum. Nowadays, superhero physiques are becoming the norm. We have poisoned our minds to believe that bigger is better by any means possible. Martin voiced, "The image that we are creating in young boys minds is a cartoonish out of reach ideal unless you use some form of PEDs."
What Does it Mean to Be a Natural? 
Chad Martin said:
"If you look back at the early bodybuilding years with Steve Reeves and others, you see a physique that was symmetrically and aesthetically pleasing, and was formed from just eating properly and training with what you had."
Martin pointed out that getting back to this age of bodybuilding isn't feasible. However, Martin quoted:
"I love this sport and have stated from day one that I want to be an ambassador for it and prove you can build a healthy and quality physique without using any PEDs, but are we fighting an ideal that our culture almost embraces as not cheating, but using any means necessary to justify its use."
Chad Martin Natural Bodybuilding History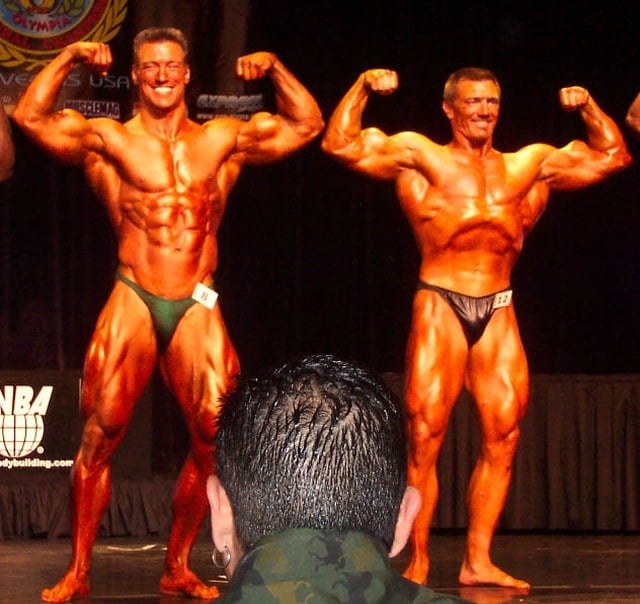 Chad Martin has been a natural bodybuilder for decades. He joined the INBA PNBA in 2001 after being frustrated with the integrity of other bodybuilding leagues. After learning more about the INBA PNBA and what they represented, he knew this was his route. 
Martin said that he's happy with the decision he made, especially with the string of deaths that have taken place in bodybuilding recently. In addition, he loves competing with the men in Bodybuilding Grand Masters. 
Chad Martin has competed in the most Natural Olympia shows ever against all the top champions. However, his fondest memory was in 2012 when he won the World Title and draped the USA flag around him, then went on the next day to compete in the PNBA with four world champions on stage. 
Personal LIfe
Outside of competing in natual bodybuilding, Chad Martin has taught physical education and computer tech at a juvenile jail in WA for the last 25 years. Also, he helps run a GED program to support his hobby/passion. Chad Martin also puts ample time into his two sons, baseball players – one who is a professional with the Pirates and the other who is a D1 commit. 
Follow us on Instagram, Facebook, and Twitter for more insight from the best natural physiques on the planet!