Hadi Choopan's former manager, Mahdi Parsafar, and his brother, Hadi Parsafar, have posted damning claims against the bodybuilder.
Hadi Choopan's former manager, Hadi Parsafar, has claimed that Choopan injects his physique with synthol – calling Choopan the "Synthol People's Champion" in an Instagram post. This claim was made after the managing brothers Hadi and Mahdi parted ways with the bodybuilder, allegedly due to Choopan firing the Parsafar brothers.
Hadi Parsafar shared an Instagram story on Friday afternoon sharing the news. He also shared a reel on social media explaining further.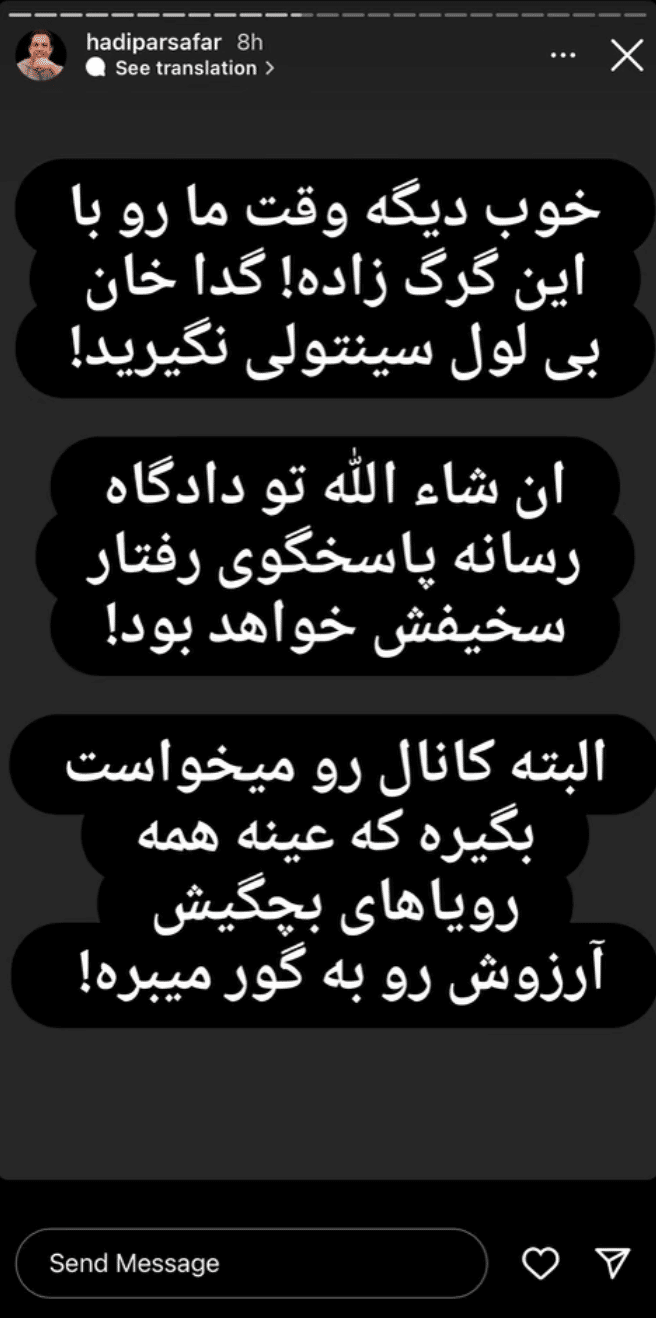 Our Generation Iron Persia division directly translated the message to Generation Iron:
"I don't want to waste time with Mr. Synthol and homeless. He has to come to the court and answer questions. He wants to get YouTube channel but you bury this wish."

– Hadi Parsafar
The above comment appears to reference Hadi Choopan's YouTube channel. The channel was run by Mahdi and Hadi Parsafar and was in fact originally Mahdi's channel before he re-branded it as Choopan's upon managing him.
Eventually Mahdi took the channel back and, allegedly, received sudden take down notices from Hadi Choopan. This seems to have happened shortly after Choopan parted ways with the managing brothers.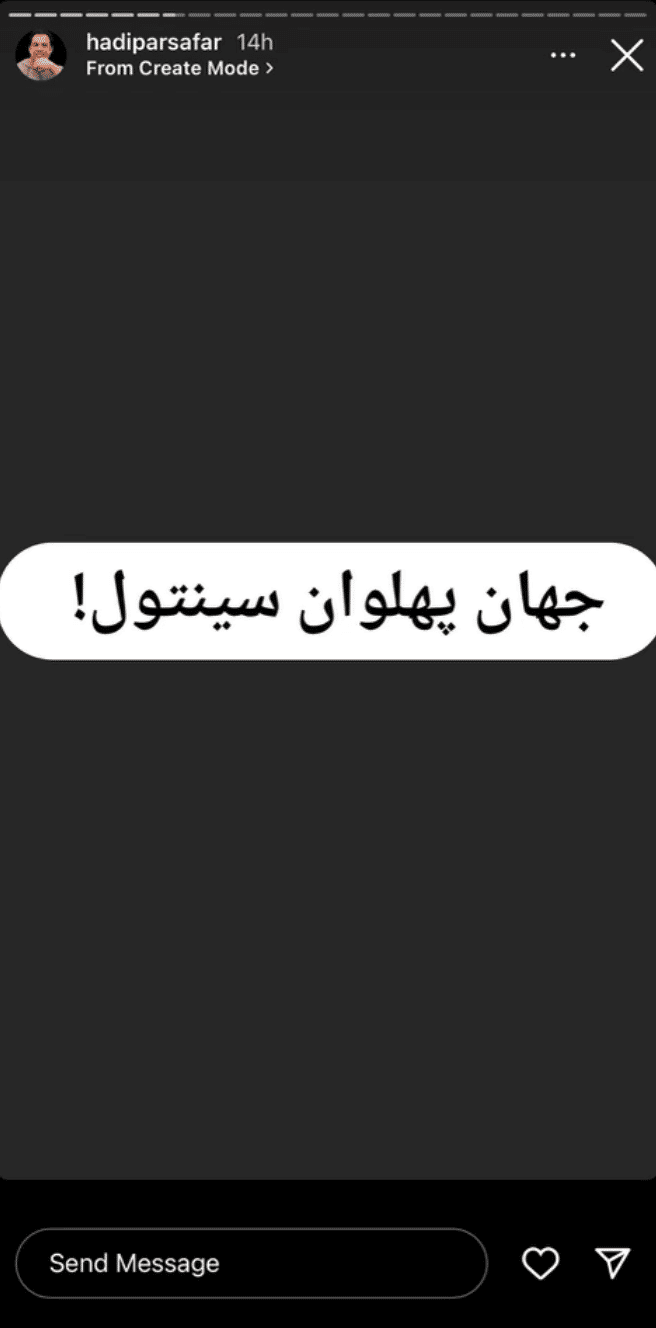 In the following story post – Hadi Parsafar simply calls Hadi Choopan the "Synthol People's Champion."
Mahdi Parsafar was the long time manager of Hadi Choopan alongside his brother. Not only that, but Mahdi and Choopan were known to be longtime friends since childhood. Mahdi Parsafar put his focus on putting Iranian bodybuilding onto the global stage. Featured in Generation Iron 3 from Iran, Choopan was the shining highlight of his achievements as a manager and his goal to represent Iran as a powerhouse nation for pro bodybuilding.
Hadi Choopan's Rise In Bodybuilding
Hadi Choopan first started catching attention as an incredible Men's 212 bodybuilder. Many thought he would be talented enough to defeat the then reigning Olympia champion – Flex Lewis. This battle never came to fruition and Lewis ultimately retired from the sport. And Choopan ultimately had his eyes set on a different sort of prize.
Hadi Choopan shocked the bodybuilding world when he made his debut Men's Open debut on the Olympia stage in 2019. Even more surprising was that he earned a third place finish. Despite having an overall smaller size and frame – his conditioning was so on point and his aesthetics so impressive – that he earned a place as a true threat to the Mr. Olympia title.
Choopan later returned to the stage in 2020 and dropped one spot before returning to the top-three in 2021. Despite his finish, there are many that believe Choopan should have been crowned champion in October.
Choopan finished third behind Brandon Curry and two-time reigning champion Big Ramy. There is a clear top-tier of competitors and Choopan is part of that group. Hunter Labrada and Nick Walker are looking to insert their names into the conversation after a fourth- and fifth-place finish respectively.
Choopan is coached by Hany Rambod, who has handled some of the top talents in bodybuilding history. This include seven-time Olympia champ Phil Heath. Rambod led the charge of those who believed that Choopan sported the best physique on stage in last year's competition.
Previous Hadi Choopan Synthol Rumors
After the 2021 Mr. Olympia, rumor began to spread that Hadi Choopan was using synthol to improve his physique – specifically in his delts. While there was no proof, internet sleuths took to the internet to compare photos and try to validate their claims.
Hadi Parsafar's latest statements seem to be the first "insider" accusation of Hadi Choopan using synthol. While his brother, Mahdi, did not make the exact same comment – both brothers have been posting on their instagram revealing the sudden fractured nature of their relationship with Choopan.
View this post on Instagram
Below is a translation of Mahdi's description for the video posted above:
"Time passed and history repeats! Parsafar will not pay a ransom to someone bigger than you! Because it's not dependent on anyone! And his band has been and is in his own pocket and raised thousands of people! You didn't learn from the past! Wait for a long response."
This story is still developing and will be updated as more information becomes available. For more news and updates, follow Generation Iron on Facebook, Twitter, and Instagram.