Torch body fat from all angles with the Thermo Shred Stack. 
You've probably tried many different things to lose weight, but it's still a struggle. It's hard to lose weight and keep it off because your body is fighting against you. Fat cells are designed to store energy, so when you try to burn them, they release toxins that can make you feel sluggish. Inno Supps' Thermo Shred Stack is the solution you've been waiting for. This stack of 4 supplements helps your body burn fat cells more easily while eliminating harmful toxins. With this stack, you'll get clean, long-lasting energy and amplified weight loss. 
If you're looking to take your fitness progress to the next level, the Thermo Shred Stack combines powerful ingredients known for their effectiveness in boosting energy levels and targeting body fat; this unique formula provides a comprehensive approach to helping you hit new personal records. 
Rev up your metabolism and force your body to torch stubborn fat cells from the inside out with the Thermo Shred Stack! Hit fat cells from every angle for next-level energy and amplified weight loss.
In this review, we'll discuss the critical benefits of each supplement, like better shut-eye and heightened metabolism — all while maintaining maximum productivity during intensive workouts!
Inno Supps Thermo Shred Stack: Inno Shred
Inno Shred is the revolutionary weight loss solution that helps burn fat around the clock! You'll skyrocket your metabolism and get next-level energy by taking this capsule. The product combines 100 mg of Capsimax®, 25 mg of Paradoxine®, 300 mg of green tea, and 300 mg of CLA (conjugated linoleic acid) — all designed to help you shed pounds quickly and easily.
Unlike other supplements, Inno Shred helps burn calories long after your workout. That's because it works to dramatically speed up your metabolism while reducing hunger cravings at the same time. Plus, it helps increase BAT (brown adipose tissue), so you can finally get the physique you've been dreaming of.
Inno Supps Thermo Shred Stack: Night Shred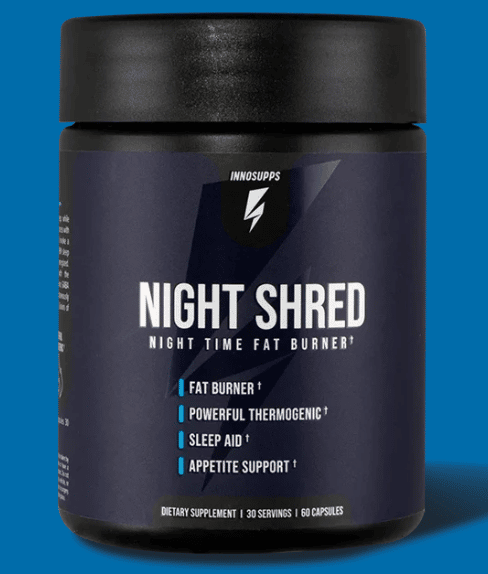 ‌Night Shred is the ultimate nighttime solution for fitness enthusiasts. It's designed to maximize quality sleep, providing your body with all the necessary ingredients to optimize fat-burning while offering muscle recovery to maximize your efficiency in the gym.
The powerful combination of numerous high-quality ingredients found in Night Shred helps you achieve maximum fat-burning so you can hit your goals faster and more efficiently. These selected ingredients include CLA, l-carnitine, valerian root, and ashwagandha, thoroughly studied for their positive effect on body metabolism and sleep.
Studies have proven that when combined correctly, these ingredients help increase fat-burning and act as a powerful sleep aid. This 2014 study confirmed the powerful effects grains of paradise has on increasing energy expenditure and reducing body fat (1). Plus, it helps promote proper recovery of muscles after an intense workout.
So if you're looking for a scientifically formulated product that offers an accelerated fat-burning process with improved sleep quality and maximum muscle recovery — there's no better choice than Night Shred! 
Volcarn 2000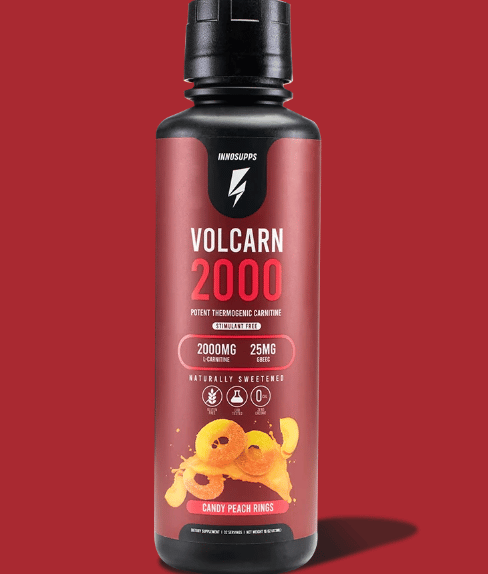 Volcarn 2000: the one-of-a-kind thermogenic fat-burning carnitine that'll take your workouts to the next level! It's a unique and potent fat-burning formula that uses every ounce of your energy for powerful results. This innovative product contains 2,000 mg of l-carnitine and 25 mg of GBEEC (gamma-butyrobetaine ethyl ester chloride), which helps boost metabolism, efficiently burn fat, and create lasting energy — all without stimulants (2)!
When taken before your workout, this fast-acting performance enhancer increases sweat production so you can quickly get into the zone and easily push yourself harder! Not to mention it'll have you burning away fat for up to 3 hours after taking it. With Volcarn 2000, you're in control of how much time and effort you put into each workout while still receiving all the necessary benefits.
Inno Cleanse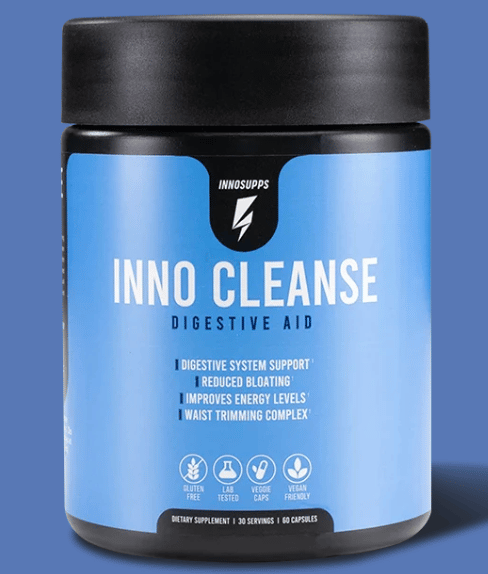 Inno Cleanse is a cutting-edge full-body detox that flushes out built-up toxins from your gut and intestines, giving you the jumpstart you need to look and feel your best. With potent ingredients like cascara sagrada, aloe ferox, fennel seed, and bentonite, Inno Cleanse offers the perfect way to kickstart the revitalization process for optimal gut health. 
This detox is specifically designed to decrease bloating and water retention and ease occasional constipation while suppressing cravings so you can begin lasting weight loss transformation! 
The unique blend of ingredients helps physically soothe your stomach while promoting healthier digestion with every use. Not only that, but you'll feel energetic as each serving helps restore lost energy levels that have diminished due to unhealthy lifestyle choices. 
Why Inno Supps? 
Inno Supps is a trailblazer making waves in the supplement industry. They only produce natural, lean, and effective ingredients with no artificial ingredients, additives, or fillers — which is hard to find in the nutritional supplement market. 
They produce their supplements from expensive, high-quality ingredients to ensure you not only get results to optimize your health but to get your money's worth. In addition, their supplements are US-based and GMP-certified to ensure that they meet FDA standards. 
Moreover, their supplements are doctor-approved to ensure safe and effective usage. Not to mention, their supplements are delicious — with many flavors to choose from that satisfy any athlete or fitness enthusiast's taste buds. 
Overall Value 
Supplements are not a "magic pill" that will shred fat on their own, but when used with a proper diet and exercise regimen, they can help achieve your weight-loss goals. The Inno Supps Thermo Shred Stack is an ideal choice for a comprehensive fat-loss solution, as it contains four powerful supplements that work together to help you burn fat day and night and flush out harmful toxins. As a result, the Inno Supps Thermo Shred Stack is an excellent investment if you're serious about shedding some extra pounds.
References 
Sugita, J., Yoneshiro, T., Sugishima, Y., Ikemoto, T., Uchiwa, H., Suzuki, I., & Saito, M. (2014). Daily ingestion of grains of paradise (Aframomum melegueta) extract increases whole-body energy expenditure and decreases visceral fat in humans.

Journal of nutritional science and vitaminology

,

60

(1), 22–27.

https://doi.org/10.3177/jnsv.60.22

Askarpour, M., Hadi, A., Miraghajani, M., Symonds, M. E., Sheikhi, A., & Ghaedi, E. (2020). Beneficial effects of l-carnitine supplementation for weight management in overweight and obese adults: An updated systematic review and dose-response meta-analysis of randomized controlled trials.

Pharmacological research

,

151

, 104554. https://doi.org/10.1016/j.phrs.2019.104554