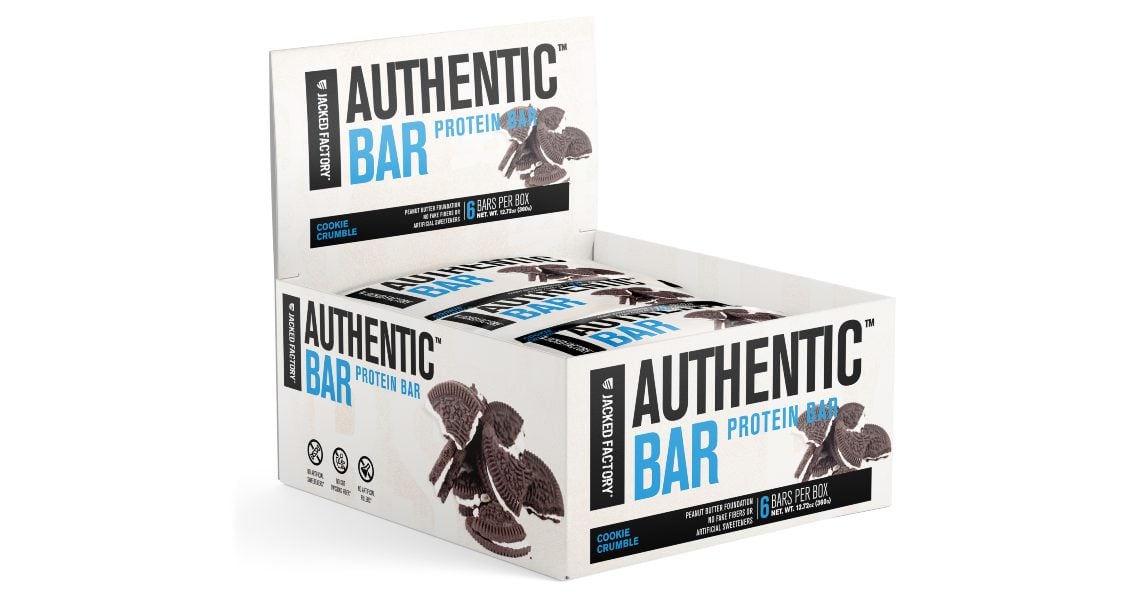 Protein bars are made with real ingredients for only the best results.
We all know the value of a premium protein bar, they are convenient and can be really great for hitting your macros, if you get one that is not just pumped full of junk. But finding one can be a challenge, as there are so many different options on the market that are not what they advertise. Picture this. You sit at the office, get that hunger craving, and realize you just can't wait to eat a full meal. You need that snack. You dig into your bag, pull out some run of the mill protein bar, and take that first bite. Chalky, bland, just not what you needed and a total waste of money.
What a good protein bar can do is keep you full and aid in satiety while also providing that much needed protein that works to maximize lean muscle growth and better recovery. The convenient and worthwhile snack you need, Jacked Factory Authentic Bars do this and much more and are a reliable bar for all your wants and needs.
Jacked Factory Authentic Bars are those protein bars you need most for their real ingredients, great tastes, and effective results.
Jacked Factory Authentic Bars
Jacked Factory Authentic Bars are made with authentic ingredients with great taste and results. No artificial sweeteners make these bars great for muscle growth and recovery.
Jacked Factory is a great supplements company who fully understands the needs of athletes and what it takes to succeed at the highest level. As a result, they deliver the most premium, hard-hitting, and effective supplements on the planet. With products formulated using science-backed ingredients, all of their products are made with honesty and the idea of fueling your fitness journey. Transparency is key, especially for your gains, and Jacked Factory takes this very seriously.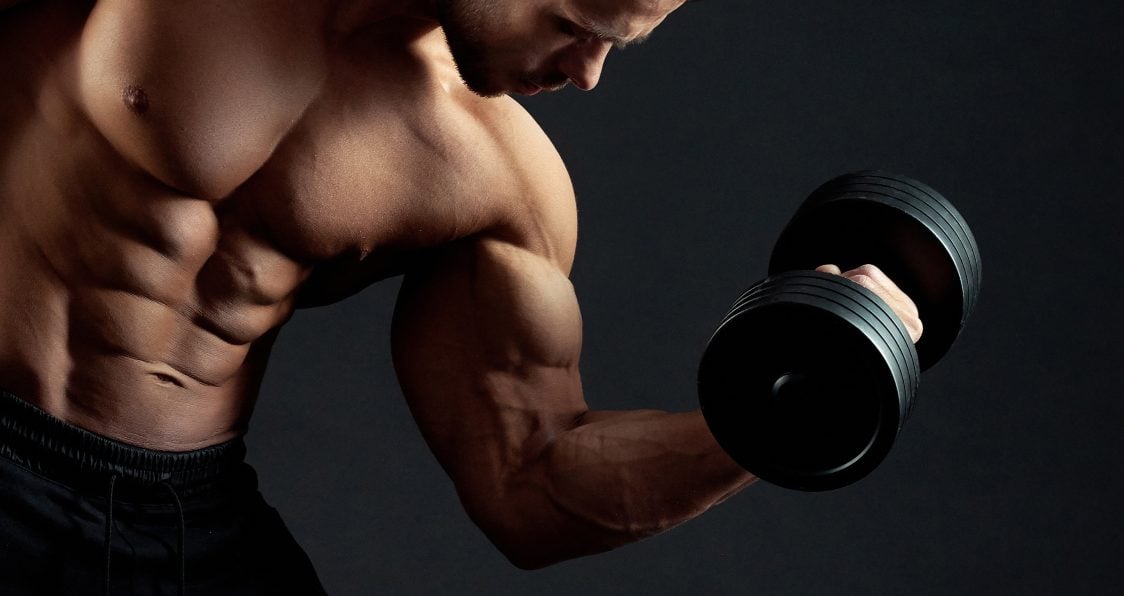 Authentic Bars Highlights
Many protein bars are packed with junk, but Jacked Factory Authentic Bars are a great protein bar with authentic ingredients, taste, and results. This decadent high protein bar is made with real ingredients and whey protein isolate for that clean, filtered protein to help with muscle growth and recovery. With no artificial sweeteners or sugar alcohols, this protein bar is exactly what you need to round out a great dietary routine.
Packed with 15g of protein, the ratio of macronutrients is fairly good being 12g of fat and 27g of carbs, all sitting at just 260 calories. No gut-wrenching fibers and some awesome flavors are matched by honesty and transparency with this amazing protein bar as it is manufactured in a cGMP facility, scientifically formulated, and made right here in the United States.
Ingredients
The ingredients are what truly makes or breaks a protein bar, so let's take a look at what is packed into Jacked Factory Authentic Bars.
Whey Protein Isolate: A more filtered form of whey this is loaded with protein with minimal to no carbs and fat as a result of the filtration process. This form of protein is great for those looking to pack on lean muscle, lose unwanted body fat, and boost recovery for effective muscle repair (1,2).
Peanut Butter: A great source of vitamins and minerals, as well as protein and fats, peanut butter boosts energy, helps keep you full leading to weight loss, and improves memory, among other benefits (3).
Soybean and Palm Oil: Both are healthy options and rich in healthy fats. Soybean oil works well for bone health and contains great omega-3 fatty acids, while palm oil works to balance cholesterol and is considered to be an anti-thrombotic, something that reduces blood clots (4).
Other Ingredients
Honey, Wheat Flour, Niacin, Iron, Thiamin Mononitrate, Riboflavin, Folic Acid, Yellow Corn Flour, Cornstarch, Chocolate, Salt, Soy Lecithin, Brown Rice Syrup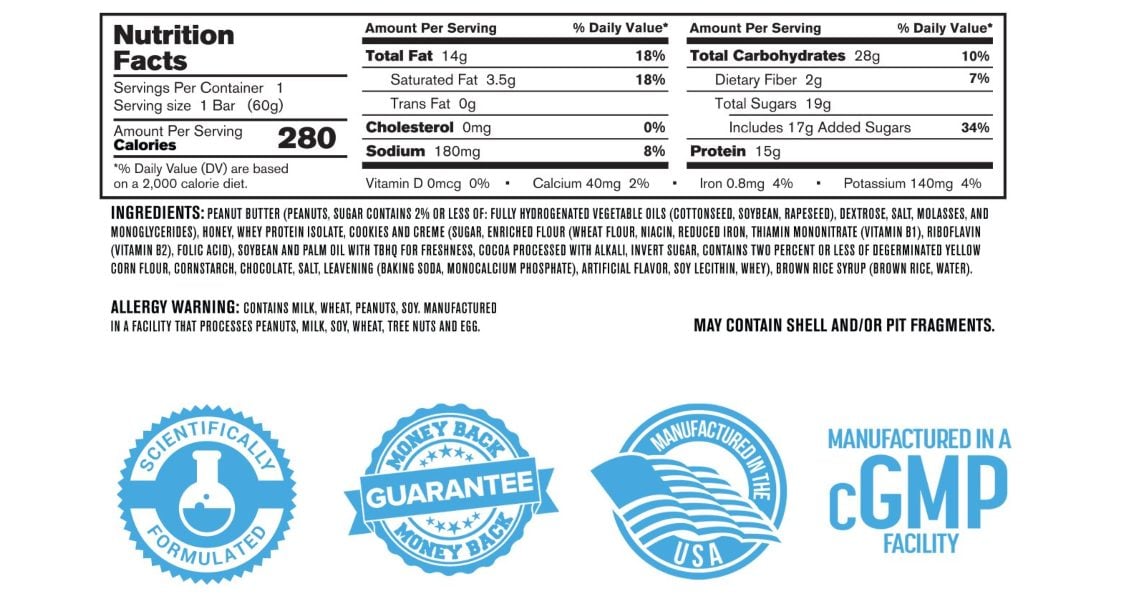 | | |
| --- | --- |
| Calories | 280 |
| Protein | 15g |
| Carbs | 27g |
| Fat | 14g |
| Sugar | 20g |
| Flavors | Birthday Cake, Peanut Butter Candy, Chocolate Chip Cookie Dough, Coconut Cashew, Kitchen Sink, Mint Chocolate Chip, Cookie Crumble, Caramel Apple (Limited Edition) |
Price, Flavors & Effectiveness
Jacked Factory Authentic Bars are high in protein and made with real food ingredients so you only get the best in terms of your muscle building, recovery, and nutrition goals. You are given the option of either a 6-pack or 12-pack, you get a great deal on these healthy and transparent protein bars.
Plenty of flavors ensure you never grow bored of the taste including: Caramel Apple (Limited Edition), Cookie Crumble, Birthday Cake, Peanut Butter Candy, Chocolate Chip Cookie Dough, Coconut Cashew, Kitchen Sink, Mint Chocolate Chip.
Pros
High in protein and uses whey isolate
No artificial sweeteners or sugar alcohols
Made with real ingredients
Great flavors
Cons
Comparable to less expensive bars
Price: $32.99 for 12-pack
---
Check out our list of the Best Protein Bars to see where Jacked Factory Authentic Bars landed!
---
Overall Value
Jacked Factory Authentic Bars are that high-quality, protein-packed, and healthy protein bar option you need most. With plenty of flavors and real ingredients, Jacked Factory stands out and your wants of taste and results have never been higher.
Jacked Factory is a company who truly knows the needs of athletes and seeks to produce only the best in terms of sports supplements and nutritional products, so the consumer really gets the best results that they can. What you are really getting is a high-quality protein bar packed with tons of real and effective ingredients, great flavors, and an honest company backing it.
Check out Jacked Factory Authentic Bars today and see what these can do for your desired results.
---
Generation Iron may receive commissions on purchases made through our links. See our disclosure page for more information.
Let us know what you think in the comments below. Also, be sure to follow Generation Iron on Facebook, Twitter, and Instagram. 
*Images courtesy of Jacked Factory and Envato
References