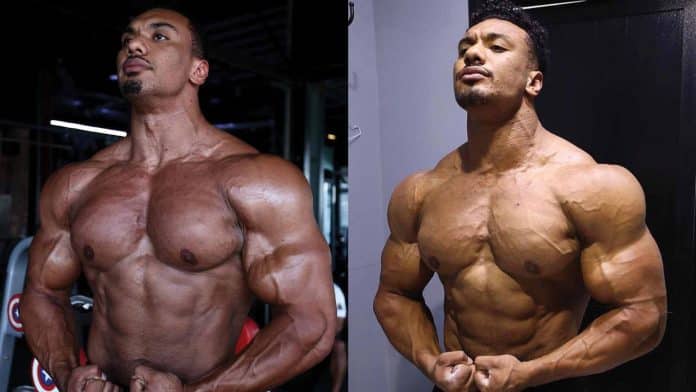 Larry Wheels shares yet another before and after photo showing the difference in his physique on different levels of testosterone
Larry Wheels has shared a new before and after comparison photo showcasing his physique on 500 milligrams of testosterone vs 175 milligrams. The post comes somewhat shortly after a previous post comparing his face change before and after his "peak steroid abuse."
In August 2022, Larry Wheels announced that he would be stopping all steroid use and PEDs and move towards Testosterone Replacement Therapy (TRT). Since then, he has been actively posting updates on his progress while also looking back at his past years using PEDs and comparing the difference in his health, physique, and lifestyle.
His most recent post showed two images of his physique. One where he was on 500mg of testosterone and the other where he was on 175mg. While the timing between these two photos are not mentioned, it appears that the comparison is showcasing his experiment with how much testosterone to include in his TRT sessions. You can check out the Instagram post below:
View this post on Instagram
Comparing Larry Wheel's Physique On Different Testosterone Levels
It's clear by looking at the physique comparison that his overall vascularity, shoulders, and traps appear to be more full when on 500mg of testosterone. However, there are also other factors that can be at play between photographs. Diet that day, lighting, and how much water was in his system could all contribute to a physique's look at the time of the photographs.
That being said, most would not argue that the more testosterone a person uses (while also training optimally), the better results and muscle growth a person can achieve. What is refreshing, is to see someone with as large of a platform as Wheels sharing this information regularly – and showcasing the physique differences that occur on different levels of these substances.
TRT is often confused as simply another form of steroid abuse or PED use. But it is a legal and very beneficial treatment that has helped many beyond the world of bodybuilding and strength sports. There are many reasons why a person might lose their ability to keep testosterone levels at normal. For bodybuilders, prolonged PED use can permanently change the natural test levels in an individual. TRT is simply a method to help keep that individual at a normal level – not an enhanced one.
Despite making a big change in his substance regimen, Larry Wheels continues to push his body to the limit as an athlete. He recently trained with 8x Mr. Olympia legend Ronnie Coleman for a truly motivational workout. While there are no specific plans at play – Wheels has stated previously that after he feels comfortable with his TRT transition, he would like to compete again in the future.
As Larry Wheels continues forward with this journey, we are sure to get more updates, comparisons, and insights down the road. So stay tuned to the Generation Iron Fitness Network for more updates on Larry Wheels and all things bodybuilding, strength sports, and fitness.