One of the most interesting names in fitness
You may have seen his massive personal records (PRs), insane physique, or maybe you saw him come out about his anabolic steroid usage and OnlyFans page; nonetheless, Larry Wheels is one of the most well known names in the industry for a variety of reasons.
He has competed in powerlifting and bodybuilding, smashing records while being shredded, something that is not really heard of. Below is a breakdown of Larry Wheels Williams' personal life, diet, and training regimen.
Full Name: Larry Wheels (Powerlifter and Bodybuilder)

Weight
Height
Date Of Birth
244-255lbs
6'1″
12/3/1994
Division
Era
Nationality

Classic Physique/Powerlifting

2010, 2020
American
---
Larry Wheels Biography
Larry Williams also known as Larry Wheels, a Bronx, NY native was born December 3, 1994. He grew up in poverty and spent time much of his in foster homes as a child. He often faced dangerous situations like walking through dark alleys and rough neighborhoods to get to school. Coming from poverty, his goal was to be bigger and stronger so nobody would bully him and so he could protect himself from any sort of danger.
To achieve this goal, he began to do pull-ups, push-ups, and sit-ups every day. With his mothers help, he built himself a weight set consisting of two 40lb concrete blocks and a broomstick. This weight set helped Larry do complex exercises like bicep curls and military press, which helped his physique progress.
Gym Training & Tremendous Growth
As the years went by, Larry began his first job, which allowed him to afford a gym membership. Now that he had access to a gym, he witnessed tremendous growth. Following a half year of lifting, Larry lost his interest in bodybuilding and chose to work on strength. Having no dad or mentor to show him, Larry started working on his own strength training program. Larry is a self-made athlete.
Larry has been lifting weights for years and later took it a step further to become a professional powerlifter. Larry set two world records by 2017 and became an inspiration for people along his journey. Larry is now one of the strongest powerlifters in the world, with a massive following.
Enter Bodybuilding
Not content simply succeeding as a world class powerlifter, Larry Wheels was determined to showcase just how far the human body can be pushed. He decided to start competitive bodybuilding (while maintaining his powerlifting lifestyle), which is similar to former Mr. Olympia champ, Ronnie Coleman, or fitness influencer, Mike O'Hearn. Larry had been known to hold quite the impressive physique compared to most other powerlifters. It was time to put it to the test against other bodybuilders.
In 2018, Larry Wheels competed in first amateur bodybuilding competition in the NPC. He received first place overall. This was simply the first step towards Larry's goal of earning his pro card and competing against the greatest bodybuilders in the world.
It was also announced in 2020 that Larry Wheels would be one of the athletes featured in the upcoming documentary Strength Wars: The Movie. A film based off of the popular digital series and brand that pits athletes of all strength disciplines against one another in a battle of strength.
Training
At first, Larry believed the more you train, the bigger you would get. He worked out at least six times per week, not really taking much rest from his training. However, he realized how important recovery is to grow, and now, he trains three times per week. This allows him to fully recover in between his exhausting powerlifting sessions.
Monday
Hip Circle, 2 warm-up sets of 20 seconds per leg
Leg Swing, 2 warm-up sets of 20 seconds per leg
Deadlift, Warm up to 80% 1RM, 5 working sets of 5 reps
Bent-Over Barbell Row, 3 sets of 10 reps with 65% 1RM
Bench Press, Warm up to 75% 1RM, 5 working sets of 5 reps
Floor Press, 5 sets of 3 reps with 85% 1RM
Cable Push-Down, 8 sets of 10 reps
Wednesday
Hip Circle, 2 warm-up sets of 20 seconds per leg
Leg Swing, 2 warm-up sets of 20 seconds per leg
Squat, Warm up to 90% 1RM, 4 working sets of 3 reps
Leg Press, 5 sets of 8 reps with 70% 1RM
Friday
Hip Circle, 2 warm-up sets of 20 seconds per leg
Leg Swing, 2 warm-up sets of 20 seconds per leg
Squat, Warm up to 90% 1RM, 4 working sets of 3 reps
Bench Press, Warm up to 75% 1RM, 5 working sets of 5 reps
Floor Press, 4 sets of 3 reps with 85% 1RM
Cable Push-Down, 8 sets of 10 reps

Nutrition
Larry has a high-calorie intake in order for him to gain size and strength. Throughout this period, he consumes around 5500 calories over 400 grams of fat. To bulk, he eats beef, rice, and avocados. Wheels intakes 400 grams of quality grass fed protein per day
When he is cutting down his weight and trying to drop body fat for a show, he reduces his calorie intake. During this period, he consumes 4400 calories and around 90 grams of fat but keeps protein high. To cut down, he eats salmon, chicken, sweet potatoes, and rice.
He's also gone on the record regarding his use of performance enhancing drugs. Known for being open about his entire workout and supplement regimen, Larry detailed his steroid cycle in February 2020. However, Larry has since come off of the steroids but in order to maintain healthy testosterone levels, he has gone on testosterone replacement therapy (TRT).
Even after coming off of the steroids Larry has kept a great physique, showing that diet and training have a huge impact on your physique.
Larry Wheels OnlyFans and Addiction
Another thing the fitness superstar has dabbled in, is OnlyFans. He launched his own OnlyFans page, where subscribers can pay monthly, annually, or sign up for a few months at a time. He is not the first fitness influencer to walk on this side of stardom.
Aside from having his own OnlyFans page, Larry also opened up in 2020 about his addiction to adult webcam websites. These are online websites where people will perform sexual acts on webcam, and Larry Wheels had an addiction to them for quite some time. He even stated that he was spending every last dollar each month on these sites. Him opening up showed strength and bravery, and he has since then overcome it.
Larry Wheels Brand
Larry Wheels is also very popular for his fitness brand, PR. The brand sells products that will help you hit new personal records. Some of the products that are included are things like:
Larry Wheels Wrap Up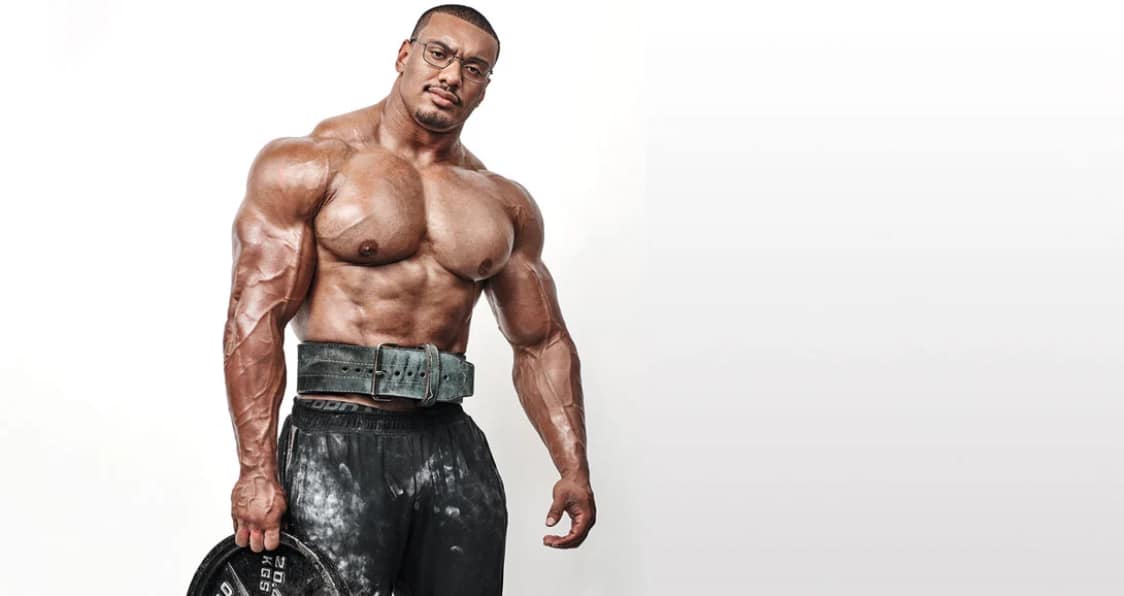 Overall, Larry Wheels is certainly an interesting icon within the fitness industry. He demonstrates great versatility in the industry by competing in powerlifting as well as bodybuilding. He also demonstrates strength, not only physically, but also mentally for opening up about his steroid usage and webcam site addiction and seeking out help to overcome these issues.
What do you think of Larry Wheels?
---
Generation Iron may receive commissions on purchases made through our links. See our disclosure page for more information.
Let us know what you think in the comments below. Also, be sure to follow Generation Iron on Facebook, Twitter, and Instagram.