Mike O'Hearn reconnects with Vlad Yudin to discuss upcoming films, actors on steroids, and predictions about the 2023 Mr. Olympia
In a recent episode of Generation Iron and Barbend's The Mike O'Hearn Show, host Mike O'Hearn welcomed guest Vlad Yudin, the director of Generation Iron, to discuss a wide range of topics. From the resurgence (and second death) of American Gladiators to steroid accusations and Mr. Olympia predictions, this episode was packed with insightful discussions and interesting insights.
With Mike O'Hearn appearing in a few film projects that make their way to theaters this autumn, he thought there was no better time to bring on producer and director Vlad Yudin back onto the podcast. Vlad is the own of Generation Iron Brands, having directed over a dozen films within the bodybuilding industry – including the original Generation Iron.
They also discuss the upcoming Generation Iron Network feature film release of DRIVEN: The Tony Pearson Story – available on digital October 6th, 2023. The film follows the life story of iconic bodybuilder Tony Pearson. Best known as the "Michael Jackson of Bodybuilding."
Beyond films, Mike O'Hearn and Vlad Yudin also discuss the upcoming Mr. Olympia, which is only slightly over a month away. The two discuss athlete highlights and make predictions as to who will be crowned the next champion. Let's dive in!
View this post on Instagram
Steroid Accusations: Debunked
One of the hot topics of discussion was steroid accusations in the world of sports and entertainment. While Mike O'Hearn can understand why many might believe that bodybuilders are using steroids – he expressed his frustration with how tabloids often target actors who maintain impressive physiques.
He points out that many of these actors who get accused of using steroids are only 150 pounds. He also points out that they are actors who get paid to dedicate themselves to transforming their body for a role.
Mike O'Hearn emphasized that looking extraordinary doesn't necessarily mean someone is using steroids. In fact, he thinks that in today's culture of instant news and viral content – that these accusations stem from media pushing controversy to make money. Mike believes that people should not rush to judgment based solely on appearances.
Mr. Olympia 2023 Predictions
As fitness enthusiasts, Mike and Vlad couldn't resist discussing the upcoming Mr. Olympia competition. They highlighted the intriguing rise of Derek Lunsford and Hadi Choopan, both formerly Men's 212 competitors, now making waves in the Men's Open category.
Vlad believes that the Mr. Olympia is more exciting and dramatic due to both frontrunners being originally from a smaller division. Only five years ago many would believe it impossible for a Men's 212 competitor to ever succeed in Men's Open.
That doesn't count out other big name competitors who have risen in the ranks. Nick Walker and Samson Dauda are two competitors who have deeply impressed both judges and fans alike. They very well bring an improved package that changes the game this year.
So who will earn the Sandow trophy this year? Mike O'Hearn predicted Derek Lunsford as the potential winner, while Vlad Yudin leaned towards a repeat victory for Hadi Choopan.
Classic Physique and Chris Bumstead
When it came to the Classic Physique category, both Mike and Vlad agreed that Chris Bumstead was likely to clinch the title again. They attributed Bumstead's popularity not only to his physique but also to his adeptness at self-promotion on social media. Mike hailed this as a positive development, as it helps normalize bodybuilding beyond the stereotypical "massive steroid user" image.
The conversation touched upon the broader impact of individuals like Chris Bumstead in promoting fitness and bodybuilding to a wider audience. Mike likened Bumstead's role to what Arnold Schwarzenegger did for bodybuilding during the Golden Era. He stressed the importance of these figures in bringing the sport into the mainstream, citing outlets like Bleacher Report now covering Mr. Olympia.
American Gladiators: A Blast from the Past
Mike O'Hearn and Vlad Yudin reminisced about the popularity of American Gladiators in the 80s and 90s. They discussed how the show was initially canceled due to concerns about drug use and safety. When it was revived, it failed to capture the same magic, possibly because it shifted its focus from the David vs. Goliath concept to a more spectacle-oriented format.
Healthy Eating and Liposuction
The conversation then shifted to the importance of diet and nutrition. Mike questioned the practice of people who exercise heavily but eat poorly, resorting to liposuction to correct their physical appearance. While he may not personally relate to this approach, he expressed the belief that what you eat significantly impacts your health, irrespective of your appearance.
If you get liposuction to look skinnier – that will not undo the years or decades of unhealthy eating that affect your heart and cardiovascular system. As well as risk factors for diseases like diabetes. However, Mike does admit that if something like liposuction can be a kickstart towards living healthier – he's fall for it.
Upcoming Movie Projects
Mike O'Hearn also shared exciting news about his upcoming movie, Divinity, a stylistic thriller sci-fi film set to release on October 13th. In the movie, Mike stars alongside Stephen Dorff as his brother. The film explores the concept of a substance called divinity that grants immortality… and the side effects that come with it. Additionally, Mike mentioned his film Magazine Dream, which gained much buzz during the festival circuit, will have a wide release after Thanksgiving.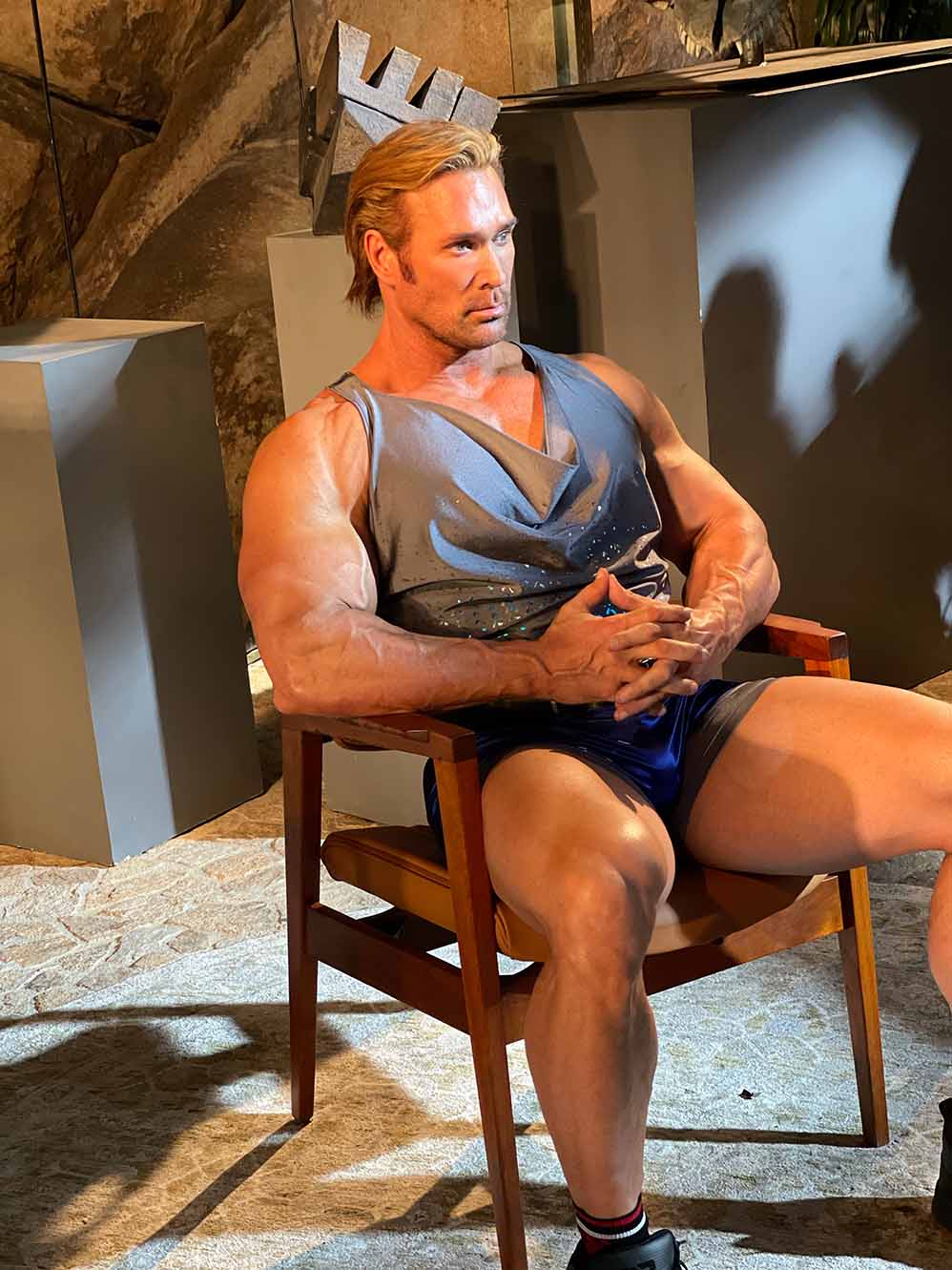 DRIVEN: The Tony Pearson Story – A Tribute to a Legend
The podcast wrapped up with a discussion about Generation Iron's latest film, DRIVEN: The Tony Pearson Story. Mike expressed his admiration for Tony Pearson and his quiet yet powerful determination. Vlad explained that the documentary chronicles Tony's life story, childhood traumas, and his rise to fame in the 1980s bodybuilding scene. The title, "Driven," perfectly encapsulates Tony's unwavering commitment to his craft.
You can pre-order the film today right here and be the first to watch on digital.

Wrap Up
In this episode of The Mike O'Hearn Show, viewers gained insight into the world of bodybuilding, fitness, and the challenges faced by athletes and entertainers alike. From debunking steroid accusations to predicting Mr. Olympia winners and celebrating legends like Tony Pearson, Mike O'Hearn and Vlad Yudin offered a captivating and informative discussion that left fans eagerly awaiting their next podcast episode.
You can watch the full episode above. And don't forget to check back every Friday for new episodes only on the Generation Iron Fitness Network or wherever you download podcasts.
*Featured image courtesy of Instagram (@mikeohearn) and Gage Skidmore via the Creative Commons Attribution-ShareAlike 2.0 license.