Maximize your health and wellness with this top tier immune supplement.
Product Overview
As these winter months start to fade and the warmer ones move in, we'll be outside more, basking in the sun after our forced hibernation for many months. While we all pay close attention to our health during these bitter, nasty months, it would be a mistake to let our guard down just because its warmer. Our immune systems are essential in keeping us running as efficiently as possible and we all know a minor setback or illness can throw our busy routine out of whack. NutraBio Immune is a great supplement to help maximize your health and support your wellness so you never let your guard down.
A powerful supplement like Immune is not only an immune booster but works to promote and support other vital functions in your body. Everything from your digestion process to bone and joint health are enhanced because they play into your overall health. While catching a cold may force you to stay out of the gym for a day or two, the larger benefits to a supplement like Immune go far beyond helping your sniffles.
NutraBio is a high-quality sports supplement company creating top tier products for athletes everywhere. Their mission is clear: maximize the health and wellness of all consumers by bringing advanced nutrition products with science-backed research to enhance training and performance while aiding in an overall better quality of life. They are a standout in the industry for clean and effective products with no artificial fillers or excipients and stand by their goal of being honest and transparent with their labels.
NutraBio Immune Highlights
NutraBio Immune is the perfect supplement to help tackle your health and wellness needs. Those with a stronger immune system will be able to stay healthy every day, as well as alleviate that stress that seems to hurt your fitness and gains. What Immune can do is work to maximize your health and support your wellness by supporting your immune system, digestion process, bone and joint health, and overall health support to keep you firing at all times.
With 9 clean and effective ingredients, you can be sure that NutraBio provides transparency in their labels. Immune is non-GMO, gluten-free, and lactose-free with zero secret or proprietary blends. Everything you need and want to know is on the label. For those looking for the best immune supplement to help with their overall health, Immune is clean, effective, and perfect for you.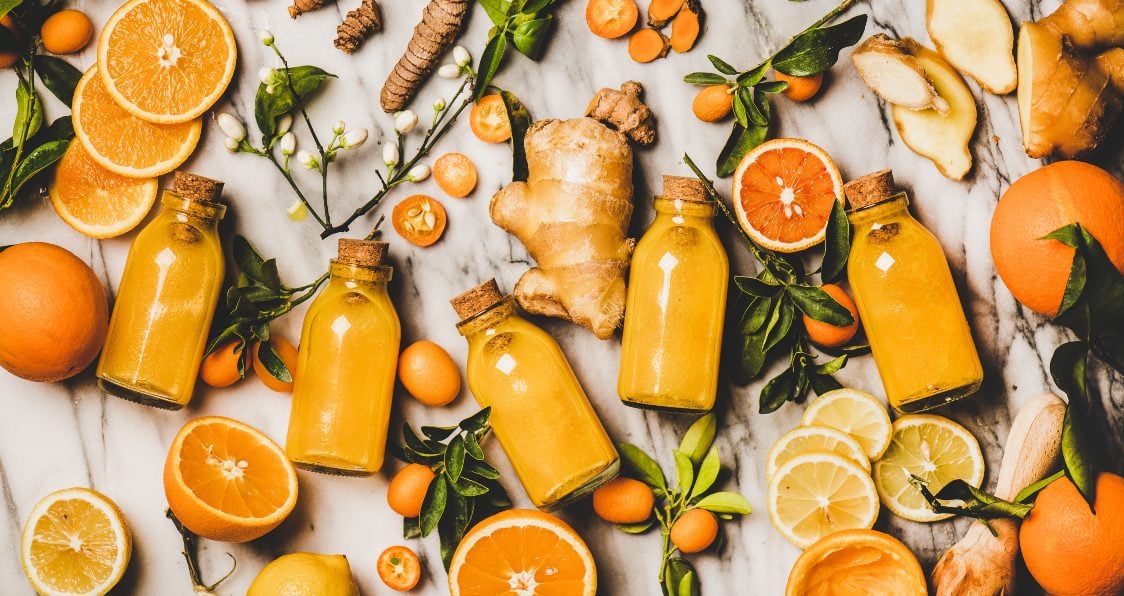 Ingredients
Vitamin C: Boosts immune response and works to assist other bodily functions (1).
Epicor: Epicor is the whole food ingredient that supports your immune system as well as provide prebiotic benefits to support the digestion process of your food.
Grape Seed Standardized Extract: This ingredient provides antioxidant benefits and can help prevent free radical damage.
Ginger Root Extract: Supports the immune system and joints in hard-training athletes as well as older adults (2).
Vitamin D3: A vitamin that works alongside GRE in supporting bone health and a healthy heart.
N-Acetyl-Cysteine: NAC is a derivative of the amino acid L-cysteine which supports respiratory and immune health.
Zinc: Zinc is a well-known essential mineral that supports immune cells, metabolism, nerve function and skin health (3).
Selenium: Supports the immune system and thyroid health (4).
Copper: Copper is an essential mineral that supports nerve cells and is involved in the production of red blood cells.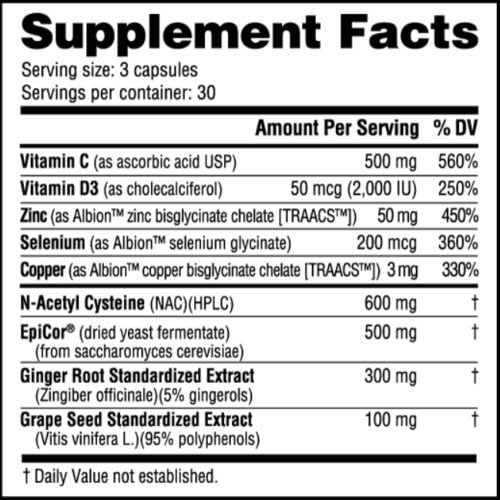 Price & Effectiveness
NutraBio Immune offers amazing benefits in supporting your health and wellness to keep your training and performance at an all-time high and your gains never stopping. With 30 servings per container, each serving size of 3 capsules will pump you with these clean and effective ingredients to boost your overall health.
Pros: Clean and effective ingredients matched by a transparent and honest label. Will support daily health and wellness with a well-researched and advanced formula. From a reputable and honest company in NutraBio.
Cons: Three capsules for a serving size is a lot for some.
Price: $39.99
Featured Athlete
Shane Burgos is a Professional UFC Featherweight and NutraBio athlete who uses their products to enhance all of his training and performance needs. His amateur record stood at 7-0, giving him the chance to compete with the best at the UFC level. Once going pro, his winning streak continued, winning 7 consecutive fights, all being either by knockout or submission. Five of those fights were won in the first round. As a serious athlete who knows what it takes to keep his body in the utmost shape to compete with the best in the world, Burgos relies on NutraBio for all his supplementation needs to keep him going strong under the bright lights in the cage.
Overall Value
NutraBio Immune is a great supplement designed to support your immune system, as well as help with a host of other vital bodily functions to keep you running and operating at maximum capacity. An advanced formula with clean and effective ingredients, NutraBio has created a supplement that is honest and transparent, so you know exactly what you are putting in your body. What you are really getting is a high-quality immune support supplement with the ability to enhance other vital functions created from clean ingredients from a reputable company. Try NutraBio Immune today and work to give your immune system that much needed support.
Generation Iron may receive commissions on purchases made through our links. See our disclosure page for more information.
Let us know what you think in the comments below. Also, be sure to follow Generation Iron on Facebook, Twitter, and Instagram. 
*Images courtesy of NutraBio and Envato
References