This great multivitamin is specifically designed to support all the nutrient needs of active men.
Product Overview
Finding the right multivitamin can be challenging and as a great supplemental aid for all of your health and wellness needs, multivitamins are a must have. Designed to pump you full of essential nutrients and packed with vitamins and minerals, a good multivitamin is non-negotiable in your dietary regimen. While many of these essentials are obtained through food, a multivitamin can give us those that we lack. Optimum Nutrition Opti-Men Multivitamin is a great supplement for active men to provide nutrient support.
In order to ensure a healthy lifestyle with the stress of everyday life coupled with those grueling workouts, a multivitamin will ensure you stay on top of your game and healthy overall. For foundational support of all things needed for a balance diet, Opti-Men Multivitamin will give men the overall boost needed to do so.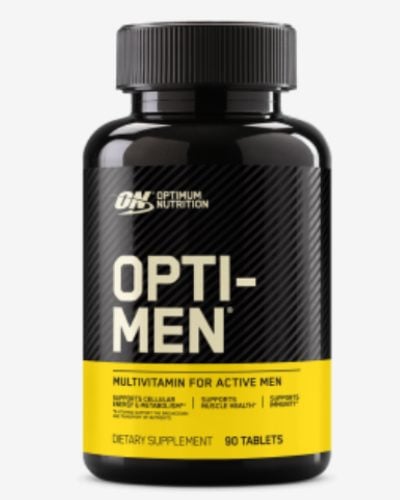 Optimum Nutrition is part of a global nutrition group that has set the bar high for sports nutrition for over 30 years. Helping performance athletes meet their goals, Optimum Nutrition works to develop great supplements for all of your sport and fitness needs. With strict requirements on raw materials needed to produce such high-quality supplements, they take pride in knowing their products are the best for crafting physique and working to accomplish all fitness goals.
As one of the few sports nutrition companies who own and operate their own facilities, their state-of-the-art facilities in Illinois, South Carolina, and Florida take a hands on approach to bringing the highest standard of quality to all of their products. With a certification of analysis for every ingredient and facilities that are certified current good manufacturing practices (CGMP), consumers can be sure their products are safe and effective.
---
Optimum Nutrition Opti-Men Multivitamin made the top 5 of our Best Health & Wellness Product in the GI Supplement Awards!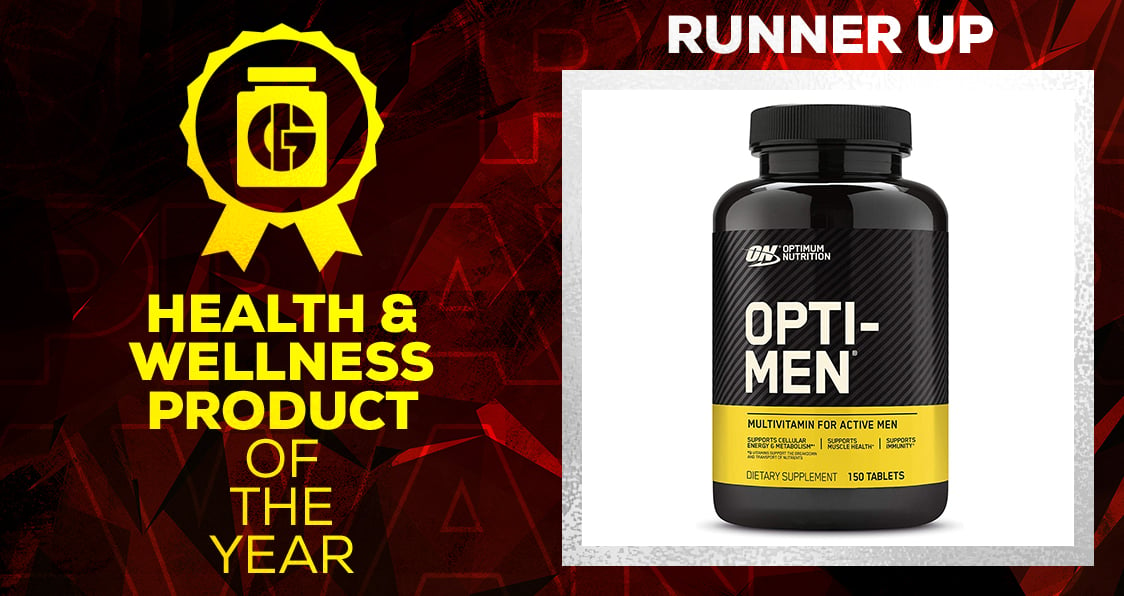 Check out the winner and other finalists on the Supplement Awards page here. Also, see where it landed on our Top Multivitamins list!
---
Opti-Men Multivitamin Highlights
Opti-Men Multivitamin provides 75+ active ingredients with 4 blends in a solid nutrient optimization system to bring active men a well-rounded multivitamin. With each serving, you can be sure that it includes free form amino acids, botanical extracts, and essential vitamins and minerals to aid in your overall health and wellness. Packed with everything you need, this multivitamin is sure to support a healthy diet and fit lifestyle.
The Amino Blend provides 8 free form amino acids to support muscle protein. The Viri Blend is full of 8 botanical and marine concentrates, while the Phyto Blend contains over 20 fruit and vegetable concentrates. Opti-Men's Enzy Blend has four specific enzymes and 350+ mg of B-complex vitamins to give you a comprehensive formula to kick start your day so you thrive both in the gym and out of it.
Ingredients
Vitamins and Minerals
Vitamin A: Helps promote strong bones and teeth, while also aiding in muscle growth by preventing muscular dystrophy. It can also start the process of reproducing tissues in order to repair them.
Vitamin C: Has great immune fighting properties and can prevent against immune deficiencies (1). It can improve mood and mental health and also act as a solid antioxidant.
Vitamin E: Supports vision, blood, brain, and skin health and works as an antioxidant to protect against free radical damage.
Magnesium: Promotes solid exercise performance by helping to move blood sugar into your muscles to help rid them of lactate, which can build up and cause fatigue.
Calcium: Aids in bone health and is essential for bone growth and development (2). It also regulates muscle contraction by assisting proteins in the muscles to carry this out.
Others: Vitamin D, vitamin K, thiamin, riboflavin, niacin, vitamin B6, folic acid, vitamin B12, biotin, pantothenic acid, iodine, zinc, selenium, copper, manganese, chromium, molybdenum, and sodium
Amino Men Blend
L-Arginine: Can enhance athletic performance by increasing nitric oxide in the body to improve blood flow and bring oxygen to the muscles (3). This also helps regulate your blood pressure to keep a balanced level.
L-Glutamine: Works as a critical source of fuel for immune cells to aid in your overall immune health (4). It also works as a solid energy source for intestinal cells to aid in digestion and gut health.
L- Valine: A solid source of energy for your muscles and is easily absorbed. It also helps regulate the immune system, reduce stress, and improve muscle disorders.
Others: L-leucine, L-isoleucine, L-cystine, L-lysine, and L-threonine
Phyto Men Blend
Green Tea Powder: A great natural stimulant to give you a much-needed energy boost without any jitters. It can enhance your metabolism and aid in weight loss (5).
Deodorized Garlic Powder: Works to improve digestion to help keep you regular as well as manufacture nitric oxide in the body to increase blood flow.
Others: Fruit Blend (orange, pineapple, apple, grape, blueberry, cranberry, papaya, elderberry, bilberry, black currant, grape, and kiwi). Vegetable Blend (wild yam, carrot, spinach, cauliflower, kale, brussels sprouts, broccoli)
Enzyme Blend
Alpha Lipoic Acid: A powerful antioxidant with properties to help the immune system neutralize free radicals in the body (6).
Choline: Supports cell maintenance, metabolic and nervous system functioning, and can aid in cognitive health as well (7).
Boron: Improves bone health, supports the immune system, and increasing joint mobility.
Others: Papain, bromelain, alpha amylase, lipase, para-aminobenzoic acid, inositol, lycopene, lutein, alpha carotene, vanadium, cryptoxanthin, zeaxanthin
Viri Men Blend
Saw palmetto extract, damiana extract, panax ginseng extract, ginkgo biloba powdered extract, nettles powdered extract, pumpkin extract, raw oyster concentrate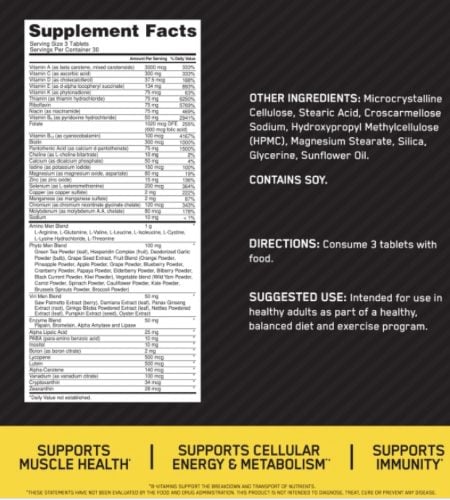 Price
Opti-Men Multivitamin offers a serving size of 3 tablets and this multivitamin comes with a great price option. At $19.98, you can get 90 tablets. At an affordable price and a good quantity, this multivitamin will be great for all of your nutrient needs.
Pros & Cons
Pros: With 75+ ingredients and four blends, this multivitamin will give you everything you need. The price is good and it comes from a very reputable and respected supplement producing company so trusting this product is easy.
Cons: Having to take 3 capsules per serving is a lot considering how many ingredients are involved and the pills tend to be rather large so for those who don't enjoy swallowing large pills, this may be a deterrent.
Sponsored Athlete
Reece Barclay is a professional triathlete and specialized Triathlon coach who uses Optimum Nutrition for all of his health and fitness needs. Having competed in 3 Ironman World Championships, Reece has competed in 28 races, with 1,458 miles logged, and 24 podium appearances. As a coach, he trains everyone from amateur to elite athletes looking to improve their craft. He and Optimum Nutrition strive to bring the best supplements to those looking to elevate their performance.
Overall Value
Opti-Men Multivitamin is a great multivitamin supplement to aid in all of your health and wellness needs. With over 75+ active ingredients all mixed into 4 solid blends, Optimum Nutrition's nutrient optimization system works to bring active men an incredibly well-rounded multivitamin. What you are really getting is a high-quality multivitamin made from top-tier ingredients from a reputable company at a great price. Packed with everything you need, this multivitamin supplement will surely support any healthy diet and lifestyle.
Try Opti-Men Multivitamin For Men at Optimum Nutrition Today
Generation Iron may receive commissions on purchases made through our links. See our disclosure page for more information.
Let us know what you think in the comments below. Also, be sure to follow Generation Iron on Facebook, Twitter, and Instagram. 
*Images courtesy of Optimum Nutrition and Reece Barclay
References