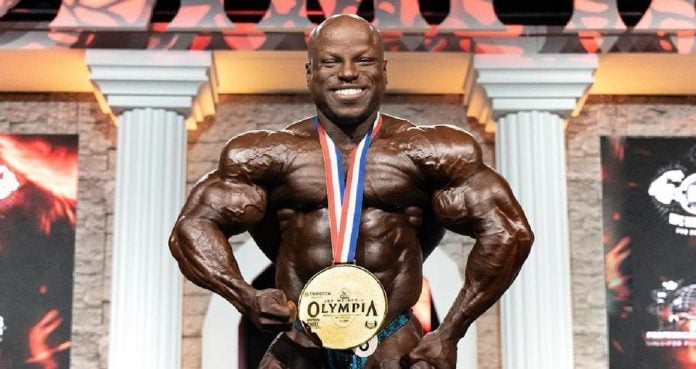 Shaun Clarida has made his decision for the upcoming Olympia!
Shaun Clarida has made his decision on where he will be competing during the 2022 Olympia. After a victory at the Legion Sports Fest in October 2021, Clarida was qualified for both Men's Open and 212 for the upcoming event. He would not be able to compete in both and has decided to attempt to regain his title in the 212 division.
Clarida, the 2020 212 Olympia champion, lost his title to Derek Lunsford in 2021. Now, he wants to return to the division in order to get his title back. Clarida took to YouTube on Wednesday morning to make the official announcement.
"It's not just about winning titles but about creating my legacy in this sport. Losing my title in 2021 was a fuel and motivation I needed to come back bigger, better, and more determined than ever. I have unfinished business. I'm coming back for my title. I'll see you in December."
Shaun Clarida Returning To Men's 212
Shaun Clarida already made a name for himself in 212 and attempted Men's Open at this time last year. He won his first competition and this sparked some debate on where he would fit best.
Lunsford made the jump to Men's Open this offseason. He put on significant size and received a special invitation to the Open bodybuilding. In 2021, Lunsford's victory over Clarida was an upset and the 2020 champion wants to solidify his legacy and regain his title.
"🚨READY TO RECLAIM!🚨

As much as I would have loved to battle it out with the big boys in the open, that's going to have to wait for now. I've got unfinished business in the 212!

I'M COMING BACK FOR MY TITLE!"
View this post on Instagram
Now, it is hard to put any competitor above Shaun Clarida as the favorite to win the 212 title at the Olympia. Clarida has officially made his decision and could proceed with putting the finishing touches on his championship physique.
For more news and updates, follow Generation Iron on Facebook, Twitter, and Instagram.