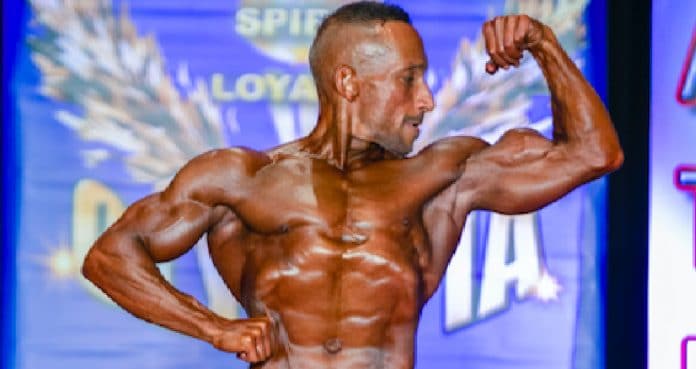 Tamer Barakat becomes the first vegan pro natural bodybuilder to sign a multi-media contract.
Tamer "IronBulk" Barakat has become the first vegan professional natural bodybuilder to sign a multi-media contract with Generation Iron, INBA PNBA, and Iron Man Magazine. You may remember Barakat from 2021 Natural Olympia as one of the smaller bodybuilders to place in the top five of the world in the Men's Bodybuilding division. He stood under the bright lights next to Paul Krueger (Natural Olympia champion), Philip Ricardo Jr. (Men's Grand Masters champion), and Derek Joe (Men's Classic Physique Open champion and fellow multi-media contract brother). And he's the 2x reigning champion of the Classic Physique Masters class at Natural Olympia. 
Going into 2021 Natural Olympia, Tamer Barakat weighed 40-60 pounds less than the other top natural bodybuilders globally standing next to him. Yet, despite the size disadvantage, Barakat placed well in multiple Natural Olympia categories, including 4th in Classic Physique Open and 2nd in Bodybuilding Grand Masters. 
Clearly, size or age doesn't define this motivated natural bodybuilder. At the Wolfpack Classic 2021, he joined the stage with other top contenders age 50 and up, won Iron Man World Cup 2021, and was featured in Iron Man Magazine multiple times. 
Tamer Barakat praises veganism for playing a massive role in his success. According to him, 90% of his nutrition comes from planted-based foods, including spinach, mushrooms, quinoa, and oatmeal. 
Tamer Barakat and INBA PNBA Statements
Below is what Tamer Barakat and the INBA PNBA expressed on Instagram (IG) regarding signing the multi-media contract. 
Tamer Barakat expressed:
"I am very honored and humbled to be given this great opportunity, and to be part of a new era for the sport of Natural Bodybuilding!! let's show the world what this true and legitimate sport is all about, and what it takes to be a Natural Bodybuilder @inbapnbaglobal_official@ironmanmagazine @generationiron"
INBA PNBA stated:
"Congratulations @ironbulk15 2X PNBA Natural Olympia Classic Physique Masters Champion!

1st Professional Vegan Bodybuilder to sign the Multi-Media contract"
You can see Tamer Barakat's complete statement below. 
View this post on Instagram
Contract Details
Signing the multi-media deal comes with perks for these INBA PNBA natural athletes. According to the INBA PNBA, it's:
"An opportunity for a natural bodybuilding athlete to acquire renown and recognition in the sport of natural bodybuilding, exploiting association's promotional campaign via the iron man magazine, news and events, and the generation iron platform."
Athletes that sign will have an opportunity for more growth in their INBA PNBA careers. They'll have access to promotion and brand building, including digital media write-ups, social media posts, and photoshoots. Moreover, they'll get Iron Man Magazine nutrition ads and endorsements. Signed competitors will also have special guest appearances and posing and seminar sessions. 
All multi-media contracted INBA PNBA athletes need to want professional growth and be in good standing with the league. Therefore, each athlete will abide by the strictest drug-testing standards – World Anti-Doping Agency (WADA) – and agree to in-season and out-of-season testing through WADA-compliant laboratories. 
Generation Iron congratulates Tamer Barakat for signing the multi-media contract with us, the INBA PNBA, and Iron Man Magazine. We're excited for the future of natural bodybuilding in the INBA PNBA! 
Follow us on Instagram, Facebook, and Twitter for more pro natural bodybuilding news!