The Best Supplements for the Ladies to Stay Well
Overall wellness is something that you do not want to overlook, especially as a woman. Keeping your wellness in check is one of the most important things you can do, though it can get tricky. Diet, training, and lifestyle as a whole can really have an effect on your wellness, however sometimes you need the extra boost. This is where supplementation would come into play, but what supplements should you choose? 
There are loads of supplements you can choose from to keep up with your wellness, however not all of the ones on the market really provide the best results, are overpriced, or just do not come from the most reputable companies. We are not talking about things like protein powders, pre-workouts, or creatine; we mean genuine wellness products that help with things like hair and nails, urinary tract, and other things of that nature. 
As stated before, there are a lot of companies out there that market their supplements to provide good results and fall short. However, there is still hope yet! Inno Supps is a company that provides quality supplements that deliver quality results. They have a large variety of supplements for women's wellness, and when you put them together they can be the ultimate stack for female wellness.
Female Wellness Overview
What exactly do we mean by the term "female wellness"? Well, it is a combo of things to consider when you are looking at the bigger picture. Things to consider for female wellness would be drive, urinary tract health, hair, skin, and nails, and PMS support. Especially as women age and mature, many different things can occur to the body. The hair can start to thin, skin can lose its healthy qualities, and even the fingernails can become more brittle. There is also the chance of lower sex drive (libido) and sexual response. There can be menstrual cycle changes and issues with the urinary tract as well, which can contribute to mood swings or other discomforts. 
These are nothing short of unpleasant effects, and as stated before, diet, training, and lifestyle can help ease them, but it may not be enough. This is why supplementation can definitely help with giving you that extra boost and come in handy when it comes to slowing down or decreasing these effects. We will be going over the best supplements from Inno Supps for all the ladies out there, so let's dive in.
Inno Drive: For Her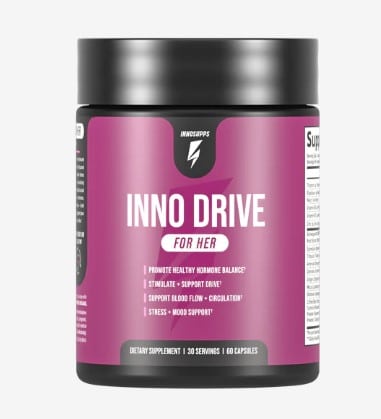 First on the list of supplements for female wellness is the Inno Drive: For Her. This product contains ingredients such as KSM-66® (a form of ashwagandha) which is added in to help lower stress, boost libido, and support hormone balance to, well, help keep your hormones in check.
With adaptogens known for increasing libido and sexual health in women, it enhances circulation in the body to get you in the mood while lowering stress to help KEEP you in the mood, if you know what we mean. It helps skyrocket sexual drive and satisfaction.
Inno Drive: For Her also improves circulation to the most important parts of your body and skyrockets energy that will light your fire, both in and out of the bedroom.
Overall Inno Drive: For Her does things like:
Promote Healthy Hormone Balance

Improve Cognitive Function and Brain Health

Help Stimulate and Support Libido

Boost Arousal and Stimulation
Price: $69.99
UT Balance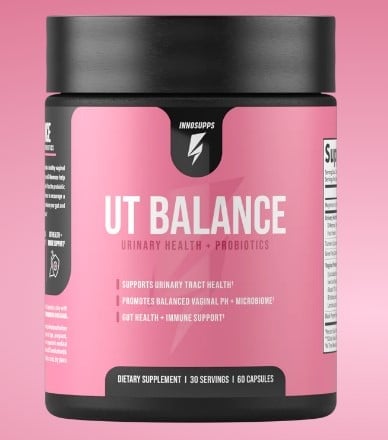 The urinary tract is a part of female wellness as well, so next up is UT Balance, which is there to help keep your urinary tract in check, a necessity. It contains cranberry and d-mannose to promote a healthy urinary tract, but UT Balance actually promotes overall good vaginal health. It has a probiotic blend specifically for vaginal health, and it also contains green tea and turmeric to help support healthy inflammatory responses. 
Overall, UT Balance contains clinically shown ingredients to help optimize urinary tract health while promoting a healthy vaginal pH balance. But to sum it up, UT Balance does things like: 
Supports Urinary Tract Health

Promotes Balanced Vaginal pH

Helps Reduce Odor and Irritation
Price: $37.99
Hair + Skin + Nails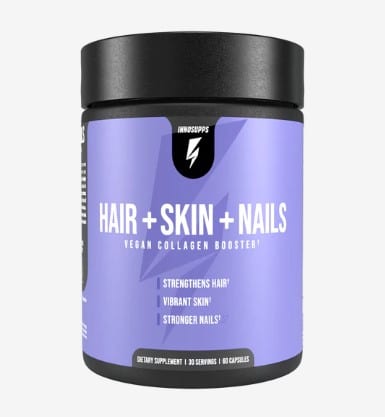 The ultimate stack for female wellness would not be complete without something to help the overall health of hair, skin, and nails. Without surprise, Inno Supps has this area covered too, with their product: Hair + Skin + Nails. It helps to stimulate hair growth, thicken nails and revitalize your skin with a unique blend of vital nutrients. Plus, Inno Supps' natural formula does not contain any collagen! Instead, its ingredients, including cutting-edge botanical Verbasnol™, work to boost your body's ability to produce collagen naturally to strengthen your skin, hair, and nails from within.
Overall it helps with things like:
Protecting Skin Cells Against UV Rays

Boosting Skin's Elasticity

Preventing Age Spots

Evening Skin Tone
Price: $39.99
Complete PMS Support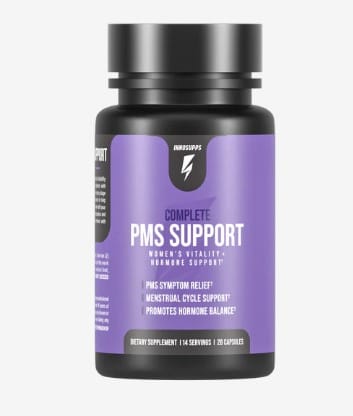 Female wellness is a very broad topic, and the next supplement to discuss for it is Inno Supps Complete PMS Support. This female-focused formula contains ingredients that have been traditionally known to help ease the severity of symptoms that come with your monthly cycle. Break the cycle of period pain, combat irritability and help support your hormone balance with Complete PMS Support. 
Overall this helps with things like: 
Easing Occasional PMS Discomfort

Supporting a Healthy Menstrual Cycle

Combating Unhealthy Cravings

Promoting Balanced Mood
Price: $29.99
The Ultimate Stack for Female Wellness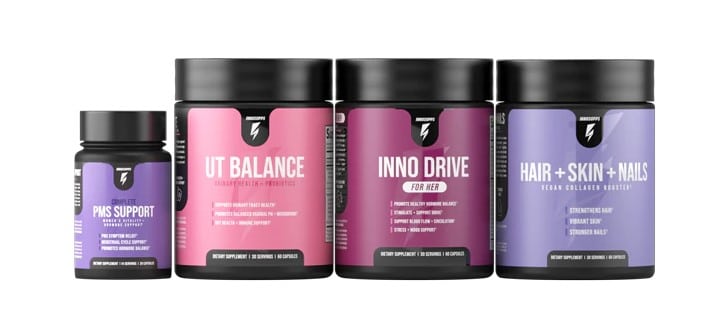 While you can buy each of these products individually, it may be more convenient to just purchase them all together. Lucky for you, Inno Supps spares you the time it takes to buy each individual product, and saves you a little bit of money by selling all of the products together as a stack for female wellness. The Female Wellness Stack on Inno Supps' website contains Inno Drive: For Her, Complete PMS Support, Hair + Skin + Nails, and UT Balance. It is more convenient than buying each one individually, and gives you the option to try them all for one price!
Price: $149.96
You can also purchase the Female Wellness Stack for 1 month, or 3 months, which changes the price a bit. If you were to go with one month, it averages out at $37.49 per bottle, or $149.94 total. However, for the 3-month supply it comes to $32.99 per bottle, or a total price of $384.00.
Inno Supps also offers a "subscribe and save" option, where you subscribe to having the stack delivered every 30 or 90 days, and you can save 25%! 
Female Wellness Stack Wrap Up
Overall, female wellness is something to keep up on. As women mature and age, their bodies go through changes that can yield rather unwanted effects. Diet, training, and lifestyle as a whole can have an impact on these, but they may not always be enough, which is why supplementation is something to consider. With a market full of lackluster supplements, Inno Supps stands out and provides quality products for great prices. They have a good amount of female wellness products that together, make up the Ultimate Stack for Female Wellness.
Will you be giving them a try?