An Extreme Ultra Dosed Pre-Workout
You've heard of Total War, it is a top pre-workout in the market and has been for some time now. However, now REDCON1 has released a new, improved, ultra-dosed pre-workout for the most elite lifters in the gym. It is ultra dosed, for you veteran lifters to really maximize your workouts whether they be strength, speed, focus, or power focused, this pre-workout will get you there. This is Total War Black Ops.
Let's dive in!
Pre-Workout Overview
What exactly is pre-workout even for? While our busy schedules do tend to drain us, it is important we find that all important energy comes from somewhere, and sometimes things like coffee just don't work. This is where pre-workout supplements come in, because they have just what you need to really make that happen for that desired improved performance, weight loss, and muscle building goals. 
Pre-workouts can also be great for shedding fat and increasing muscle, a pre-workout supplement can provide an energy boost, enhance recovery and allow you to bounce back faster for your next big lift.
There are plenty of options on the market, and some may not include exactly what you need. They could be overdosed, under-dosed, or pumped full of artificial ingredients and "blends" that you have no idea how to pronounce. REDCON1 has been a reputable source of pre-workout for a long time, with a transparent label, and with their Total War being one of the biggest names in pre-workout for many years, and now they have the new ultra dosed version, Black Ops. 
TOTAL WAR BLACK OPS is REDCON1's most EXTREME pre-workout, ever. It's made for the elite performers. Those who want to go BEYOND their highest state. For those who want to go further, faster. Lift heavier. Unleash unrestrained strength, focus, and power.
What's the Scoop on Total War Black Ops?
The name "Black Ops" is something that is going to get people's attention, as many are familiar with the popular video game franchise bearing a similar name, it is nostalgic for many. 
Black Ops is an extreme version of Total War. It's an ultra-dosed, all-in-one pre-workout. This means, we've taken the best pre-workout ingredients and we've included them at the highest, most efficacious levels. We also chose ingredients that work together synergistically to create a combined, enhanced effect. More intense, pumps, focus, energy, endurance and fat burning. TOTAL WAR: BLACK OPS is engineered to deliver the most extreme workout experience of your life. So, what exactly goes into this pre-workout, making it ultra dosed? 

Black Ops Ingredients
Just looking at the list of ingredients for this product will get you amped for your workout. REDCON1 is not kidding when they say "ultra dosed". 
400MG CAFFEINE:

for Extreme Energy & Focus

150MG DYNAMINE® AND 125MG TEACRINE®:

Enhances The Effects Of Caffeine, Helps Sustain Long Term Energy, Boosts Mood & Focus

4G NO3-T® NITRATES + 6G L-CITRULLINE:

Helps raise the body's level of Nitric Oxide for incredible blood flow and

muscle pumps

3.2G BETA-ALANINE:

Enhances muscular endurance, stamina and reduces muscle fatigue

25MG PRO- GBB®:

Increases L-Carnitine supply to maximize workout capacity, improve performance and promote recovery

25MG GRAINS OF PARADISE:

Increases calorie burning and promotes conversion of fat to energy

300MG ALPHA GPC:

A nootropic that enhances mind-muscle connection, focus & mood

20MCG HUPERZINE A:

A Nootropic That Enhances Cognitive Function & Focus

2MG ALPHA YOHIMBINE:

Enhances fat loss and controls appetite.
Benefits of Total War Black Ops
There are a load of benefits to using Black Ops. The Pump Matrix for maximum blood flow for an EXTREME pump, as well as the high dose of caffeine, dynamine, and teacrine for powerful and sustained energy. Beta alanine gives enhanced endurance and reduced fatigue while nootropics provide laser focus, clarity, and better mind muscle connection; which is something many struggle with during their workouts.
And while you may think the benefits stop there, you also have to take into account the thermogenic complex to help you burn fat. Who wouldn't want that? 
You are probably wondering though, how does black Ops compare to the regular Total War?
Total War vs. Total War Black Ops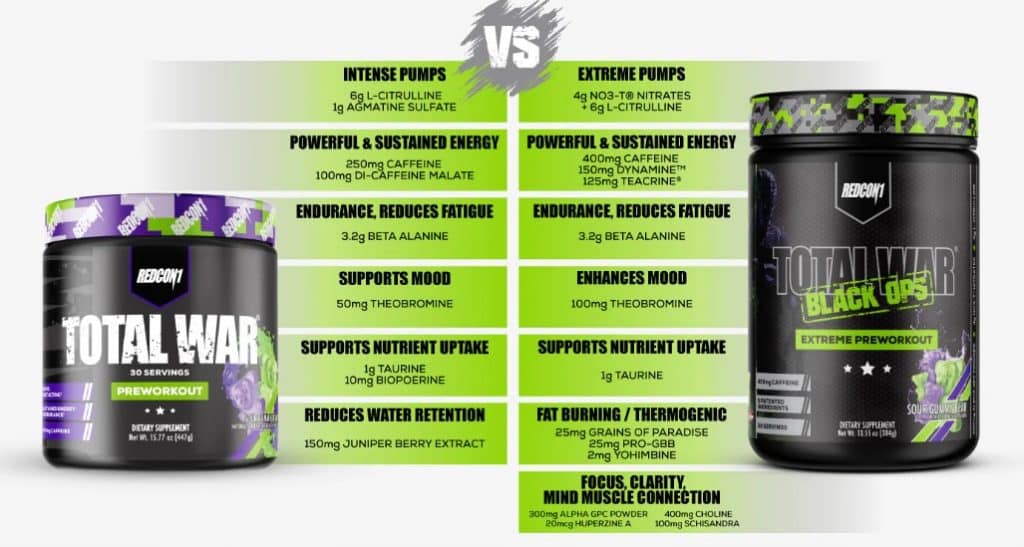 Total War is an award winning, complete, all-in-one pre-workout. It is expertly formulated to enhance energy, endurance, strength and pumps. It provides unstoppable power to help you dominate your most challenging workouts. It's the OG complete pre-workout and it delivers an incredible workout experience every single time. Formulated over 6 years ago, the formula hasn't changed, and it remains a top selling pre-workout in the market.
Total War Black Ops takes Total War to the extreme. It dials up many of Total War's original ingredients to give maximum energy, pumps and mind-muscle connection. It also includes a thermogenic complex to dial in your physique. Total War Black Ops  isn't for the faint of heart. Its extreme intensity is felt almost instantly and is sustained for the duration of your workout. There is nothing on the market like Total War Black Ops, which leads to the next topic; can anyone take Black Ops?
Who Should Use Total War Black Ops?
First and foremost, you must be 18+ to take Total War Black Ops or any Redcon1 supplement. Total War Black Ops is NOT for everyone. It is for the most extreme. It's for those who LOVE the effects of Total War, but want to take that feeling to the next level. It's for the elite performers. Those who want to go BEYOND their highest state. For those who want to go further, faster. Lift heavier. Unleash unrestrained strength, focus, and power.
While it is not for the faint of heart, Total War Black Ops is safe. Every ingredient and every formula REDCON1 creates goes through 3rd party safety and efficacy testing. We still recommend taking ½ scoop first to assess your tolerance before taking a full scoop.
Flavors and Price
What flavors can you get in this pre-workout? If you tried Total War, you know that REDCON1 provides some fantastic flavors. You can pick up Black Ops in Tiger's Blood, Blue Lemonade, and Sour Gummy Bear. 
How much is it? It is $59.99 for a container with 20 servings. You can get it at your local GNC or just right off of REDCON1's website! 
Our Verdict on Total War Black Ops
We could not give an honest opinion on something without trying it ourselves. While it is a new product, we had no hesitation in getting some for ourselves, and it lived up to the hype. Getting through a workout was never easier, and the pump was something never experienced before. The amount of focus we could put into our workouts, as well as the ability to move more weight, and the ability to really get that mind-muscle connection like never before, this was something we would recommend to any experienced lifter looking for better lifts.
Black Ops Wrap Up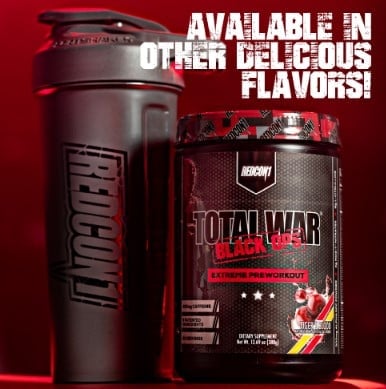 Overall, Total War Black Ops is a pre-workout for an experienced lifter to give a shot. It is an ultra dosed pre-workout to really maximize your workouts. We only recommend it if you want better focus, pumps, endurance, and better lifts overall. 
Will you be giving Black Ops a try?