The ultimate leg workout for maintenance and shaping the legs by Vladislav Galagan
Vladislava Galagan is a name that is taking the fitness industry by storm for her unique build, often referred to as the "Kendall Jenner" of bodybuilding, sporting a great amount of muscle mass. Along with her massive biceps and triceps that are completed by capped delts, she has a great set of legs to truly complete her physique. So, how does she train them to get to that point? 
In this post, we break down who Vladislava Galagan is, and detail her leg training routine.
Who is Vladislava Galagan?
Vladislava Galagan has drawn lots of attention as a bodybuilder due to her impressive physique, as fans have flocked to her social media pages to see a combination of her ripped physique and pretty face. The Russian bodybuilder has been called the "Kendall Jenner of bodybuilding", due to her slight resemblance to the Jenner sibling, and has even used her looks to make money using OnlyFans, though she does not do anything X-rated. 
She is the perfect demonstration of working hard, as the 27-year-old bodybuilder began training at the age of 16 and has not stopped since. Vladislava has been able to find a routine that keeps her physique in top shape, and has helped build some great muscle mass, especially in her legs.
Full Name: Vladislava Galagan (Female Competitive Bodybuilder)

Weight
Height
Date Of Birth

185-190lbs

5'9″

1997

Division
Era
Nationality

Women's Bodybuilding

2010s, 2020s

Russian
Vladislava Galagan Leg Day
Now, Vladislava Galagan has an undeniably great set of legs, and that could be due to her leg days that occur twice a week. She used to have heavier leg days, but due to an injury she scaled that back and does one light leg day training a week, then the other one is heavier. The difference between the workouts is the number of sets and exercises.
Her leg day typically consists of six to ten exercises, and she spends about an hour to an hour and a half per leg training session. Let's break it down.
| | | |
| --- | --- | --- |
| Exercise | Sets  | Reps |
| Leg Extensions | 4 | 15 |
| Lying Hamstring Curl | 4 | 10-12 |
| Smith Machine Calf Raise | 4 | 10 |
| Seated Calf Raise | 5 | 10 |
| Hanging Leg Raise | 5 | 15 |
| Incline Body Raise | 5 | 15 |
| Crunches | 5 | 20 |
Leg Extensions
The first exercise on her list is leg extensions, an exercise guaranteed to get blood flowing into the quads, as well as loosen up the joints to lessen the chances of injury on later exercises. Here she does 4 sets of 12-15, pushing on each rep ang getting a nice contraction. 
Hamstring Curls
The next exercise on Vladislava Galagan's leg day are hamstring curls. She does the lying hamstring curls, which are a favorite of Tom Platz, who incorporated them into his leg day and was known for having some of the best legs on the planet. Vladislava does 4 sets of 10-12 here, getting blood flowing. 
Smith Machine Calf Raises
Placing her feet on a box and letting her heels hang off for a greater range of motion, Vladislava does calf raises on the Smith Machine. Here she does 4 sets of 10 reps, making sure to get a nice stretch in the calves, and a great contraction at the top of the movement.
IF a Smith Machine is not open, you can use a standing calf raise machine!
Seated Calf Raise
Right after the Smith Machine calf raises, Vladislava moves over to the seated calf raises, completing 5 sets of 10 reps. Again, she focuses on the stretch and squeeze of the movement.
Hanging Leg Raises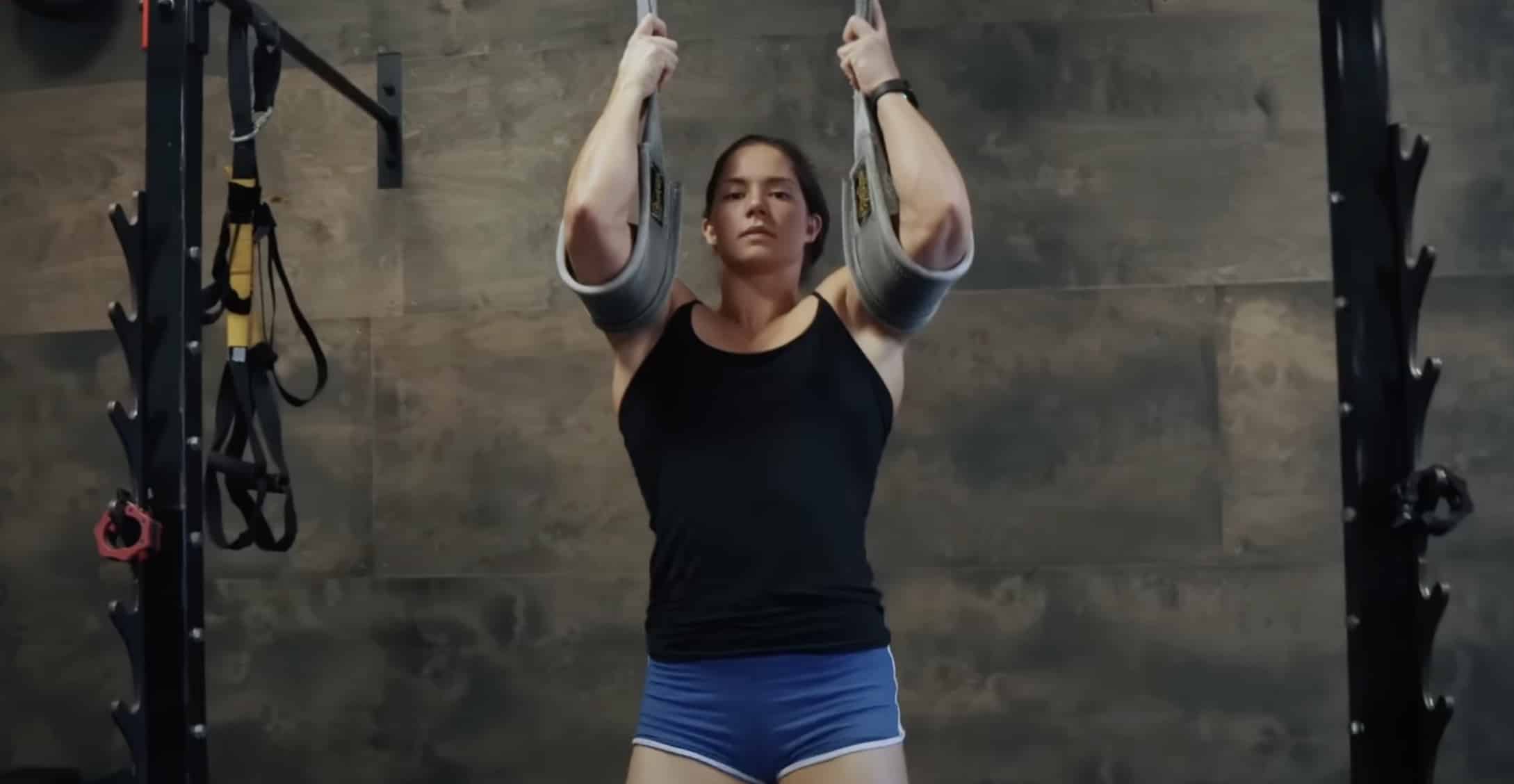 Hitting a little bit of abdominal training, Vladislava does hanging leg raises. She does 5 sets of 15 reps.
Incline Body Raise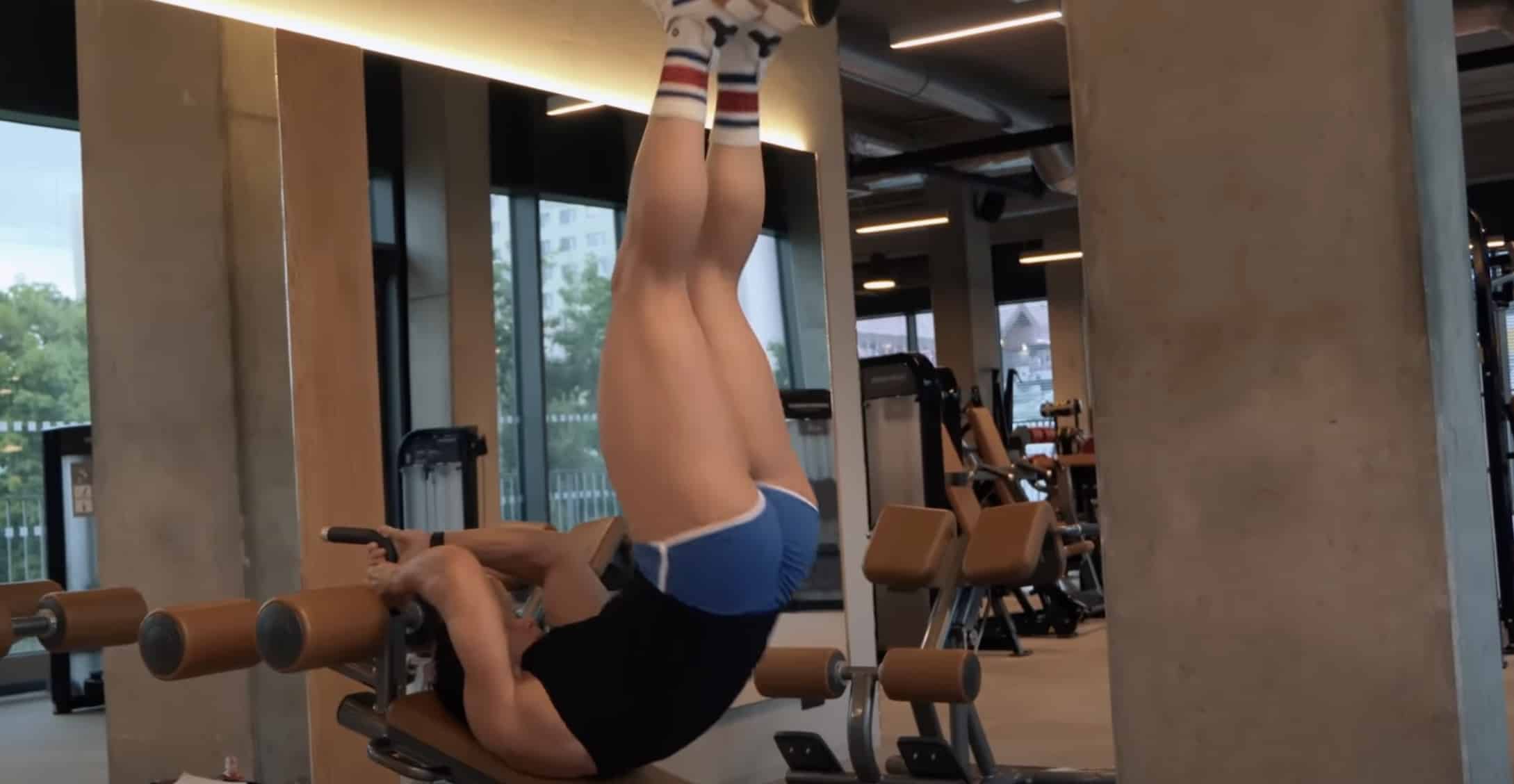 Another core exercise, Vladislava does incline body raises, where she uses an incline bench to raise her legs. These were what Sylvester Stallone did in Rocky 4, where he was training in the snow to fight Ivan Drago. Here, Vladislava does 5 sets of 15 reps.
Crunches
Lastly, Vladislava hits another core exercise which is just basic crunches. She does 5 sets of 20 reps and calls it a day, grabbing a protein shake on the way out of the gym.
Diet
What does someone like Vladislava Galagan eat in order to stay in shape? Vladislava Galagan has stated that she follows a strict diet year round. Her diet is packed with 100 grams of protein daily, making sure she has enough to recover from her training. As far as food sources, Vladislava has said that she favors beef, eggs, turkey, chicken, and fish to get the extra protein needed over the course of the day. 
Is Vladislava Galagan Natural?
Many people wonder if the Kendal Jenner of bodybuilding is natural or not, meaning does she take performance enhancing drugs, or just regular supplements? Well, along with a strict diet and intense training, Galagan takes PEDs but admits there is "no magic pill." She has actually spoken out on the topic before, and it was in reply to a comment on an Instagram post of hers.
The comment read:
"I'M NOT AN EXPERT ON STEROIDS, BUT SHE MAINTAINS HER FEMININITY, SO IT'S VERY POSSIBLE THAT SHE'S NATURAL, SINCE THOSE WHO USE STEROIDS LOOK LIKE FREAKS."
Vladislava handled it well, and her response consisted of the following.
"I DO SHORT CYCLES. I'M NOT ALL YEAR ROUND ON THEM LIKE OTHERS. SINCE I DO PRO COMPETITION, IT'S SOMETHING THAT I DO TO PLAY IT EVEN. BUT I NEVER RELY ON THEM 100%, THAT'S WHY I DO BARE MINIMUM AND INVEST TIME AND HARD WORK INSTEAD."
The use of PEDs does not discredit her at all, as Vladislava Galagan is still at the gym training six days a week. She focuses on each muscle group twice a week, then has a day of recovery so she can grow. She also includes three cardio sessions each week in order to keep her physique in the best shape possible, keeping off the body fat.
Wrap Up
Overall, Vladislava Galagan is becoming a household name in the fitness industry and for good reason. She sports an incredible physique and shows some hard work in the gym. 
What do you think of Vladislava Galagan?
For more news and updates, follow Generation Iron on Facebook, Twitter, and Instagram.