Natural bodybuilder hip thrusts 3x her weight for reps. 
The final moments of 2021 are underway, and many are spending it unapologetically indulging in food and drinks while lounging around on a La-Z-Boy recliner. But some determined individuals are starting their New Year goals early. Especially natural bodybuilding competitors prepping for 2022 natural bodybuilding shows – including a particular one who hip thrusts 3x her weight! 
A perfect specimen of this is April Young, a Professional Natural Bodybuilding Association (PNBA) athlete. She's got big plans in 2022, including earning her pro bikini card at the International Natural Bodybuilding Association (INBA) Battle for Cancer competition in late May of 2022. 
On Instagram (IG), her personal trainer shared a video of her hip thrusting weight for reps 3x her weight – 315 lbs! @harrisbrotherstraining said, 
"April is 5 months out from the Inba Battle Against Cancer May 28th!! She's been putting in that work this off-season and is now up to hip thrusting 3 times her body weight for reps!! (315lbs)

Stay tuned as she preps to rock that stage and claim that Pnba Bikini Pro Card!"
You can see the full IG clip below:
View this post on Instagram
You can look at the initial 2022 INBA/PNBA schedule here. 
Natural Bodybuilding Bikini Divisions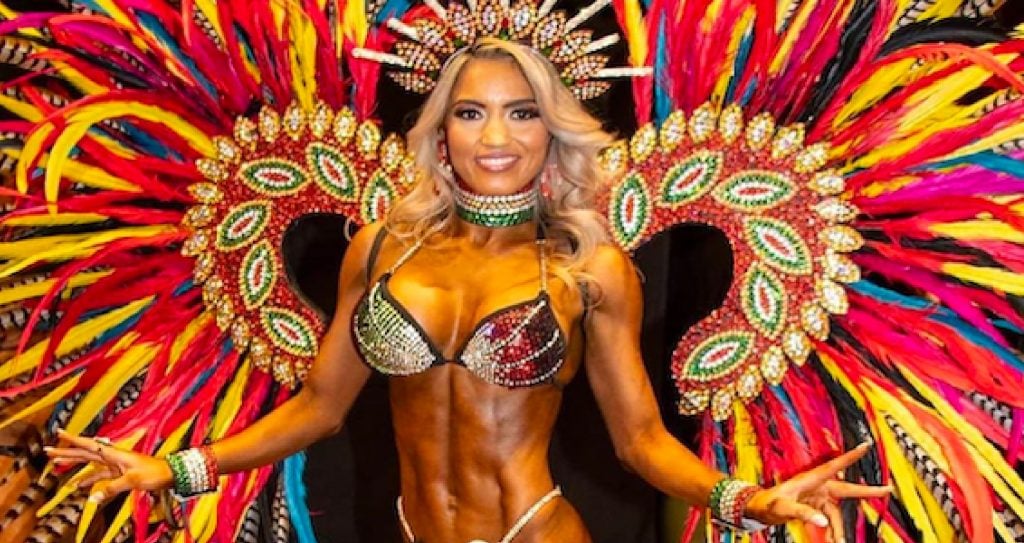 In natural bodybuilding, the INBA/PNBA has a few Bikini divisions – Bikini Divas, Bikini Mamas, and Bikini Angels. Below is a breakdown of their similarities and differences. 
Bikini Divas
Bikini Divas judges tests for a shapely and toned body without overdoing it with muscle mass. Top contenders in this division will have less muscle mass than the Woman's Bodybuilding category. Presentation and sex appeal are essential criteria as well. 
Bikini Mamas
The Bikini Mamas division is looking for the same thing as the Bikini Divas division. However, there's a catch. As the name suggests, these women are also moms! To compete in this division, athletes must have given birth within the last 1-3 years. 
Bikini Angels
This division is open to fitness, bikini, and figure girls with a slight twist: each athlete wears angel wings as part of their attire. Each contestant must display poise and confidence. Your presentation and personality are critical in this class. 
We're not entirely sure which bikini division April Young is competing in this May for the chance to earn her bikini pro card. However, we can assume she may attempt the Bikini Mamas division. According to the IG hashtag – #fitmom – in the IG post above, Young's a mom. If she wins, she'll receiver her pro card and have the opportunity to compete at Natural Olympia professionally. 
Natural Olympia
Competitors in the INBA/PNBA league compete at each natural bodybuilding competition for a chance of competing at Natural Olympia – The Pinnacle of Natural Bodybuilding. The best drug-testing laboratory tests these natural athletes – World Anti-Doping Agency (WADA). The INBA/PNBA makes sure to drug test their athletes both in-season and off-season. Athletes who fail a drug test at any time will be banned from competing and stripped of their title. 
Generation Iron would like to wish April Young good luck in 2022!
Follow us on Instagram, Facebook, and Twitter for the latest news on natural bodybuilding athletes!