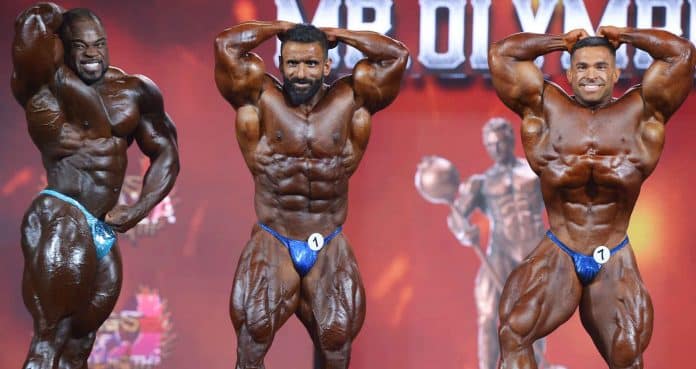 The biggest 2022 Mr. Olympia takeaways after an exciting event full of shakeups.
The 2022 Mr. Olympia has come to a close and brought about a truly exciting event matching the hype behind such an impressive and massive lineup. We have a new champion in the form of Hadi Choopan and finally saw the Olympia debut of some truly anticipated names including Andrew Jacked and Michal Krizo.
Beyond Hadi Choopan's massive victory, the top five placings in the 2022 Mr. Olympia signal a regime shift currently underway. You can check out our full coverage of the 2022 Olympia results across all divisions right here. But in this article we are going to discuss the possible insights this year's competition has given us – and what it could mean for the future of this event and the sport as a whole.
Check out our three major takeaways from the 2022 Mr. Olympia right here:
1. Men's 212 is taking over the Men's Open division
While Hadi Choopan has not been in the Men's 212 division for quite some time, it's important to note that this is the division where he got his start. Just over four years ago, many fans and even experts scoffed at the idea of Choopan competing in the Men's Open. His notable smaller size overall and his shorter height had many worry that he couldn't compete agains "the big boys."
Instead, Hadi Choopan earned third place in his first ever Mr. Olympia showing. He continued to land in the top five with each successive year – and now is the new Mr. Olympia champion.
But Choopan is not alone in this incredibly successful transition. Derek Lunsford landed second place at this year's Olympia. That's exactly one year after he won the Men's 212 Olympia title. Let that sink in. Lunsford claims to have gained about 25 pounds of additional muscle in one year. A transition that fast and successful is often unheard of.
And let's not forget about Shaun Clarida. While Clarida ultimately stuck in his lane with the Men's 212 division (and earned himself a second Olympia victory), he was seriously considering competing in the Men's Open division as well. This idea came after he competed in Men's Open, and won, during the Legion Sports Fest competition.
We have no way of knowing what place or how well Clarida would have done in the Men's Open this year. But his absolutely astonishing conditioning very well could have gotten him into the top five. It's that same consistent conditioning that eventually helped Hadi Choopan earn his very own Mr. Olympia trophy.
Sprinkle in the fact that there's an alternate universe where Flex Lewis didn't retire and came through on his plan to compete in the Men's Open Mr. Olympia – and you have four massively successful Men's 212 competitors that could (or could have) made waves in the biggest division in bodybuilding.
View this post on Instagram
2. Bigger isn't always better
In 2018, the late Shawn Rhoden shocked the world by defeating Phil Heath and becoming a Mr. Olympia champion. What was notable about this is he outshined others who were much larger than him. After years of judges rewarding size, Rhoden won on conditioning and symmetry. Unfortunate events followed by his tragic death ultimately never allowed us to Rhoden compete at the Olympia again.
Yet at the time it seemed that the judges reset their course back to size – with Brandon Curry and then Big Ramy winning the Olympia over the next few years. The whole show seemed like a size game yet again. Which is why Nick Walker was so hyped going into this year's big show (he placed third, by the way, which still shows promise for his future).
With Hadi Choopan winning the Mr. Olympia this year, he re-solidified that size is not always the be-all end-all to winning the show. Will this be a single drop in the bucket before someone like Nick Walker takes the throne? Only time will tell – but Choopan's win sends a message to all athletes that size is not the only path to victory.
View this post on Instagram
3. Nick Walker sets himself up as a future Olympia champion
With all of the focus on Hadi Choopan right now, it may be easy to lose steam behind the hype of Nick Walker. But there's a reason why he won the People's Choice award at this year's event. His package was more on point than last year. His size was more impressive. He earned third place – moving up from his fifth place finish last year.
Of all the younger athletes rising up in the league, Nick Walker has truly pulled ahead of the pack. Most importantly, Walker is very young. If he can keep the passion and consistency we've seen – there is no doubt that he can become Mr. Olympia in the near future.
At only 28 years old, he has a lot of time to keep building and improving. Unlike many of the other athletes in the top five – Walker has a potential decade plus of peak competing ahead of him.
Every competitor wants to go into the big show aiming for victory or nothing. But this shouldn't be seen as a loss for Nick Walker. This is a sign that he is here to stay and will be a threat for years to come.
View this post on Instagram
Wrap up
It's hard to believe that just over five years ago, we had the same Mr. Olympia champion for seven years straight. In the past five years, we've seen four new champions. This is a sign of true change in generations and talent. It's an exciting time to be watching the sport and with athletes like Andrew Jacked and Michal Krizo just getting started – there's much more excitement in store for us down the road.
Generation Iron Fitness Network will continue to cover Mr. Olympia post-show updates as they become available.