Ramon Rocha Queiroz wins Classic Physique during the 2023 Arnold Classic!
The results during the 2023 Arnold Classic ended with Classic Physique on Friday night. Ramon Rocha Queiroz looked to take a big lead during prejudging and he ended the night with a title!
Ramon Dino went toe-to-toe with Chris Bumstead during the 2022 Olympia during prejudging. In the end, he finished second while Bumstead won his fourth-consecutive title. It is clear that he has etched his name up there with the best in the world and is looking like a future Olympia champ.
Alex Cambronero, who was crowned Arnold Classic champion in 2020, finished third. He came in with great conditioning and was able to make a return to the top three. Urs Kalecinski, who was also crowned best poser in the division, finished second. He is turning into one of the top competitors in Classic Physique and is also looking like a threat at the Olympia.
Ramon Dino was the favorite coming into the show and now he has officially won the title. Entering the Olympia in December, he will remain the biggest threat to Bumstead for the title.
The Classic Physique division is officially in the books for the 2023 show. Below, take a look at the breakdown of the results from Friday night!
2023 Arnold Classic: Classic Physique Results
First Place – Ramon Rocha Queiroz
Second Place – Urs Kalecinski
Third Place – Alex Cambronero
Fourth Place – Mike Sommerfeld
Fifth Place – Courage Opara
Sixth Place – Junior Javorski
Seventh Place – Jason Brown
Arnold Classic Physique: Best Poser Award
Official Score Card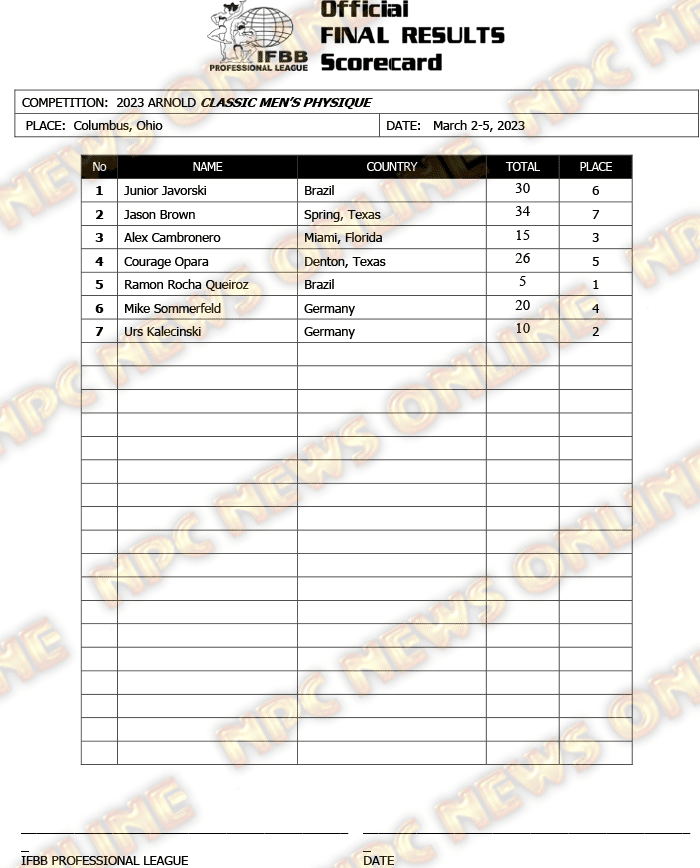 Previous Winners
2022: Terrence Ruffin
2021: Terrence Ruffin
2020: Alex Cambronero
2019: George Peterson
2018: Breon Ansley
2023 Arnold Classic Results & Schedule
Friday
Prejudging (12:30pm-2pm)
Finals (7pm-9:30pm)
Saturday
Prejudging (10am-Noon)
Finals (7pm-10pm)
Generation Iron Fitness Network will provide coverage of the full Arnold Classic event including pre-judging reports, analysis, and results updates. Stay tuned to Generation Iron and
visit our official 2023 Arnold Classic coverage hub right here!