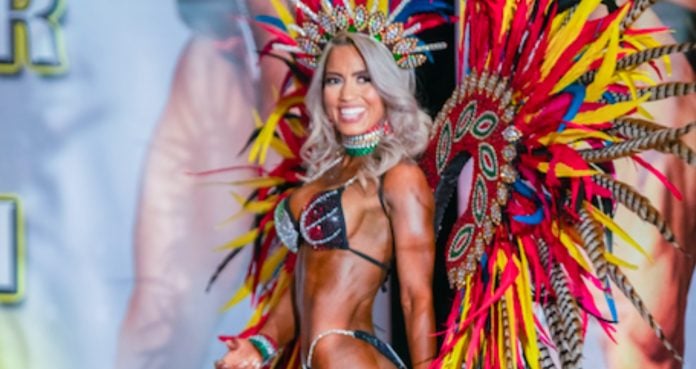 Mexico's Natural Olympia Bikini Angels champion Arely Ayala is the first international natural bodybuilder to sign a multi-media contract with Generation Iron, INBA PNBA, and Iron Man Magazine. 
Reigning Mexico's Natual Olympia 2021 Bikini Angels champion, Arely Ayala, has become the first international natural bodybuilder to sign a multi-media contract with Generation Iron, International Natural Bodybuilding Association (INBA)/Professional Natural Bodybuilding Association (PNBA), and Iron Man Magazine. Arely Ayala received a silver medal in the Bikini Divas category at the 2021 Natural Olympia. The INBA PNBA released a statement on social media expressing their appreciation. The INBA PNBA stated:
"Congratulations @arelyayala.hc of @inba_mexico The 1st International Athlete to sign a Multi-Media Contract with the

Well deserved @arelyayala.hc 

INBA PNBA Elite Natural Athletes will be recognized globally on authoritative platforms and as ICONS of the Natural Bodybuilding Industry.

@inbapnbaglobal_official Global Leaders in Natural Bodybuilding continue to create opportunity and outlets to "Serve The Elite Natural Athlete" "
Arely Ayala voiced her gratitude, stating:
"Hi everyone, today is a very special day that I want to share with you. I have been selected to sign a multi-media contract with PNBA, Generation Iron, and Iron Man Magazine.

This is a great opportunity for me and all the international athletes. I want to thank all the Kukos family – Denny, Denise, Dianne – and Mexico for trusting in me from the beginning.

Let's do it! Viva Mexico!"
Below is an Instagram (IG) clip of INBA PNBA's complete statement and Arely Ayala signing the contract. 
View this post on Instagram
Multi-media Contract Benefits
Signing a contract with these three companies comes with its benefits. You'll have to be an INBA PNBA athlete in good standing with the league to be eligible for signing. Each natural athlete should be seeking professional growth and abide by the World Anti-Doping Agency (WADA) guidelines. Competitors bound in the contract can expect to receive more spotlight. They'll get promotions, brand building (digital media write-ups, social media posts, photoshoots), special guest appearances, posing, and seminar sessions. Also, athletes will receive Iron Man Magazine nutrition ads and endorsements. 
According to the INBA PNBA, the contract is:
"An opportunity for a natural bodybuilding athlete to acquire renown and recognition in the sport of natural bodybuilding, exploiting association's promotional campaign via the Iron Man Magazine, news and events, and the Generation Iron platform."
Arely Ayala and Natural Bodybuilding
According to Quiubo Fitness, Arely Ayala started competing in bodybuilding in 2018 at Mr. Sonora, where she won the rookie fitness bikini championship. She collected her pro card in 2019 at the international event in California. 
Arely Ayala competes in the Bikini Angels and Bikini Divas divisions. Although these divisions sound similar, they have some distinct differences. Bikini Divas scoring focuses more on definition (visible athletic abs, slightly visible glute-hamstring tie-in). However, contenders in the Bikini Angels category aren't judged entirely on their body –  personality and confidence are essential factors in the judging process. 
When Arely Ayala isn't competing, she's a health coach. You can check out her IG here, where she shares ample health and fitness content with her audience. 
Generation Iron congratulates Arely Ayala for signing her multi-media contract! We wish you good luck in the upcoming 2022 season! 
Follow us on Instagram, Facebook, and Twitter for the latest INBA PNBA news!