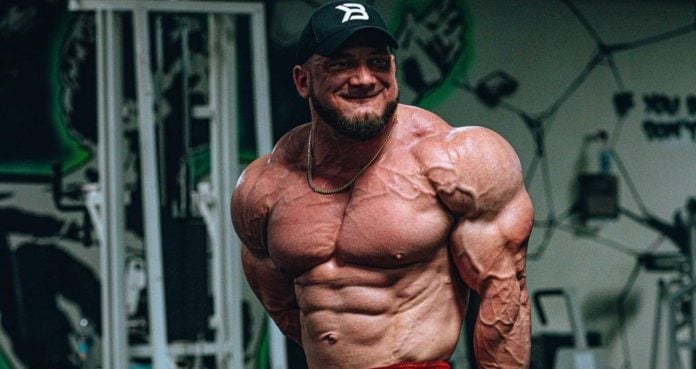 IFBB Pro Hunter Labrada reveals his diet during the 2023 off-season! 
Have you ever wondered how a professional bodybuilder eats? IFBB Pro Hunter Labrada shared his full meal plan for his off-season this year — bodybuilders eat differently during the off-season than during the season. (For example, during the off-season, bodybuilders will typically bulk — add more calories and protein to pack on as much muscle as possible. Then, while they're in-season or in pre-season, they'll cut.)
While it can be said that Hunter Labrada is from bodybuilding royalty, he hasn't had it easy. This young bodybuilding competitor may be in the off-season but isn't slacking. He shared the changes he made to his diet improved his physique – adding more whole foods filled with protein spread out over 6 small meals. 
Hunter Labrada is an IFBB professional and is the son of the legend and Hall of Famer Lee Labrada. He is from Texas, USA, and his mom competed in bodybuilding. So it's no surprise that Hunter Labrada developed an interest in bodybuilding alongside his love for football.
By 18, Hunter decided to follow in his father's footsteps. However, it wasn't until he was 21 that he fully appreciated the intricacies of being a professional bodybuilder. His father felt he had invested too much into playing football to leave it behind. 
However, Hunter eventually convinced his dad that bodybuilding was his passion, and his career began. The initial small competitions helped build his confidence, and he soon rose to the Open division ladder and finally earned his pro card in 2018.
Hunter Labrada had his Mr. Olympia debut in 2020 and got eighth place. He then shocked everyone by returning the next year and moving four places to claim fourth. A strong contender for him was the famous bodybuilder Nick Walker. 
2022 disappointed Hunter; he couldn't make the first call and went to seventh. This hasn't deterred him; he plans to figure out a better process and win. The new diet he's implementing is one of these changes. Let's unravel what that entails below. 
View this post on Instagram
Full Name: Hunter Labrada
Weight
Height
Date Of Birth

235-245 lbs.

5'9''

05/17/1992

Profession
Era
Nationality

Bodybuilder

2010

American
Importance of Diet in Bodybuilding
Your diet is an important part of bodybuilding as much as your training. You must eat the right meals with the correct nutrients to give your muscles the necessary fuel. A good bodybuilding diet emphasizes the need for lean protein to help you build and protect your muscles.
While on a bodybuilding journey, following a regimented eating pattern can be very helpful. While you may not be a professional bodybuilder, paying attention to your body needs and maximizing that can help you with any fitness goal. Before diving into Hunter Labrada's meal plan, here are some tips that you might find useful. 
Fuel up Before Workouts
Below are some pre-workout tips to enhance your workout performance. 
Fuel After Workouts:

A good 3:1 ratio of proteins and

carbohydrates

immediately after your workout is good. You're in the clear as long as you eat it within 30 mins after your workout. 

Eat Healthy Fat:

Saturated

fats

are the enemy, so eat plenty of

fruit

, vegetables, and monosaturated and polyunsaturated fats. You'll find these fats in nuts, seeds, and oils. 

Consume Lots of Water:

Replace the water you lose when you sweat. While beverages and smoothies can help, water lets you stay optimally hydrated.
People have different body requirements, but following these general rules help. A look at Hunter Labrada's diet below will show that these foundations are at play.
Hunter Labrada's Meal Plan (Full Day of Eating)
View this post on Instagram
Meal 1
150g chicken

300g rice with soy sauce

200ml orange juice

Digestive enzymes

Olive oil (or almond butter) 
For this meal, Labrada powers up using protein from chicken and the good fat from almond butter. Orange juice is also rich in vitamin C and supports your immune system. He also includes carbs which play a good role in building up the muscles. 
Meal 2 (Pre-training)
150g chicken

300g rice

30g honey

Almond butter (or olive oil) with salt
For meal two, we see the same nutrient group being targeted. The honey included in this meal is a great antioxidant. Honey is also known to promote healing. 
Meal 3 (Pre-Workout)
55g carbs from Karbolyn

1 scoop of Intra (provides 25g carbs)

10g of EAA

1 scoop of pump

5g creatine
Just before a workout, Labrada bulks up on carbohydrates as advised by experts to fuel his workouts. 
Meal 3 (Post-workout)
80g carbs from Karbolyn or highly-branched cyclic dextrin

50g of whey protein isolate
He fuels his muscle with muscle glycogen (energy for muscles) after his workout – which is critical for muscle recovery and growth. Also, consuming protein within an hour after working out can be beneficial. 
Meal 4 
150g chicken

300g rice with a bit of Korean BBQ marinade (~10g carbs)

No additional fats
Labrada's next meal after his post-workout nutrition is infiltrated with protein (chicken) and complex carbs, which he gets from rice — and of course, he adds some flavor to it by throwing on some low-carb BBQ sauce. 
Meal 5
150g sirloin and 300g rice
Labrada continues his meal plan with more protein and complex carbs. Complex carbohydrates fuel your body and muscles — you'll receive ample energy and feel satiated. 
Meal 6
100g cream of rice

50g whey isolate

30g honey

30g almond butter with some sea salt
Labrada's sixth meal of the day includes some whey protein — which can help you get more protein conveniently since it can be tough to get enough protein from food sources alone. And he also added some honey again. 
You can watch the full video of Hunter Labrada sharing his meal below:
As expected from a professional bodybuilder, Hunter Labrada consumes ample daily protein. He eats a quality pre-workout and post-workout meal and also ensures that he replenishes his muscle glycogen with complex carbohydrates. 
And as many bodybuilders do, Labrada breaks up his meal plan into smaller meals rather than larger, fewer meals — which is pretty standard for bodybuilding athletes. 
More IFBB Pro's Training and Nutrition
If you enjoyed Hunter Labrada's full day of eating, be sure to check out how some of his competitors train and eat below:
Follow us on Instagram, Facebook, and Twitter for more insight on elite bodybuilders' diets!