Liver King marked 120 days steroids-free with a physique update photo looking absolutely ripped.
In his latest Instagram post, Liver King shared an impressive physique update while claiming he has been 120 days off steroids. This update comes after the controversial reveal that Liver King, aka Brian Johnson, had been lying about his natural status. He admitted to using steroids after private emails were exposed to the public proving he had been using anabolic substances.
After Liver King was exposed for using steroids, he made a vow to truly come off steroids and become a real natural bodybuilder. After making this claim, he posted various milestones along his journey coming off PEDs and provided physique updates. While the earlier updates were less informative, due to being so close to his steroid use. It seems that his latest update can provide a closer look into how his physique has changed – now about four months off steroids.
Most impressively, his physique is still incredible massive, showcasing muscle mass and shredded abs. You can see the post, originally shared via Instagram Story below: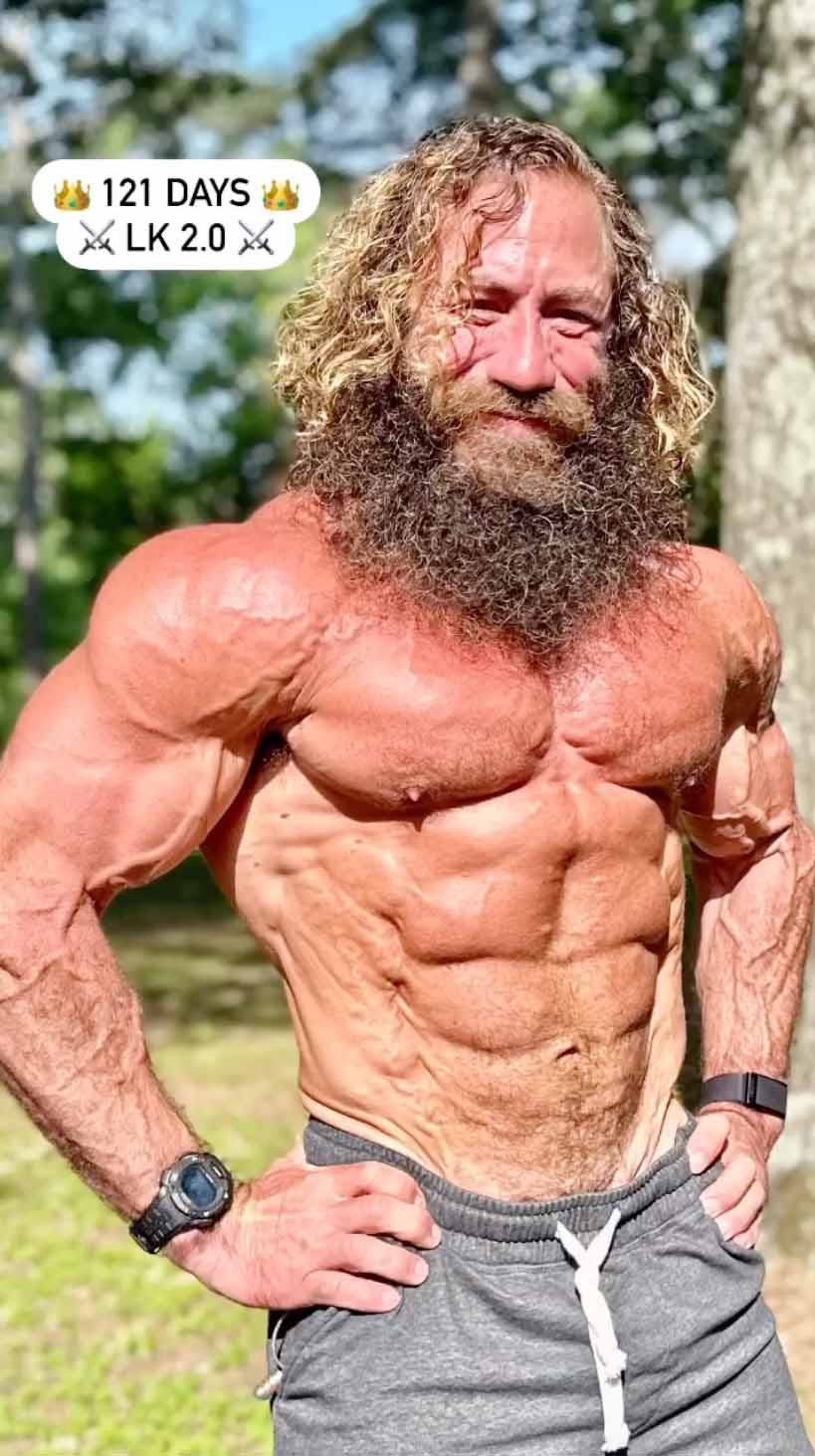 Liver King also made a cheeky post via Instagram celebrating 120 days. You can see the post and the transcription of his comment below:
View this post on Instagram
"Happy 120 days of being a top f*cking King… oh wait, that's me.

It could be you, Primal… if you stopped making so many goddam excuses.

If you were willing to sprint towards hard sh*t… to lift heavy sh*t… to stop looking like relative sh*t.

Remember, how we look and speak is an outward expression of what we believe.

Liver King believes in getting to work… to fight for something meaningful… to overcome real struggle…

That's why I look (and sound) like a savage beast.

FYI you still look (and sound) like a docile mouse.

We can, and we must change that."
While it can be questioned as to whether or not he's kept up with his promise due to his previous deception, his comment implies that he is focusing on what originally drew him to bodybuilding – the accomplishment from putting in hard work.
As it's been stated by many pro bodybuilders, experts, and athletes in the past – steroids don't magically make you a bodybuilder. The hard work always needs to come first. Regardless of whether or not Liver King is 120 free of steroids, the hard work must be maintained to have this kind of shredded physique.
The rise and fall… and rise of Liver King
Liver King exploded onto the scene in 2021, seemingly out of nowhere. He was recognized for his incredible physique and also his "ancestral" way of living – often eating raw liver and showcasing incredible feats in nature. He quickly gained a massive following of over 2 million on Instagram.
Liver King also claimed he was all natural. Of course, he had to be, since he was showcasing an ancestral all-natural lifestyle. Many fans were skeptical due to the massive size of his physique. Much like Mike O'Hearn, many believed it was impossible to obtain what he showed in his posts without the help of PEDs.
So questions began to be asked, and even high profile media personalities like Joe Rogan weighed in on the mystery – was Liver King natty or not? This led Liver King doubling down and speaking very frequently about his all-natural status. He made joke posts on Instagram and seemed to enjoy pushing those who questioned him to bring more attention to himself and the whole conversation.
Then suddenly, everything came crashing down. Private emails were leaked seemingly exposing Liver King's steroid cycle. Shortly after the leaks, Liver King admitted that the emails were real and that he had, in fact, been using steroids.
While the decision to take steroids is a personal choice, the reveal and admission to guilt sparked at least one lawsuit from a New Yorker – who claimed that Liver King had used his natural status to promote his supplements. The argument stated that Liver King knowingly misled consumers by using his physique to promote his products without disclosing his steroid use. That lawsuit was filed for $25 million dollars.
So now the question becomes – is Liver King telling the truth now about his post-steroids journey? Skeptics will look towards his deceptive past as reason enough to not believe him. However, without evidence to prove otherwise, perhaps he is simply showcasing how far hard work can take you and further proving that he has truly made a change in his life.
Disclaimer: Generation Iron team are not medical professionals and are not advising for or against the use of any performance enhancing drugs, rather stating the facts surrounding these substances.