A seven-time champion, Schwarzenegger gave bodybuilding a whole new face.
With just under two weeks until the Mr. Olympia competition takes over Orlando, Florida, we got nostalgic thinking of all the greats who have walked the ultimate bodybuilding stage in hopes of taking home the highest prize the sport can offer. After a turbulent time setting up this event with venue changes, pandemic precautions, and ensuring all athletes stay healthy, organizers are going with this as planned to really give fans a show they need big time right now. While there is plenty of great talent to watch right now, we thought it would be fun to take a trip down Olympia memory lane and look at some of the greats who changed this sport forever. Part of our Olympia Legends Series, we are pleased to present a true Renaissance man: Arnold Schwarzenegger.
While you know him as an action star in movies like every Terminator, Kindergarten Cop, and Conan the Barbarian, we can't forget that he was the 38th Governor of California from 2003-2011 and served as the Chairman of the President's Council on Physical Fitness and Sports from 1990-1993. But his bodybuilding career put him on the map as a serious force and he is widely regarded as one of the greatest bodybuilders of all time. That charm and class he carried himself with made him a great ambassador for the sport and young athletes everywhere.
Early Life
Schwarzenegger was born in a small village in Austria in 1947 and grew to be a cheerful and exuberant character amongst his friends in his early years. An active youth, he participated in many sports, in particular soccer. He began weightlifting at 15-years old and started to really enjoy bulking up and expanding on his already well developed frame. Despite his parents wishes and career plans for him, he served in the Austrian Army in 1965 where he began competing in bodybuilding competitions, even earning the title of the best built man in all of Europe. His life long dream of moving to America would soon become a reality when a judge at one competition offered to train him. With bodybuilding as his way to get to the United States, Schwarzenegger went all in.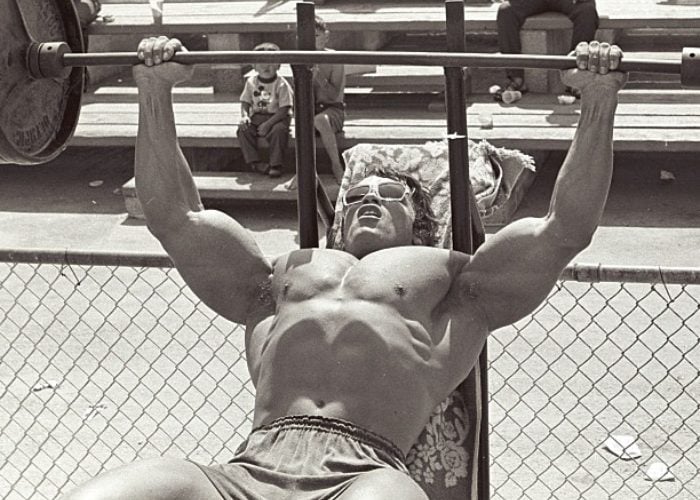 Mr. Olympia 1970-1975
Having arrived in California, Schwarzenegger trained at a Gold's Gym with guidance from top athletes and coaches. In 1970, his Mr. Olympia reign was just beginning. At 23-years old, he won his first Mr. Olympia title in 1970, defeating three-time champion and reigning champion at the time Sergio Oliva. He was, and still is, the youngest to win this event even to this day. There was no stopping Schwarzenegger. His streak continued into 1971 and continued all the way through 1974. This epic streak almost came to an end in 1975, but some persuasion made him stay.
With five Olympia titles under his belt, and five in a row we might add, it was a set of filmmakers who persuaded Schwarzenegger to compete in 1975. They wanted to film the documentary Pumping Iron which chronicled his training and with only three months to prepare, Schwarzenegger took to the gym and won his sixth consecutive title, beating out Franco Columbo for the 1975 Mr. Olympia contest. Upon completion of the event, Schwarzenegger announced his retirement from the sport of professional bodybuilding.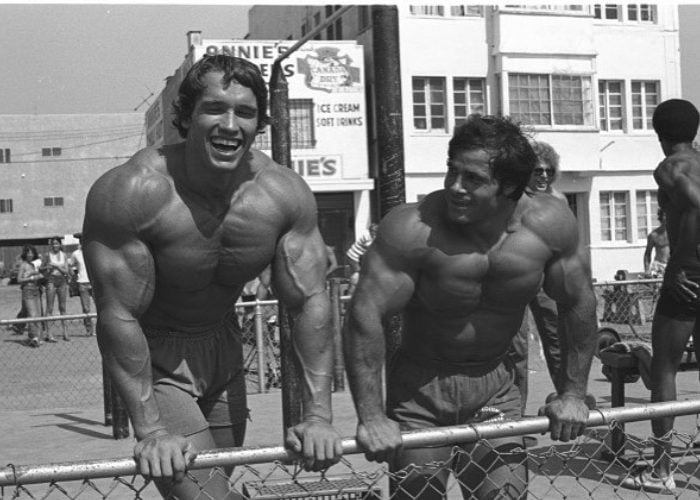 Mr. Olympia 1980
Now an actor, Schwarzenegger was training for what would be his breakout role in the fantasy-adventure film Conan the Barbarian (1982), which follows Conan (Schwarzenegger) and his quest to seek revenge on a savage warlord and sorcerer, Thulsa Doom. The training for this film was intense and involved a lot of running, horseback riding, and sword training, ultimately keeping Schwarzenegger in great shape. Sensing his desire to win, and knowing it was within his grasp, Schwarzenegger secretly kept his plan to compete at the 1980 Mr. Olympia competition quiet.
Hired as a color commentator for the event, Schwarzenegger announced he would leave retirement to hit the stage with the best of them, seeking one more title to add to his already impressive six Mr. Olympia wins. With just seven weeks of training under his belt, but years of experience with handling the pressure and competition, Schwarzenegger was declared the winner of the 1980 Mr. Olympia competition for the seventh and final time. He officially retired from bodybuilding and began his illustrious career that we know he has today.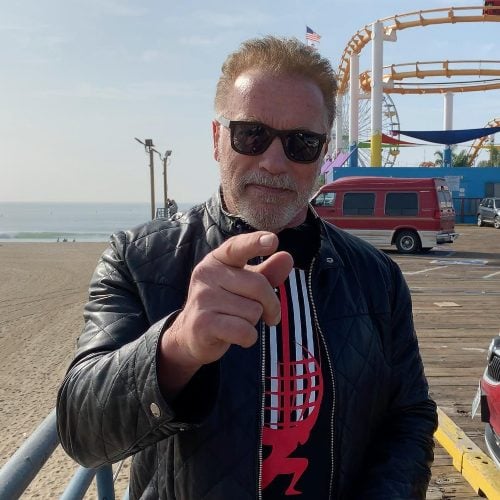 Schwarzenegger's Legacy On Bodybuilding
Schwarzenegger has done more for the sport of bodybuilding than imagined. As a fitness icon, he changed the way people view fitness and society's view on bodybuilding as a whole, boosting the sport to new heights. Now as a veteran, he continues to promote and shape the sport for everyone to enjoy.
His view on building muscle and the workout plans he had for himself has changed the way modern day sports science and personal trainers view this. His style has inspired the idea of old school workouts influencing modern day training. From a mental aspect, the idea of visualization and setting a clear goal has become an effective method for so many as they seek to boost their overall training and performance.
Next to Mr. Olympia, the Arnold Classics events are up there as some of the best bodybuilding competitions in the world. By sticking with the traditional layout of bodybuilding events, Schwarzenegger sought to add a number of side events to really bring in big crowds. With his platform as an actor and politician, it has brought new fans into the bodybuilding community to enjoy everything this sport has to offer.
Wrap Up
Schwarzenegger undoubtedly changed the game for bodybuilding and continues to do so today. From humble beginnings all the way to the big stage and screen, he has entertained fans in numerous ways, always setting a good example for young athletes everywhere. With seven Mr. Olympia wins, Schwarzenegger goes down as one of the greatest bodybuilders of all time and serves as a benchmark for current athletes to chase as they seek to cement their own names in stone.
Let us know what you think in the comments below. Also, be sure to follow Generation Iron on Facebook, Twitter, and Instagram. 
*Courtesy of Arnold Schwarzenegger Instagram