The biography, life, and accomplishments of Tom Stoltman
Tom Stoltman is a Strongman athlete from Scotland that won the World's Strongest Man (WSM) back-to-back in 2021 as well as 2022, which is the most prestigious title you can obtain in the sport, as it is to strongman what the Mr. Olympia is to bodybuilding. He also came in second at the 2023 World's Strongest Man competition, right behind Canadian Mitchell Hooper.
Below is a complete breakdown of Tom Stoltman's profile, stats, biography, training and diet regimens.
Full Name: Tom Stoltman (Strongman)

Weight
Height
Date Of Birth
380lbs
6'8″
May 30, 1994
Division
Era
Nationality
Strongman
2010, 2020
Scottish
---
Tom Stoltman Biography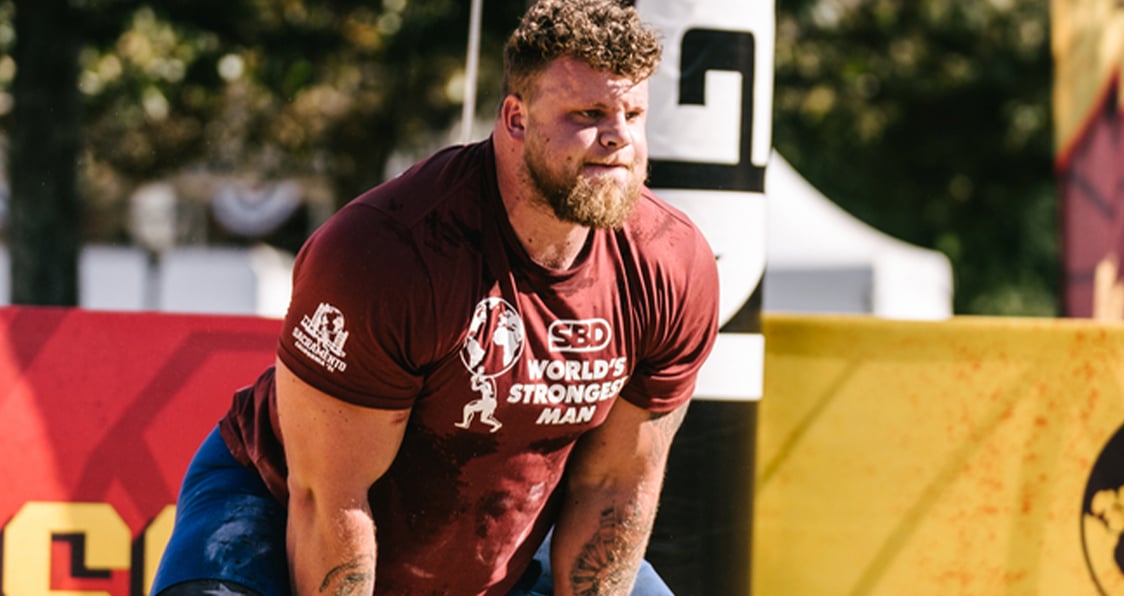 Born on May 30, 1994, in Invergordon, Scotland, Tom Stoltman was actually diagnosed with autism at only five years old. Because of this condition, Tom unfortunately went through a a difficult childhood and was bullied in school. Sadly, it got to the point where he even contemplated suicide.
In Feb. 2022, Tom had put up YouTube video on his channel opening up about his experiences growing up with autism. He had stated that a lot of people did not understand autism, especially those in the education system.
The worst experience Tom had was when his physical education teacher had told him he would "never.. be certain in life." Due to his condition, Stoltman started secluding himself and sometimes went into hiding, staying away from the outside world.
Not many people were sure what to do, even when it came to meeting doctors for a diagnosis, Tom never really "acted up" during the visits. This made the doctors doubt if he even had autism, and as a result his mother ultimately had to record video evidence to show to the doctors.
Tom fortunately had a great support system in his elder brother, Luke, who is 2021 Europe's Strongest Man winner and five-time Scotland's Strongest Man champion. Luke actually was the one who initially got Tom into strongman training, but he had a rough time with it at first. According to Tom, the commotion of people everywhere and wall lining mirrors caused was a bit of a sensory overload, and caused a sense of paranoia in him. His condition had made him believe everyone was staring at him and talking about him.
Luke eventually introduced Tom to a clinical psychologist, Amy, who helped Tom overcome his mental challenges that sprouted from his condition. After starting counseling with Amy, Tom never looked back. He said that counseling had made him feel so empowered and confident in his abilities, and he had a gut feeling that he would win the 2021 World's Strongest Man competition.
Well, Tom was right.
Tom Stoltman Competition History
Tom Stoltman has a very extensive competition history. Tom has competed all over the world, and has shown he is a force to be reckoned with in this sport.
Let's take a look at all of Tom's accomplishments.
World's Strongest Man (WSM)
2017 WSM: Qualified 
2019 WSM: Fifth place
2020 WSM: Second place
2021 WSM: First place
2022 WSM: First place
2023 WSM: Second Place
Arnold Strongman Classic
Arnold Strongman Pro World Series
Europe's Strongest Man
World's Ultimate Strongman (WUS)
2018: Eighth place
2019: Third place
2021: Fifth place
Giants Live
2018: Seventh place
2019 Wembley: Ninth place
2019 Finals: Eighth place
2021 Classic: Fifth place
2021 Finals: Second place
UK's Strongest Man
2016: Fifth place
2017: Second place
Britain's Strongest Man
2017: Sixth place
2018: Thirteenth place
2019: Third place
2020: Second place
2021: First place
2022: First place
Scotland's Strongest Man 
2015: Second-place
2016: Second-place
2017: Second-place
2018: First-place
2019: First-place 
Iceland's Strongest Man
Ultimate Strongman Junior World Championships
Ultimate Strongman World Championships
Strongman Champions League
Rogue Invitational
Training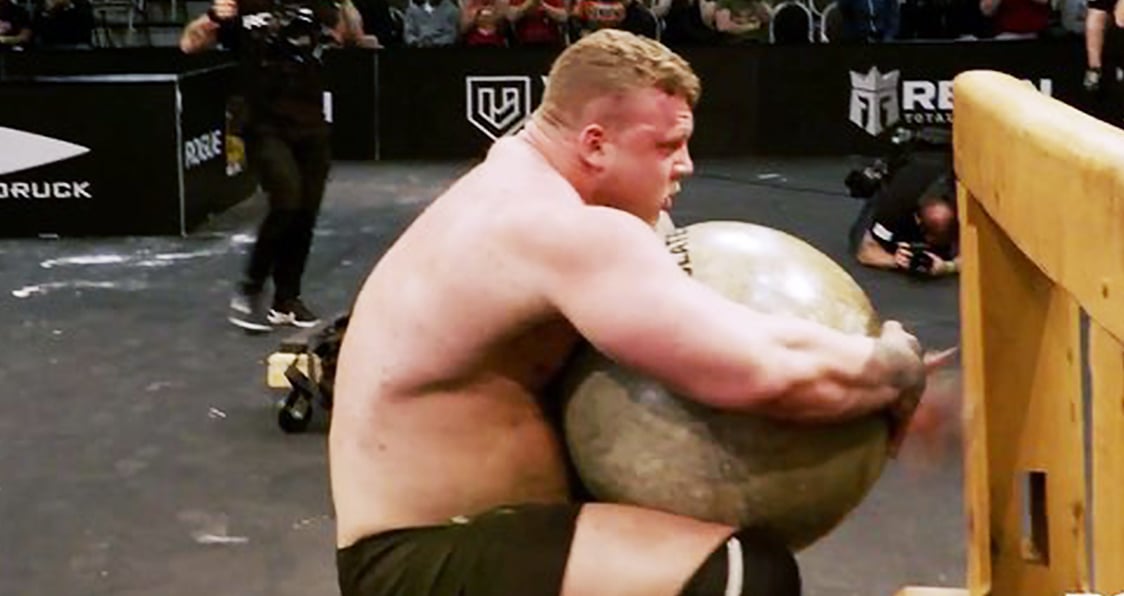 With all of these competitions under his belt, Tom's training regimen is something to match. While Luke has worked in an oil rig since he was 18, Tom's full time job is this. He quite literally eats and trains for a living. Regardless, the Stoltman brothers both follow an intense training routine to prepare themselves for competitions.
Tom started training at 17, training will change for him based on his upcoming contests. In his earlier days of training, Tom trained a full seven days a week. However, now he takes the weekend off to allow his body time to recover properly.
Initially, the Stoltman brothers began training for strongmen without access to pretty much any specialized equipment, so they improvised. Luckily, they no longer have to do this as they have access to full gyms, so here is what their training regimens look like in the gym:
In one of the YouTube videos that you can find on their channel, the Stoltman brothers take their younger sibling, Harry, through a strongman workout. Given below is a training regimen that is great for those who have interest in training for strongman:
Deficit Stiff-Legged Deadlift — 3 sets of 2 reps
Deadlift — 3 sets of 2 reps
Snatch Grip Barbell Row — 3 sets of 8 reps
Seated Machine Row — 3 sets of 10 reps
Superset: Machine Hip Thrust + Resistance Band Pull-Through — 2 sets of 8-20 reps
While this is only a singular example, it is no secret that strongman workouts are no joke. While bodybuilding workouts focus a lot on
isolation movements
and
machines
, you will see a lot of heavy compound movements and some functional exercises.
Nutrition
Well, when you are over 6 foot and almost 400 pounds your diet is going to be pretty nuts to maintain that. Now, when you're a strongman on top of those stats, your diet is going to be even more insane.
Here is a glimpse into what Tom Stoltman eats every day:
Meal 1
Meal 2
8 Eggs
Vegetables of choice (mushrooms on this day)
Toast
Black coffee
Meal 3 
Risotto consisting of 400gm rice, 300gm chicken, and vegetables
Sandwiches
Cranberry juice
Meal 4
300gm Steakburger
400gm potatoes and cabbage with gravy
Personal Life
Tom Stoltman is still relatively in the early stages of his strongman career, but with everything he has done so far, the athlete looks very promising for the sport. Tom wants to go down as one of the greatest strongmen in history, so he can be an example for other people that have autism. He wants to show them that can achieve something no matter what.
Overall, Tom has done a lot within the sport so far, and has a long road ahead of him. While he was dethroned at the 2023 World's Strongest Man, it is almost certain that he will be back to fight for the title.