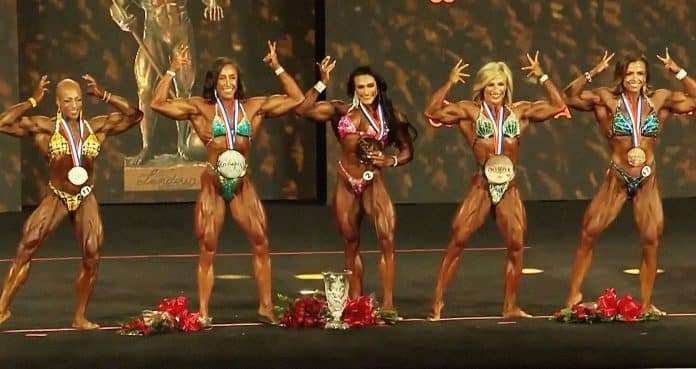 Here's a complete list of all the Women's Physique Olympia winners. 
Since 1965, Olympia has grown a lot, especially for women's bodybuilding. At first, it only hosted all men's divisions. Then, it added Ms. Olympia in 1980, it also added the Fitness, Bikini, and Figure divisions later. Then, within the past decade, Mr. Olympia's founder, Joe Weider, added the Men's Physique and Women's Physique divisions in 2013. This article will cover the Women's Physique Olympia winners. 
The Women's Physique division is one step above the Figure class. After Ms. Olympia's (Women's Bodybuilding) division, Women's Physique competitors retain the most muscle mass. Women's Physique athletes are judged on symmetry, shape, proportion, muscle tone, and poise. Quarter-turns and mandatory poses are part of the posing routine, similar to Women's Bodybuilding. All Women's Physique competitors wear a two-piece swimsuit with V-shape bottoms. 
Since 2013, there have been a total of five winners. Dana Linn Bailey was the inaugural champion in 2013, and Julianna Malacarme leads the division with four wins total. But Natalia Abraham Coelho is the reigning champion after collecting a $50,000 purse at the 2022 Olympia. 
Below we'll cover the history of the winners from 2013 forward. 
Women's Physique Olympia Winners
| | |
| --- | --- |
| Winners  | Year (s) |
| Dana Linn Bailey  | 2013 |
| Juliana Malacarne  | 2014-2017 |
| Shanique Grant | 2018-2019 |
| Sarah Villegas | 2020-2021 |
| Natalia Abraham Coelho | 2022 |
Dana Linn Bailey (2013)
View this post on Instagram
Dana Linn Bailey secured the gold medal for the first Women's Physique Olympia competition held at Olympia. But, unfortunately, she would go down as the only one to win only one title after her following victors. 
Juliana Malacarne (2014-2017)
View this post on Instagram
After a seventh-place finish at the onset of the Women's Physique division at Olympia, no one expected the 2014 champ, Juliana Malacarne. The first-ever champ Bailey finished as runner-up. Malacarne went on to win three more titles and hold the record for most Women's Physique Olympia wins. 
Shanique Grant (2018-2019)
View this post on Instagram
After Dana Linn Bailey retired in 2014 and Juliana Malacarne walked away from the stage in 2017, the Women's Physique title was up for grabs at the 2018 Olympia. This made Shanique Grant the third Women's Physique Olympia winner after battling it out with future champ Natalia Abraham Coelho. In addition, Grant became the second champ to defend her title after finishing first again in 2019. 
Sarah Villegas (2020-2021)
View this post on Instagram
Sarah Villegas was a wild card that gave Shanique Grant a run for her money in 2019. Although Villegas came just shy of obtaining the title in 2019, finishing runner-up, she returned with an improved physique the following year and won the title in 2020 when Covid changed the world. When things returned to normal in 2021, Grant retained her title. She retired in 2021, even after her challenger Grant offered her a $20,000 challenge to come back. 
Natalia Abraham Coelho (2022)​​
View this post on Instagram
The reigning Olympia champ is Natalia Abraham Coelho after she fought hard to win her maiden Olympia title. Coelho was amongst the top competitors in the last couple of years, placing second in 2021, third in 2020, third in 2019, and second in 2018. After five long years, her work finally paid off. She overtook her fellow competitor Sarah Villegas (runner-up), who beat her in 2021. 
2022 Olympia Women's Physique Results 
The 2022 Olympia took place December 15-18, 2022, in Las Vegas, Nevada, at the Planet Hollywood Las Vegas Resort & Casino. Below are the results and prize money for the Women's Physique division. 
First Place – Natalia Abraham Coelho ($50,000)

Second Place – Sarah Villegas ($20,000)

Third Place – Brooke Walker ($12,000)

Fourth Place – Barbara Menage ($7,000)

Fifth Place – Ivie Rhein ($6,000)

Sixth Place – Jeannie Feldman

Seventh Place – Anne-Lorraine Mohn

Eighth Place – Melissa Teich

Ninth Place – Winsome White

Tenth Place – Marie-Solange Essoh
Recap
The Women's Physique is for female bodybuilders that hold more muscle than Figure athletes but less than Women's Bodybuilding. In 2013, it came to life in the International Federation of BodyBuilding and Fitness (IFBB) Pro League's biggest show of the year, Olympia. 
Since then, it's seen five champs. Dana Linn Bailey was the first maiden Olympia Women's Physique champ. Her successors all won multiple titles, except the reigning 2022 champ, Natalia Abraham Coelho; only time will tell if she collects another title. Thus far, Juliana Malacarne is the queen of the division with four titles under her belt. 
Follow us on Facebook, Twitter, and Instagram for more bodybuilding history!